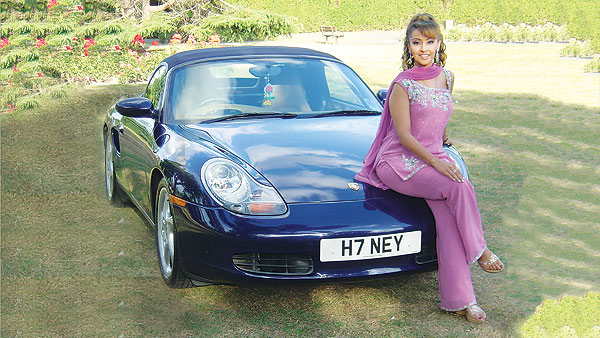 Honey Kalaria
Honey Kalaria, was one of the judges for Channel 4's 2004 hit series Bollywood Star and is the Bollywood Guru for ITV 1's For One Night Only: From Barnyard to Bollywood to be screened in 2006. She started dancing at the age of four and has dedicated herself to perfecting the styles of Bollywood, Bhangra and Indian Classical Dance, as well as Rock & Roll, Latin American, Belly Dance and Street Dance. She has been invited to perform around the world in the presence of HM the Queen, Tony Blair PM and the late Princess Diana.
Honey has also personally trained Narinder from Big Brother and worked with Bollywood stars including Shah Rukh Khan, Hrithik Roshan, Amitabh Bachchan, Aishwarya Ravi, Govinda and Juhi Chawla.
She won the Best International Artist Award for her role in the film Indian Babu directed by Lawrence D'Souza.
Her Bollywood Workout video secured the number one position for mainstream keep fit videos in 2003 and she has just released her first album Time to Dance.
With an MSc in Public Relations and an Honorary Doctorate of Arts from the University of East London, Honey combines her dance career with considerable business interests. She has been nominated for both Business Woman of the Year and short-listed as one of the top three Asian business women in the UK. She is founder of the International Association of Modern Indian Arts and has launched the world's first Bollywood Dance Syllabus.
She runs her own dance academy and agency - hailed by the BBC as 'The 21st Century Fame School' - with 15 centres across Greater London and nationwide, boasting 1,800 students.
Both Honey and her students have been involved with high profile artists and shows such as Andrew Lloyd Webber's Bombay Dreams, Gareth Gates Spirit in the Sky for Comic Relief, Kula Shaker, Crispian Mills, S-Club Juniors, Soul 2 Soul, Oliver's Twist, Open House, Ruby Wax, Tops of the Pops, CBBC Xchange, Ant and Dec and BBC Family Proms in the Park.
1 | 2