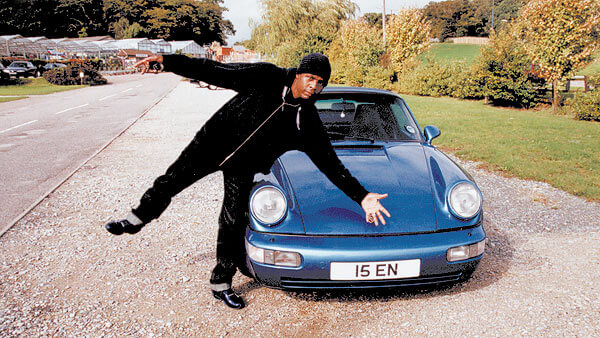 DJ Pied Piper
After his phenomenal success with the Ayia Napa hit 'Do You Really Like It?' DJ Pied Piper is celebrating with the purchase of a special number plate for his blue Porsche Carrera 2.
"I wasn't really into personal number plates until a friend of mine, Creed, said to me 'that car needs a private plate'. He owns C7 EED, which is great, but I thought to myself, if I am going to get one I would prefer something more subtle. I saw the number plate 2 DEX (as in 2 Decks) in the Regtransfers sales brochure and the more I thought about it the more I thought that this was the dream plate for me.
When I rang back about it, I was gutted when they told me that it had just been sold! By this time I was really hooked on the idea of having a private plate, so I started to look at other options. I didn't want a plate with 'DJ' on it, although I did look for 'Piper', but apparently someone already owns that. I finally decided on 15 EN, which is a very personal choice for me. Only close friends and family know the true meaning behind it."
Pied Piper says he got his DJ name many years ago: "I was in a club, waiting to go on when someone came up to me and asked me what my DJ name was. I didn't have one, so as I had a three hour wait for my turn, I thought I'd better come up with one! Pied Piper just seemed to make sense." In the original verse by Robert Browning, The Pied Piper of Hamelin mesmerised the rats and then the town's children with his music. It has proved a memorable and appropriate name for him, as one enthusiastic fan commented on a website recently: "'Do You Really Like It' has contagious lyrics that make this song the best on the planet!"
DJ Pied Piper and The Master of Ceremonies have a new single 'We are here', out on 10 December 2001. "We are shooting the video for it next week. The album will be out early next year, but we haven't got a name for that yet." D J Pied Piper and the MC's were nominated for three MOBO awards recently including 'Best Single' and 'Best Newcomer'.
To date they have won 'Best Club Anthem' at the UK Garage Awards and 'Best Club Track' (voted by all clubs in the country) amongst others. "The Smash Hits Awards are coming up soon and we will be going on the Smash Hits Tour."
30 October 2001