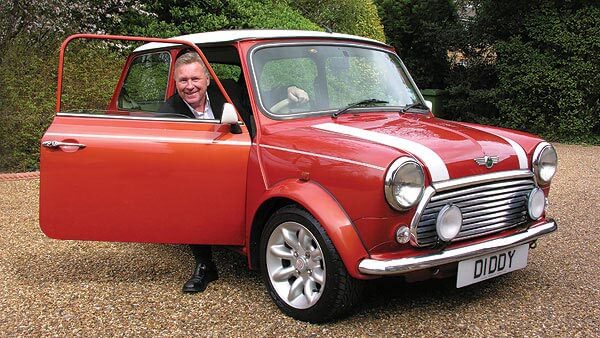 David Hamilton part 2
It worked! I was so excited I called Ken after the show to tell him." Through the 1970's, David was the face people saw when they switched on Thames TV. He continued working as announcer and presenter, appearing in many high profile shows for a variety of networks:Chipperfield's Circus (Thames), Monty Python Show (BBC), Celebrity Squares (ATV), Generation Game (BBC), Blankety Blank (BBC) and The Tommy Cooper Show (Thames). He even had roles in films: Some Kind of Hero, Tiffany Jones and Confessions of a Pop Performer.
By 1976, David was one of a team of presenters regularly hosting Top of the Pops. It was also the year that he worked on television in America for the first time. He hosted a week of British programmes showcased by Thames TV on WOR-TV in New York. In addition, he presented News at Ten, giving a British slant to international news for New Yorkers. His time working in America took him across to Los Angeles where he co-hosted Mid‑Morning LA with Andrew Gardner. As soon as David came back to England, he was asked to host one of the biggest award shows - TV Times Top Ten Awards. In 1980 it reached number two in the national television ratings, with a giant audience of over 15 million viewers.
Soon after, David left his job as announcer for Thames TV, after working there for 20 years. He continued hosting a number of programmes and made many guest appearances on panel shows such as, Punchlines, Blankety Blank, Family Fortunes, Generation Game, Give Us a Clue, Babble, Game For a Laugh and The Cilla Black Show.
It wasn't long before he was invited to be involved in a new project; as a host for Lifestyle, one of the earliest satellite TV stations. He stayed there for the duration of the station's existence, until it was sold eight years later. In November 1986, David quit Radio Two after a disagreement over music policy. The following year he joined Reading's Radio 210 and by the time he left to join London's Capital Gold in 1989, listening figures had reached an all-time high. After six years at Capital Gold, he was headhunted by the Hanson Group, who invited him to present The Breakfast Show for London's Melody Radio.
During the 1990's, David was a guest on several shows on both satellite and terrestrial television, including:You Bet (LWT), Through the Keyhole (Yorkshire TV and BBC), Happy Families (BBC), Jobs for the Girls (BBC), Pebble Mill (BBC), 15 to 1 (Channel 4), Esther (BBC), Shooting Stars (BBC), Talking Telephone Numbers (BBC), Clive James on TV (LWT) and Vanessa (BBC). The Hanson Group sold Melody FM in 1998. David moved to another London station, Liberty Radio, joining the Classic Gold network in 1999.
Once again at the forefront, his was the first voice to be heard on prime-time radio Saga's digital station, and a year later, in 2001, his voice launched Saga 105.7 FM, the West Midlands regional station. By February 2003, he had transferred to Saga's East Midlands Station, 106.6 FM, where he presented an afternoon show.
With such an incredible career in broadcasting, I wondered if this had always been the big plan. "No, not at all," chirps David, "as a boy, my burning ambition was to be a professional footballer. I had a trial for Wimbledon, but wasn't selected, meaning I wasn't good enough." Yet his dreams of playing on some of the finest football grounds in the country were realised later in life, when he played football for the Showbiz XI football team. "I was a member of the team for over twenty years, and captained many of the matches. We've raised millions of pounds for charity. I'm now the team's Honorary President."
A lifelong supporter of Fulham Football Club, David has been their match-day MC (Master of Ceremonies) since 1997. His other main sporting passion has always been Speedway. He once competed in a race at Wembley Stadium and was a regular announcer there during the Seventies. "When I knew I wasn't going to be a football star, I decided I wanted to be Pete Murray," says David, smiling, "I hired a reel to reel tape recorder and practiced reading newspapers in standard English. It helped to smooth out my accent and tidy up the rough edges. I went to a Surrey Grammar school and didn't have the sort of accent that was acceptable back then. "All the hard work paid off," David says, "one of the greatest thrills of my career was meeting and interviewing Roy Orbison just before he died in 1988."
Of all the showbiz people who have passed away over the past fifty years, he misses Kenny Everett and Ronnie Barker the most. But it was the untimely death of his friend and fellow DJ Dave Eastwood, that David finds the hardest loss to bear. "Dave and I met in the RAF, when we were both seventeen. He came into radio late, joining Radio Luxemburg," said David, "One day, I received a call from him to say that he was in hospital, in the leukaemia ward. We were both 49. I was in shock. Seeing him suffer made me stop smoking - I've never looked back."
A year later, at his 50th birthday party, Dave gave a touching speech. He said it turned out that his being ill was a good thing, because it had stopped his good friend David smoking." Soon after, in March 1989, Dave passed away. Although he was not a household name, he was well respected in the broadcasting industry. His last job was with Essex Radio.
I mention that on the way here, we saw what can only be described as a shrine by the side of the road - photographs, flowers, cards and candles. "That'll be where Marc Bolan died," says David, "his girlfriend hit a tree whilst driving a Mini. It was on 16 September 1977. Fans still gather there on the anniversary. You can see they've put a barrier up now. I met him a few times, he was a lovely guy." So how would David like to be remembered? "I'd like people to say that I was a nice guy, that I didn't do anybody down and that I never knifed anyone in the back."
David's plans for the future are in the form of a new project called, Million Sellers. It is a series of pre-recorded two-hour shows of him telling the stories behind the world's most successful recordings. Written, presented and recorded by David, it features some of the most popular singers and bands who have sold more than a million singles and albums, in the UK and America. "I cover the Rock 'n' Roll era up to today's music. It is specifically about records that have sold a million around the world. It'll come as no surprise that Elvis and The Beatles top the list. The shows offer a good balance of music and stories. And as any good DJ should, I always open the show with a bright record and fade out on a long one."
Million Sellers is available to radio stations in the UK and worldwide. His show has played to top ratings over the Saga Radio network for the last three years. Million Sellers producer David Cunningham said, "David's research and scripting is top notch and his encyclopaedic knowledge brings out lesser known facts about the artistes, songs, writers and producers. There will also be a celebrity edition with recording stars telling their stories first hand."
In 2005, Anglia TV chose David to present ITV's 50th Anniversary celebrations. Half a century on in his own career, it's not difficult to see why he's asked to head such special occasions. No wonder either, that D1 DDY David is still attracting affectionate comments.
Ruby Speechley Photography: Rick Cadger
1 | 2