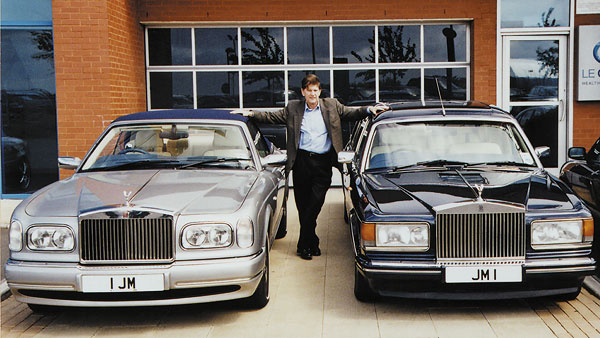 John Madejski and Reading FC
Reading FC supremo, John Madejski OBE isn't a man who does things by halves. Best known in recent years for his recovery of the beleaguered Reading Football Club, he has built the impressive state-of-the-art, 25,000-seater stadium, together with its own plush four-star deluxe Millennium Madejski Hotel, conference centre, spa and highly acclaimed 'Cilantro' restaurant.
His belief in 'The Royals' has now been spectacularly vindicated by their promotion to the Premiership – an achievement that has even been acknowledged in a House of Commons cross-party motion, tabled by the local MP Martin Salter!
John's business career began over thirty years ago when he founded the highly successful AutoTrader, which he sold in 1998 for around £250m. He has now extended his business interests across the globe.
So how does this understated entrepreneur enjoy his money? One of his favourite luxuries is undoubtedly his cars. He currently has a modest ten, including some of the finest names in the motoring world – Bentley, Ferrari, Rolls Royce and Jaguar. And with the cars of course, comes the ultimate accessory – personal registration numbers.
"I'm certainly not fanatical about personal number plates, but I do see them as an essential finishing touch to any prestigious car. If you see a Rolls Royce for instance with an ordinary number, it just doesn't look as good as if it had a personal plate.
"Unfortunately the cars do depreciate in value over the years and the plates end up being worth far more than the cars!" With the second most popular initials in the country, John's collection of personal number plates is certainly enviable; JM 1 proudly adorns a Rolls Royce Limousine, 1 JM a Rolls Royce Corniche, JM 2, a Jaguar XJ 220, JM 19, a Bentley Continental, B1 BYE, a yellow AC Cobra and TGF 140 is on a Jaguar XK 140.
John bought his first plate, 1 JM, at auction in the 1980's for a whacking £60k.
"Then a friend told me they'd seen B1 BYE in the Sunday Times. I thought it was a bit of fun so I bought that and put it on my black Bentley Continental. Unfortunately the police didn't find it as amusing as I did and kept pulling me up to question me about it," he said.
His third and fourth plates were acquired quite by accident, after some friends of John's came over from Malta. He arranged to have dinner with Jennifer and Paddy Stubbs at the Savoy.
He picked them up in the Rolls which had the number 1 JM assigned to it.
"Jennifer looked at the car very strangely, so I asked her if anything was wrong. She told me that she thought1 JM was her father's plate. I replied that he probably had JM 1 (as her father was John Moore of the Littlewoods empire). I said to her that if he was ever interested in selling it, that I would be interested in buying it from him.
Unfortunately John Moore died soon after, but Jennifer, true to her word offered the plate to me. He'd also ownedJM 2 so I bought both plates for around £80k."
With John's sense of fun it might not be long before a nice little number like R10 YLE appears at the Madejski Stadium for his Reading 'Royals.' As John gingerly admits, he does like to trawl through the lists of numbers in the Sunday Times each week.
By Ruby Speechley
© Regtransfers – The World of Personal Number Plates Volume 1 Issue 2