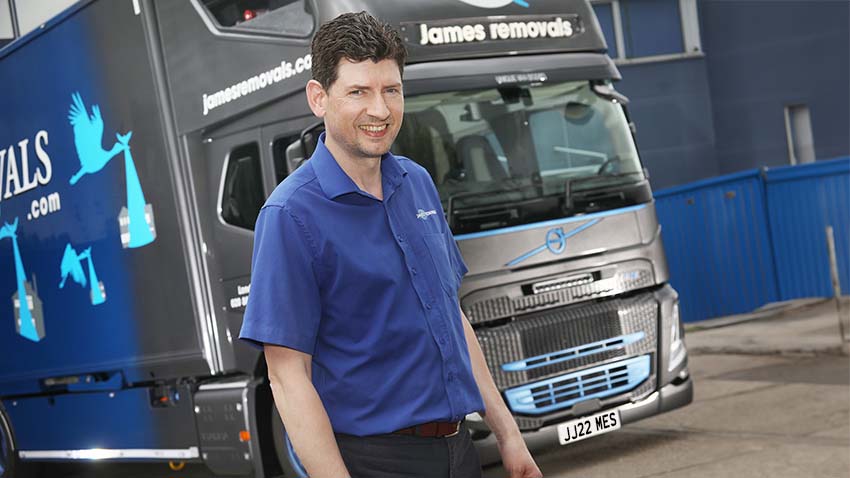 On the Move
James Removals, founded in 1996, is a family business that started out with a single van operating out of small premises in Bromley. It now boasts a fleet of 17 vehicles and its current home occupies 30,000 square feet in Blackheath, London, where its fleet of vehicles now stands.
"MOV 5X was my first registration purchase," says James De-Machen, the company's director. "It was bought to hide the age of my lorry, an older vehicle that I painted to look like a new truck. The plate was added so people weren't aware it was over 15 years old. It was a truck I drove myself and this was the start of my registration addiction." He then purchased R13 MOV for an R registration DAF he had refurbished in similar fashion.
"As a removals company doing fairly low yearly mileage in comparison to other haulage operators, we tended to use second-hand chassis with new bodies," James explains. "So I started adding plates to all my vehicles: J6 MOV, J7 MOV, J8 MOV, J9 MOV, V6 MOV and V8 MOV."
As the company was doing well, James acquired brand-new trucks but continued the plate branding. "I also pre-ordered registrations for vehicles. that were being built, including JR07 MOV and JR08 MOV. I also bought BE57 MOV which, apart from my first plate, is my favourite."
Most of the company's more recent vehicles have been brand new orders and a further series of registrations - DJ16 MES, JJ67 MES, JJ22 MES, and JJ72 MES, were purchased prior to delivery.
"I see plates always going up in value," James says, "and they are a great investment."
Regtransfers has provided James with a number of other themed registrations too, including JJ18 MES, JJ68 MES and JJ12 MES.
"I have recently purchased a little electric city van, a Garia," says James, "to which I've added R13 MOV, a number that was previously on retention. I think it looks fantastic and it is a real eye-catcher."
www.jamesremovals.com