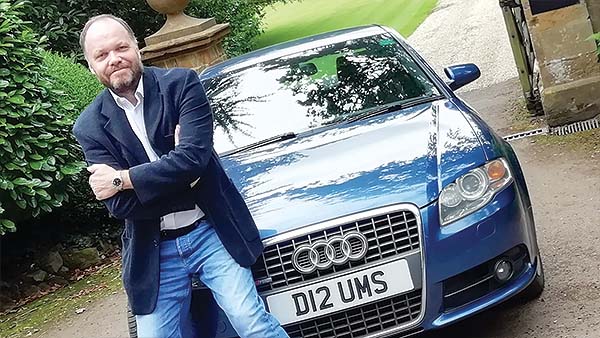 It's fun when you drum!
Even if one didn't know that Gary Marshall from Banbury in Oxfordshire was a drummer, it wouldn't take Sherlock Holmes to deduce the fact from his personal number plates. Gary, a professional musician and music educator, snapped up what must be the ultimate registration for any car-loving percussionist: D12 UMS.
While the Regtransfers editorial team is made up mostly of guitarists, we know a number of drummers who would give their right arms for such a great plate. No, wait… That wouldn't really work, would it?
Gary's percussive passion started when he was a child. By the time he was 15 it had become clear that years of stick-inflicted wear and tear were taking a toll on the arms of the family's sofa so, in a bid to save the furniture, Gary was finally given a full drum kit to hit instead.
His professional drumming career began in 1989 and since then Gary has performed throughout Europe and contributed to countless recording sessions. His work has led him to play across a very broad range of musical styles for an equally diverse range of clients, from Beatles legend Ringo Starr to members of the Royal Philharmonic Orchestra. Despite the demands on his time as a performer and session drummer, Gary has still found the time to teach a large number of students the joys of playing drums.
Gary has taught drumming to racing drivers, surgeons, artists, chefs, journalists and accountants, as well as countless students at schools and universities. While many enjoy drumming just for fun, some have earned entry into institutions such as the Bristol Institute of Modern Music, and the Academy of Contemporary Music. Others have played at events such as Fairport Convention's legendary Cropredy Festival and the Cornbury Festival. In 2000, one of Gary's students reached the first national final of Young Drummer Of The Year, joining the last 12 out of more than 400 entrants.
Gary performs at drum clinics and promotional sessions for The Zildjian Cymbal Company and he is proud that this world-famous manufacturer has endorsed him since 1994. He also enjoys a long-standing relationship with Sonor Drums.
Outside of the music business, Gary's interests include Audi cars and Formula One motor racing, and he counts Christian Horner, Team Principal of the Red Bull Racing Formula One team, amongst his students.
That love of motor sports prompted Gary to purchase the registration R9 CER (racer) from Regtransfers but the even greater love of drumming eventually prevailed and R9 CER was replaced by D12 UMS.
"When I found D12 UMS on the Regtransfers website," Gary says, "it seemed perfect for me. I fell in love and had to have it. The buying process was super smooth and hassle-free, and nothing was too much trouble. It was soon on my car and has certainly been good for business."
www.funwhenyoudrum.com
Story: Rick Cadger