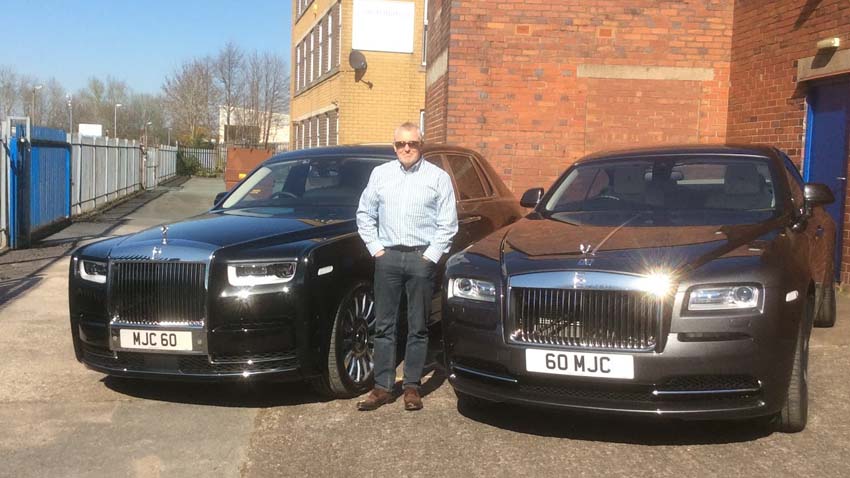 Anglia Holdings Group
The Staffordshire-based Anglia Holdings group of companies is owned by Michael Cole, who has equipped two of his prestige cars with Anglia Holdings Ltd number plates branded with the company initials. "F1 AHL is on my Virage special limited model and F2 AHL is on my Vanquish Carbon Black version," he says. "I also have M1 AHL on a GTR."
Other business-themed initial plates in Michael's collection include F2 MSL and F3 MSL for Machinery Systems Ltd, one of the group's other companies and XL 4 on a Porsche, pictured here with Harminder Chahal of XL Associates Accountants.
"And there's more," Michael says, "my Range Rover SVO 550 model has DDZ 34. The vehicles are used when visiting on business" he explains, "and they clearly have an impact. We don't promote them ostentatiously, but they do suggest a degree of success."
The range of business interests that reside under the Anglia Holdings umbrella is fairly diverse. "Under an investment in Health Made Easy Group," Michael tells us, "we are the leading distributors of health and nutritional products in the UK. We own Tree of Life Ltd, The Health Store, Higher Nature vitamins, minerals and supplements brand and Peppersmith confectionary."
The Anglia Holdings Ltd group also comprises machine tool trading, property and asset management and business consultancy.
Away from work, Michael's personal number plate collection includes two splendid matching MJC plates (incorporating his middle initial, J for John) on a brace of Rolls Royces, "MJC 60 is on the latest model of the Phantom" he tells us, "and 60 MJC is on my Wraith."
www.angliaholdings.com
"We don't promote them ostentatiously but they do suggest a degree of success."