Regtransfers magazine
PEN 15
Every so often Regtransfers acquires an exclusive registration that causes a real stir and some time ago we were lucky enough to get our hands on PEN 15.
Priced at £99,995 it's a real biggie that is grabbing attention wherever it goes.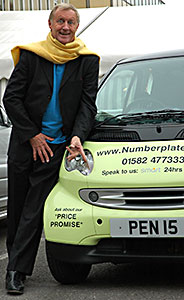 PEN 15 is a genuine, legal, officially issued UK vehicle registration. Its only significance, as an alphanumeric string of three letters and two digits, is as a vehicle identification mark, but from the reaction it gets you'd think there was something about it that really stuck out.
But if anything, PEN 15 has proven rather less controversial than we'd expected. The only real fuss it has generated was when, towards the end of 2005, The Sun rejected an advert from Regtransfers because the ad featured the PEN 15 number plate. However, just a matter of days later, The Sun printed an article about a man with exceptionally large, erm, parts, complete with photographs and celebrity comparisons. That story was presented in typical, tacky, tabloid style but an advert for a perfectly genuine and legal car registration was rejected.
In November 2005 we wrote to The Sun's editor and to their advertising department asking them to explain what was unacceptable about our ad. What we asked then, and (as they never replied) what we would still like to know, is to what aspect of The Sun's policy did the original advert not conform?
So, apart from The Sun's hypocritical disapproval, the overwhelming reaction, far from being controversy or offence, has been amusement and interest. Even celebrities seem impressed by our PEN 15. When we interviewed Chris Tarrant for our magazine he could hardly believe his eyes.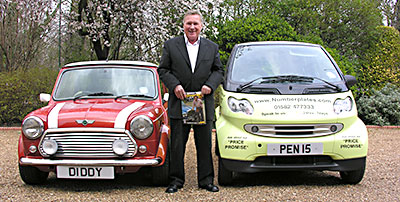 But our favourite celeb reaction was from radio legend 'Diddy' David Hamilton. The veteran DJ had a flash of comic inspiration and suggested that he park his Mini, with its D1 DDY number plate, beside our Smart Car with its PEN 15. The resulting pic has been raising smiles ever since.
Mr Hamilton, you are a jolly good sport.
PEN 15 on tour!
Here are a few pictures of our PEN 15 taken purely at random while we were innocently driving around.
Disclaimer: there is a small chance that one or two (or all) of the photographs may have been very slightly (or outrageously) digitally manipulated.