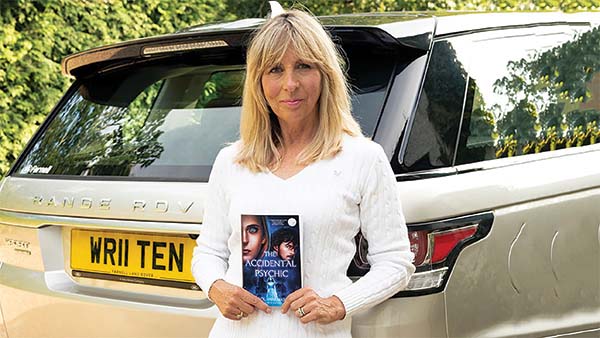 The Writing on the Plate
Carol-Anne Mason is a woman of many talents: singer-songwriter, painter, dancer - and that's just her creative side. Carol-Anne is similarly versatile when it comes to career matters and over the years she has run a nightclub, been a hair and beauty tutor and even dabbled in antiques. Her most recent achievement has been to become a published novelist.
No one can accuse Carol-Anne of rushing into such a substantial undertaking: she was 61 years old when she decided to pen her literary long-form debut. Two things motivated her: the conviction that one is never too old to tackle something new, and a lifelong interest in matters paranormal. So, two years later, her 90,000-word book, The Accidental Psychic, was complete.
Carol-Anne lives in rural Hampshire and the New Forest with her husband, whom she describes as "eccentric" and her beloved Maltese terriers. When she's not writing or gardening, she spends much of her time with her grown children, Frankie and Harry, their partners and a wonderful new grandson, Frank.
Tim, the eccentric spouse mentioned above, was so impressed by his wife's achievement that he decided to recognise her grit and determination by buying her a personal number plate. He contacted Regtransfers for a suitable registration and before long a perfect match had been found in the shape of WR11 TEN. The new number was covertly placed on Carol's beloved Range Rover Sport.
From her early teens, Carol-Anne always had a strong belief in spiritualism. Then, when she realised her propensity for premonitions and intuitiveness was a family trait going back many generations, she immersed herself in the paranormal world, researching all its aspects. This innate fascination with the subject, her awareness of her family history of psychic gifts and her love of horror stories by the likes of Stephen King and James Herbert, combined to shape her first novel.
That family link is manifest in Carol-Anne's work. She has used the names of her ancestors as characters, including her great aunt, Annie Prior, as the main protagonist. Carol-Anne has used the face of her own daughter, Frankie, on the book's front cover and aspects of her persona to develop the character of Annie.
Carol-Anne is currently working on a sequel, entitled The Eternal Psychic.
The Accidental Psychic has recently been awarded four Five Star reviewers awards from Readers Choice in America and is available from Amazon, priced £9.99.
Story: Rick Cadger