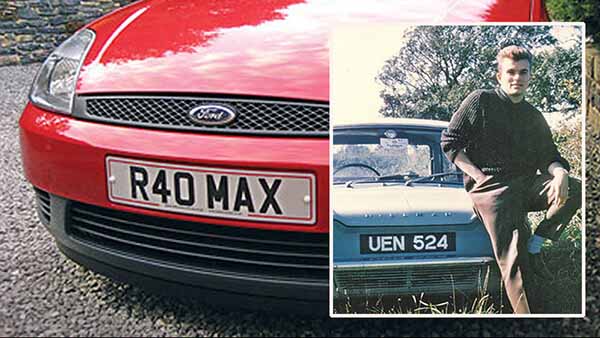 Customer Success - Rod Lomax
My interest in vehicle number plates started, I suppose, when I was a boy. As so many youngsters used to do in the fifties before the mobile phone, iPad and computer games had been invented, my friends and I collected car numbers.
I lived in Bury, Lancashire, well known for its EN series of registrations. In those days it was a great thrill for a ten year old to be the first to spot a new series of plates with so many of them making names – BEN, KEN, LEN etc. – in fact my father owned a 1959 Standard Vanguard registered LEN 426.
Passing the driving test not long after my seventeenth birthday, I saved all my spare cash and bought a 1949 Morris Minor Van for the grand sum of £35. Registered UMB 391 this was to last for all of six months before being replaced by a 1953 Ford Prefect, PND 773. It had a three speed gearbox and vacuum operated wipers which went slower the faster you went … not too good in the rain!
My first new car was a Hillman Imp bought in 1964 and registered UEN 524. I remember visiting the Bury Motor Vehicle Taxation Office looking to obtain a much better number, but of course, the facility had ended round about that time and I was dismissed with a derisory wave of the hand. Being an apprentice at that time and running a car left me no spare cash with which to purchase a cherished number, even at sixties prices.
In 1967 the Hillman was exchanged for a Ford Cortina GT, an excellent car which came with the neat plate,BTE 654E. All my courting was done in this and my wife and I toured Cornwall in it on our honeymoon.
The year after, it was traded in for a Triumph Vitesse 2 litre, STC 687G and after two more years for a Ford Capri 3 litre Mk1 with another Bury plate – PEN 930K. There then followed a couple of BL Minis, a Simca hatchback and then the first Honda Accord coupe in the town with a devilish registration, OBN 666R!
In 1980 I purchased another Ford Capri, this time a Mk3 Ghia registered BCB 840V. With a 3 litre V6 engine and automatic transmission it was a very capable and smooth performer, great for long journeys.
Twenty years had passed by since I'd owned the Hillman Imp and marriage, a mortgage and all the other things associated with modern living had taken precedence but in 1984 my enthusiasm for cherished plates was once again fired up when I noticed 59 JRL, my full initials, for sale by a dealer.
I'd just started my own advertising agency after being made redundant from the multi-national I worked for and thought that this number would really look great on the Capri. It was on the Ford for about three years but in 1987 was transferred to a 2 litre Porsche 924 lux, which I still have, and which is now 28 years old so is only used sparingly in the summer months.
In the following years I searched for a matching number to grace my wife's car – her initials of AML unfortunately clashing with Aston Martin Lagonda meaning that every one we saw for sale was priced very high. In 1989 I was lucky to see NEN 555 for sale … the only relevance being that it was, of course, a Bury plate where both of us had been brought up and it was a neat number. This was duly purchased and transferred initially to my wife's Ford Sierra before being transferred to a Daihatsu Fourtrak 2.8 turbo diesel in 1992 and then to a Mercedes 220CDI Sport Edition estate in 2008.
1991 saw me purchase J5 JRL direct from the DVLA to add to the collection. As this was before the advent of retention certificates, I purchased a Jawa 49cc scooter to register the number to … I remember it arrived in a large packing case and had to be assembled.
In 1997 the 'R' prefixes came out and I had always promised myself that I would try to purchase R10 MAX. I called and called and called again, but it was four days before I finally got through to the DVLA call centre. As you will probably have guessed the number had already gone – it surfaced about 6 years ago but was unfortunately withdrawn from the market! I was disappointed, but had secured R40 MAX and R70 MAX as the next best thing, the former now being assigned to a 2004 Ford Fiesta Firefly.
The following year, I decided to make up a matching pair and purchased S9 JRL from the DVLA to match 59 JRL. This was assigned to a Peugeot 106 1.5 litre diesel where it stayed for eight years before being placed on retention in 2007. When the 10 series of registrations was announced I successfully purchased my full name and initials, JR10 MAX – a plate which is also currently on retention.
I joined the Registration Numbers Club in 1988 and have never missed a rally since. In 2000 Steve Waldenberg asked me to become club Publicity Officer and I was happy to oblige and have helped him ever since, writing regularly for the newsletter and helping organise annual rallies. In 2003 I decided it was time I attended a DVLA auction and visited one at the National Coal Mining Museum in Yorkshire. As I'd just started some web design work for a client I thought that WEB 4Kwould make a nice addition to my collection. This is also on retention.
I've been married to Alison for over 41 years and, apart from running my own business, have been a school governor at a local high school for over 18 years. I was a member of the Porsche Club GB for around 20 years and enjoy photography, computing, collecting foreign plates and building a small collection of automobilia.
J R Lomax
August 2011
The RNC.co.uk
Find your perfect plate with our Make your own number plates search.