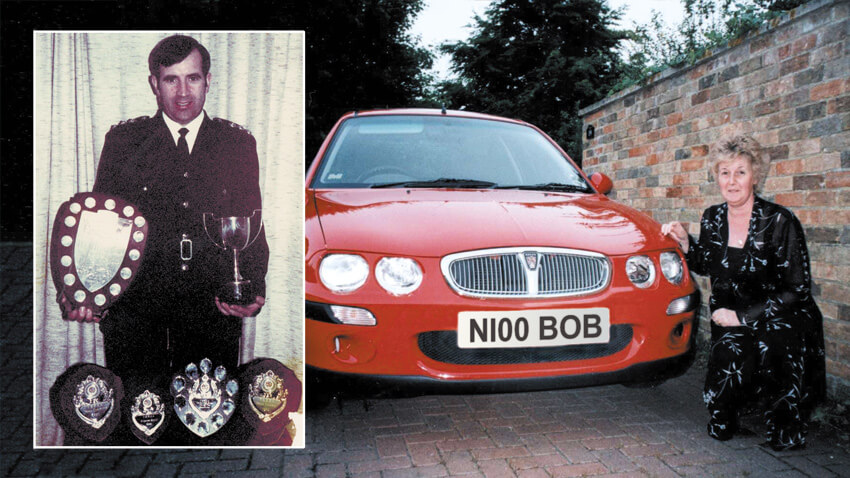 In Loving Memory
How do you get over the shock of your beloved husband dying suddenly? Perhaps you never can, but Nichola Dix has found an unusual way to ease the pain. She has purchased a number plate with her husband's name on, N100 BOB.
"The N is for Nichola, and 100 signifies the score in darts, as Bob used to love to play in the old days, along with many other sports. He was cruelly taken from me aged only 56. The number plate gives me such comfort, I can't tell you. I come out of work and it's like he is there waiting for me."
The idea for buying a number plate came to Nichola the day before his funeral. "I decided to get the number plate BOB 1 made up, just to lay in his coffin. He'd often thought about having a 'posy' plate. Soon after, I decided to buy one for real, in his memory."
Bob Dix was a Divisional Fire Officer, risking his life every day. He played in the squad of the National Fire Service football team representing England in his early youth, and later become treasurer. Now every year a trophy in his memory is presented at the National Fire Service Cup Final. Bob was also a National Fire Service fishing champion, which covers Fire Service fishermen from England, Scotland and Wales.
Bob won many fishing trophies over the years. A special trophy is now awarded each year in his memory, for the heaviest fish caught at the National Fire Service fishing competition in Ireland.
"He is greatly missed by everyone. He was a very fair man, with a vibrant personality. Our sons and I miss him terribly. I know I can't bring him back, but at least when I am driving my car it is as though he is still with me."