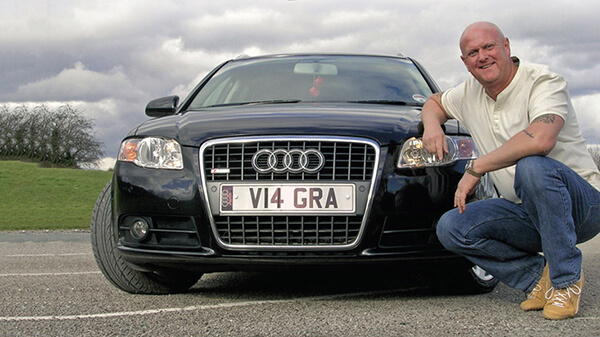 Customer Success - Paul White
Paul White, originally from Northumberland, has lived in Cheshire for the last 15 years. Paul is a man with a real enthusiasm for private number plates. What is more, he is living proof that good quality car registrations can be a fine investment. He has bought and sold a great many numbers over the years and so is better placed than most to assess the wisdom of each potential purchase.
"My interest in personal numbers started at a very early age when I was maybe 10 or 11. I used to see local house building tycoon William Leech driving around in his Rolls Royce, bearing the plate WL 1. I also remember loving the weekly That's Life programme when they would report on amusing number plates spotted by viewers. OBO 110X stands out in my memory for some reason!"
With his experience and sharp eye for a likely plate, Paul would much rather invest in cherished numbers than leave money languishing unused in the bank where it would earn little interest.
"There are still many bargains to be had if you take time to search," he says, "and most of the time you will see a decent return on your original investment, as well as having some fun along the way."
Paul considers that his most memorable, and profitable, purchases to date have been: L4 LUVBA51 TAD, M1 UMS X4 WET ST02 NED, W4 RTS, T1 OOL, X5 PAU, A6 PAU, A7 PAU, ST05 NED, PO52 EUR, WH05 GAL, GA52 YOU, BL04 YOU, T444 FFY, KN03 END, KN03 OFF, SC03 ELL, M100 LAH, KN03 YOU, and V60 GRE, although he has owned many more.
He does lament a couple of missed opportunities, though. "I was offered 1 UST a few years ago for under £7k. I didn't have the money at the time, but offered to try and sell the plate for the seller on commission. Originally an Inverness plate, I advertised it in the press up in Scotland, but surprisingly got no takers. He eventually sold it privately for an undisclosed sum. I will always regret not finding the money for such a lustful number 1 plate!
"I also hesitated and lost when I was offered L16 KLE for around £350! I would have made a pretty penny selling it on to one of the thousands of Mini or Smart car owners on the roads now. An absolute bargain, but I didn't take the bait soon enough. A lesson learnt though about grasping good opportunities with both hands when they present themselves."
Paul still has some great plates. Here is a list of the registrations he currently owns, along with his comments on each one:
G14 STO "I'm an avid fan of the Glastonbury Festival (AKA 'Glasto') and bought this plate some years ago. Until recently it adorned my car and went with me to the festival last year. Now on retention until it goes onto my music-mad son's car soon."
FE57 VAL "I also own another 'festival' related plate which is currently on retention."
B1 EED "This is on my wife's car. She's employed as a phlebotomist (she takes people's blood!)"
FAC 1A "This one is currently on my son's car. I spotted and bought this plate recently from Regtransfers to hopefully sell on at a quick profit. A company within our group is the UK's largest independent PVC building plastics distributor, with a database containing thousands of potential buyers.
I see this plate being purchased by a PVC window/fascia firm and subsequently used as a fantastic promotional tool for the business."
N1 TXT "Used to be on my son's car but now on retention. Like any other teenager, he spends half his life texting his mates, so I thought the number was apt so I bought it for him. Currently being offered for sale by Regtransfers."
V14 GRA "The piece de resistance of my collection. Recently purchased from Regtransfers and now assigned to my car. Again, bought purely as a future investment and boy am I having some fun with it at the moment! If I had a quid for every person who's taken a mobile phone photograph so far, I'd probably have my investment back already! Without doubt a head turner for all ages and it certainly makes people point and smile when they see it passing.
"I had some money in the bank gaining a little bit of monthly interest, but again, I saw more long term return potential in buying this plate and eventually moving it on at a healthy profit. At least this way I'm actually enjoying my money instead of it lying there doing nothing in a bank.
"From what I gather, it has never been assigned to a vehicle since being sold at an auction in 1999 – for around £8.5k I think.
I thought that was a waste, so I bought it and put it onto my car. It's my 45th birthday in May, so I thought I'd treat myself to what is, fortunately, the only type of V14 GRA that I need at this age!"
Len Stout