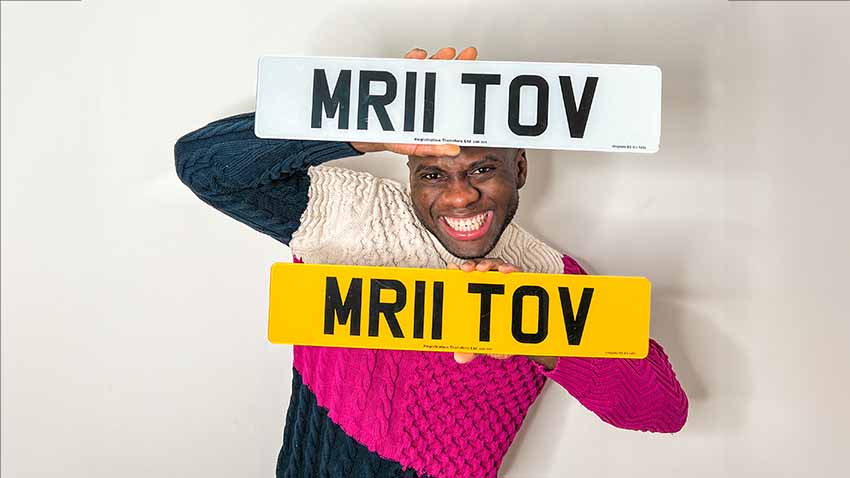 Mr Tov
If you're a TikTok user then you probably know Ola Ojo best as his alter ego, Mr Tov.
Ola, wife Livia and baby Leo have collected 107 million likes and nearly 5 million followers on his TikTok. Meanwhile, Livia has TikTok of her own with another 270k followers and 6 million likes.
Mr Tov's content is a mixture of random family moments, gags, reactions, pranks and the like. Some of the best videos are those in which the couple shine the spotlight on little Leo. Their son is a cute and incredibly bright lad who, even as a 10-month-old baby, was able to correctly identify a large number of animal species when his dad asked him to [pick out the corresponding toy. You want a lion? A shark? A moose? A turtle? Leo's your man. As he's grown, he seems to have developed a strong character too and he isn't afraid to tell his parents off if they don't behave.
Ola recently decided that his own private number plate would fit nicely with his image and achievements.
"I love personalisation so much," he said. "I see it as a symbol of success to be able to have my name displayed in public. I want people to see my reg and be like 'OMG is that Mr Tov's car?'
"I am very proud of the brand I have built over the years, through dedication and hard work, and I love expressing this via customised jewellery, clothing and number plates.
"I love how easy it was to find this number plate on the Regtransfers website. I think you're the best when it comes to getting personalised number plates. It doesn't get easier than this!"
Ola says that his goal is to one day buy another registration from us… to put on a Bugatti!
---
You might also like