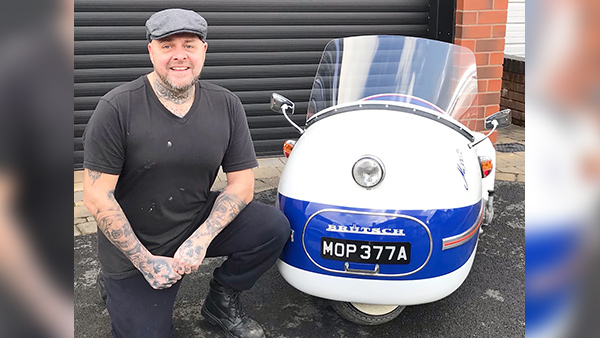 Micromania!
Hands up if you know what a microcar is. Three out of six members of the Regtransfers marketing team didn't know (if one chooses to believe the members who claimed they did) but microcars are, most definitely, a 'thing'. Deferring to the debatable authority of Wikipedia, we learned that "Microcar is a term often used for the smallest size of cars, with three or four wheels and often an engine smaller than 700cc (43 cu in). Specific types of microcars include bubble cars, cycle cars, invacar, quadricycles and voiturettes". The bubble car was, in fact, a fairly fashionable vehicle in 1960s Britain so while the term "microcar" may be unfamiliar to most people, some members of the category have enjoyed a degree of fame.
Ian Leonard, from Bolton in Lancashire, has been a microcar enthusiast for 20 years and has amassed an impressive collection of some real classic examples. "I have a Peel P50," says Ian, "its big brother, the Peel Trident, two stunning Messerschmitt K 201 Roadsters and this little beauty, the Brütsch Mopetta." He is clearly very proud of the Mopetta, which he restored himself.
Egon Brütsch was a German ex-racing driver turned plastic material specialist. In 1950, Brütsch founded the Egon Brütsch Fahrzeugbau company in Stuttgart to produce vehicles of his own design. Over the next decade, the company manufactured 11 different models but in extremely small numbers: consequently, surviving examples are very rare indeed. Some of the models, and variants thereof, were, however, manufactured by other companies under licence.
The Brütsch Mopetta was produced for the IFMA car and motorcycle exhibition in Frankfurt in October 1956. Reputedly, the car that was eventually exhibited was not actually finished, lacking a complete set of mechanical components. It was, however, cunningly displayed in a raised position so its unfinished nature would not be evident.
The tiny Mopetta was a simple beast. The doorless, single-seater body was mounted on a chassis with one wheel at the front and two at the rear. The left rear wheel was chain-driven by a 49cc, 2.3HP, 2-stroke ILO/JLO moped engine.
For a while it seemed as if the Mopetta might be produced in large numbers when a third party showed a keen interest. Accounts online vary: some sources claim that the interest in expanded production was from the Opel car company that was founded by Adam Opel, while others identify the potential manufacturer as an individual, Georg von Opel, a car dealer who supposedly intended to rename the car the Opelit and sell it through his dealership. Whichever set of details is correct, the matter is of academic interest only as the interest dissipated and the additional cars were never built. As Brütsch only made 14 Mopettas, they have always been rare and now it is believed that only five remain in existence.
"The car is very basic, with no reverse:" Ian says "just a handle on the front to pick the car up and turn it around! To start the car there is a pull cord. Once started, you have three forward gears and, depending on your size and what you have had to eat, a modest 25 mph is achievable."
When restoration was complete, Ian decided that such a rare machine deserved a special cherished number plate. He contacted Regtransfers as we had previously provided him with a few registrations, including W199 LER for his van.
Ian spoke to our team member, Kim, who immediately recognised that the MOP 377A character combination Ian had chosen spelt out 'Mopetta'. She then asked Ian what it meant and was treated to an introductory lesson on the subject of microcars.
"After boring Kim with all the microcar history, I decided to get the registration number," Ian says. "With Lockdown having impacted so many businesses, we were unsure of a release date so I had to wait patiently. When I got the call saying the registration number was mine I was absolutely chuffed to bits."
Another particularly notable vehicle in Ian's garage is his Peel P50, which sports the 1963 registration SVV 997. The Peel P50 is acknowledged by the Guinness Book of Records as the world's smallest production car and one was famously seen being driven through the offices of BBC TV's Top Gear a few years ago. The footage is still available on YouTube.
In a motoring world where all the glory seems to go to customised SUVs and supercars that can reach speeds up to 300 mph it makes a thoroughly charming (and very literal) change of pace to consider the humble microcar. Size and speed aren't everything. Rarity is another quality highly valued by collectors and these things are almost vanishingly rare.
We are grateful to Ian for sharing this glimpse into a small, but fascinating world.
Oh, and Kim can't wait for Ian's next private number plate purchase; she's looking forward to a more advanced microcar lesson...