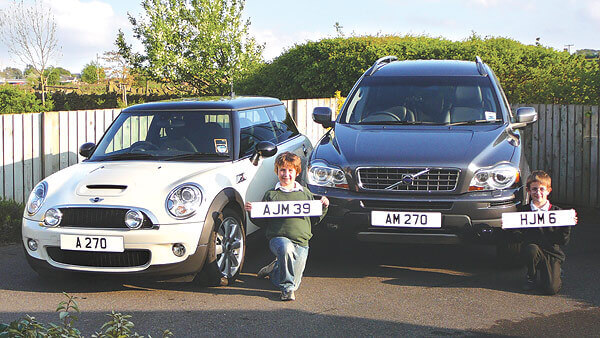 Dennis McCarthy Family Plates
Back in 2009, when we featured personalised registration plates enthusiast, Dennis McCarthy, he was on the look-out for a plate for his grandson, Lucas Charles – then just 14 months old. "LCM 7 or some other low LCM number may be considered," he said.
Well, true to his word, Dennis has sent us this great photo of Lucas, now four years old, with the number,LCM 9, which he recently acquired. There may be still some time to go until Lucas can display it on his own car but, for now, he seems quite happy for now to pose with his personal plate on a surrogate vehicle.
The McCarthy family have quite a collection of registrations. "I have had CX 7 for many years," says Dennis. "My wife, Jean, has her own personal registration too, JEM 7. My eldest son, Andrew James, has A 270, which is also more than 100 years old. James also has AM 270, which was originally on an Aston Martin racing team car, and he has AJM 39. This will also do for my grandson who is aged 12. Andrew has HJM 6 which, ideally, he would like to exchange for HJM 7. That will do for my other grandson, aged 14."
Dennis's youngest son, Richard Charles, has RCM 7. Dennis purchased this when Richard was about 15 years old. When he got it, the number was on a Vauxhall with the old style black and white number plates. Richard's wife, Michelle Ann, has MAM 606 although really she would like to exchange that for MAM 7.
Bearing in mind the Regtransfers tradition of featuring celebrity personal number plates in the magazine and on the website, it is fitting that Dennis should have his own celebrity tale to tell.
"Many years ago I had the registration plate EM 100, which went on my wife's car. I eventually sold it to comedian Eric Morecambe for his Rolls Royce."
The McCarthys are a real family of enthusiasts. Even though they all have great numbers of their own, they each have a clear idea of what number they would prefer to have, and they keep their eyes open for opportunities to change.
"I would like at some time to have DJM 7 or another DJM low number," concludes Dennis. "I have had a few numbers from Regtransfers. You are very professional.".