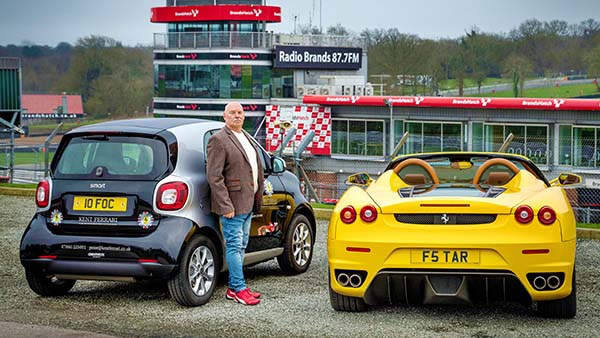 Join the club with Critchell's number plates
Peter Critchell bought his first private registration back in 1973. TOY 14 was assigned to his yellow Ferrari 246GT, thus dooming Peter to life as a personal number plates enthusiast.
"Since then," says Peter, "various other private plates have been transferred onto a vast number of cars and vans that I, and family members, have owned."
Peter also owns a cleaning company and has equipped two of his vans with PC11 NOV, representing his initials and birthday, and the highly appropriate V12 MOP.
A Ferrari reference on a Smart car?
Regtransfers has enjoyed the privilege of supplying Peter with many number plates over the years, the most recent being 10 FOC which is displayed on a Smart car, but not just any Smart car. The initials on the registration stand for Ferrari Owners' Club, an institution for which Peter has been the Kent area organiser for over 30 years. The Smart car in question is appropriately emblazoned with the club logo but we still particularly enjoy the fact that a private number plate containing a Ferrari reference is, in fact, displayed on a Smart car!
Plates for the whole family
Of course, Peter does own a Ferrari, a yellow F430 Spider bearing the registration F5 TAR (also purchased from regtransfers). Peter's wife, Sally, owns 99 SCX and the couple's daughter, Charley Victoria, has H1 CVC which was an 18th birthday present. Although Charley has since married and has children of her own, her number plate remains relevant to her. The children in the photograph are Charley's son and daughter, Ivy and Alfie aged 5 and 3 respectively. Name plates are an exceptionally common plate theme, as well as number plate initials.
Aiding good causes
In his capacity of organiser for the Ferrari Owners' Club, Peter has been involved in fundraising for a large number of charities and good causes, including Kent Air Ambulance, Headfirst (with singer and TV personality Cheryl Baker), Save the Children, The Royal Marsden Hospital, Dorton House, Abigail's Footsteps, Darent Valley Hospital, Tadworth Hospital in Surrey, the Henry Surtees Foundation and more.
We should say that Peter himself did not dwell on this aspect of his activities during our correspondence with him, so we are grateful to his friend, David Marsh, for "snitching" on him. David also took the fine photos accompanying this article.
"Regtransfers are our preferred agent for both buying and selling numbers," Peter says in closing. "You are always more than helpful and see the transactions through to the end."
www.ferrariownersclub.co.uk
www.davidjmarsh.co.uk
---
If you're especially fond of your car, then you might want to consider getting a personalised number plate dedicated to Car makes and models