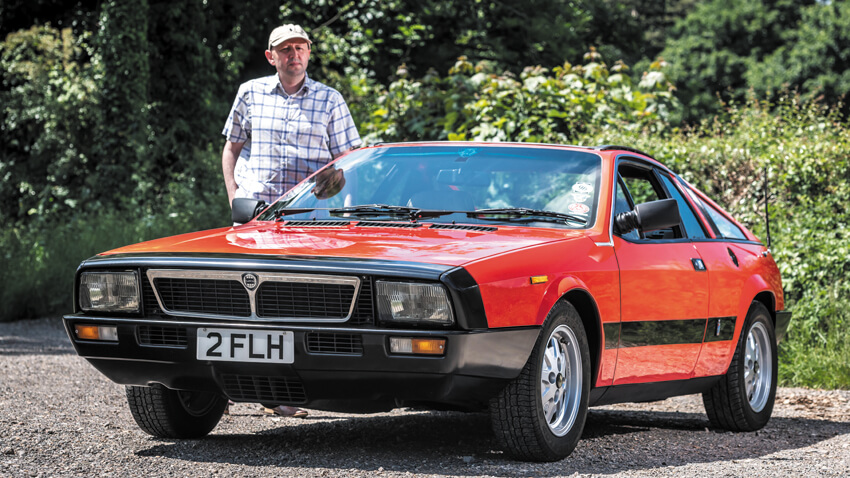 Ghosts In The Machine
Nick Leviton from South Croydon in Surrey is the Commercial and Operations Director of the Red Box Group, who create inspirational office spaces and craft remarkable creative, digital design and print.
When he was just 10 years old, Nick accompanied his much-loved Uncle Peter on a mission to buy a Lancia Montecarlo. Their search took them all the way to Devon to find a car that was rare even when it was new – a car that nearly 40 years later is a virtual treasure chest of precious memories. Memories of being dropped off at school in what all his friends thought was a Ferrari, of blasts along the Military Road on the Isle of Wight, of road trips to car shows, of cleaning and polishing, and of a larger-than-life uncle who bequeathed the car to the one person he believed would cherish the Lancia as much as he did.
Nick, now 48, has more than fulfilled his late uncle's wishes, maintaining one of the last Montecarlo Spyders to roll off the production line in astonishingly original condition – only the brake linings, tyres and cam belt have been changed since 1983.
The last word in the story of a car that means so much may well have gone to Uncle Peter himself, at the end of one last journey to his beloved Brooklands. "I decided to take him for one last drive in the Montecarlo to Brooklands to scatter his ashes," says Nick. "I parked the car in the paddock on a weekday, there was no-one around and left it there while I walked up Test Hill and spread his ashes where a little cafe used to stand in the 1920s. Suddenly, down in the paddock, I could hear the Montecarlo's alarm go off.
I walked back down and it just kept going, lights flashing and everything, but as I entered the paddock the alarm shut off. When I opened the door, and this is absolutely true, I went to flick the alarm switch and it was in the off position. Since that day the alarm has never gone off. My uncle was not religious at all, but my mother is and she says that was his spirit saying goodbye. Literally, a ghost in the machine."
The Lancia Montecarlo [styled as one word] was produced between 1963 and 1981 and Nick's splendid example is from the final year of production. It would, therefore, have had an 'X' suffix in its original registration. Its present 2 FLH number plate has been in Nick's family since the 1930s and it is thought to have been issued originally to the Armstrong Siddeley motor car company. This superb cherished number has been assigned to the Montecarlo since 1987.
www.redbox.co.uk