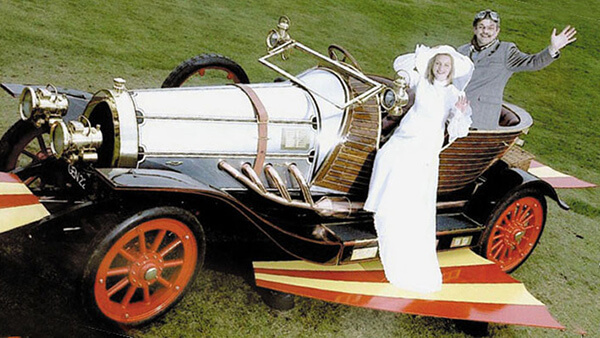 A Truly Scrumptious Plate
Tony Green, from Lancashire, has built his own 'Truly Scrumptious' replica of the film car Chitty Chitty Bang Bang, under a licensing agreement with MGM. For the finishing touch, Tony turned to Regtransfers for an essential GEN number plate – GEN 11 was famously on the original car. GEN is short for 'genii' – in keeping with the fictional car's magic powers.
Tony had registered his interest in a GEN number with Regtransfers 'Wants List' service and was delighted when GEN 22 was found.
The classic 1968 film, about an eccentric inventor, Caractacus Potts and the amazing car he restores, was produced by Albert R. 'Cubby' Broccoli, of the James Bond series of films. It is no coincidence that the film was based on a series of stories by Bond author, Ian Fleming. The screenplay was written by Roald Dahl in conjunction with Richard Maibaum and the film's director, Ken Hughes.
The original car was designed by Ken Adams and Rowland Emmett, along with the Ford Racing team. A Ford V6 engine was used. The final car weighed approximately 2 tons and was 17 feet long. Built on a custom-made ladder frame chassis, it was hardwearing enough to withstand every type of surface it would be driven on – from staircases to sand!
Tony's car is not the first replica built – several versions were created as stand-ins for the more dangerous scenes in the film. Tony said, "I remember seeing the film in 1968 and it had a big influence on me at the time. I still think today that it has all the right 'ingredients' to entertain generations to come."I started collecting Chitty memorabilia, and before long I was showing it at various exhibitions around the UK. People kept asking me if I owned the original car.
I hated having to say no, so when someone said to me 'You have the plans why don't you build one?' I thought, Yes, I think I will! The car has taken me 2 years to build in total – in the evenings and at weekends."I have followed the master plans faithfully and one of the film's car builders has finished the planking to the boat section for me.
The car wouldn't be complete without a GEN number plate of course! Now the car is finished, I will be exhibiting it around the country. I have already appeared on the Richard & Judy show on Channel 4." It looks like a little bit of 'Chitty' magic comes alive for Tony!
© Regtransfers – The World of Personal Number Plates, Volume 1, Issue 1