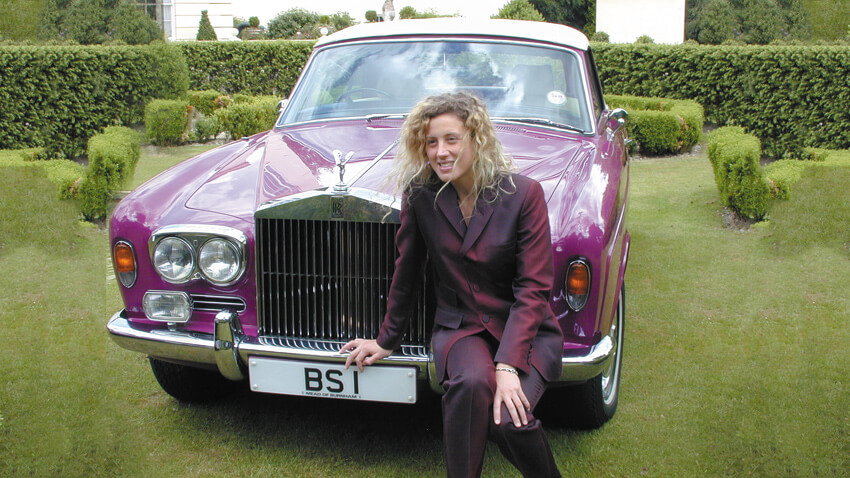 Don't BS1 or they'll FU2
FU 2 is one of the most notorious private number plates on the market today. Steeped in celebrity history, the plate makes the kind of statement that would make your granny's hair curl!
Whoever buys it from the current owners, Billy and Hanna Smart (of Big Top Circus fame) they will have to be daring enough to carry it off, because, as Hanna Smart maintains, "it attracts all kinds of attention." Indeed, Hanna recalls probably the most awkward moment in FU 2's colourful history, when the Queen, accompanied by two body guards rode past Hanna as she stood in Windsor Great Park with her Range Rover which was sporting the cheeky plate. As Hanna felt the flush of embarrassment, she says she couldn't tell whether Her Highness was amused or not!
Despite this, Hanna Smart recalls many gloriously happy times driving around with the FU 2 plate. She says: "It's a conversation piece. Most of the time I forgot it was there until someone would call out to me. Usually they'd call: 'Fiona, Fiona'. I think they thought I was Fiona Richmond!" The plate was previously owned by Soho nightclub owner Paul Raymond, who's one time girlfriend, Fiona Richmond, a blonde actress, had the plate on her primrose yellow E-type Jag. When the couple parted, Fiona persuaded Billy to buy it for Hanna with a view to eventually buying it back.
In the early days, Hanna says that the police seemed particularly taken by the saucy plate, even pulling her over and following her home just so they could ask her about it. Now she has had the plate for 25 years, won't she miss it? – "Its time to let someone else have some fun with it now!" Hanna says with a knowing smile, "the number plate is rude in a way, but I don't think of it as rude – I think of it as fun."
Billy and Hanna's children, Billy-Jay and Baccara, are the ones that tend to drive round with the plate these days – it is currently on the family Merc. Though
Billy-Jay warns, "it's not the best plate when you want to go out and not be seen. One time a news camera crew spotted it, so it was shown on the local news, and I was somewhere where I wasn't supposed to be!"
The Smart's are also selling another part of their family history – their BS 1 plate. It was purchased in the 1960's by the late Billy Smart (senior). Billy-Jay said: "my father gave permission for BS 1 to be used in the early 1970's television series, The Persuaders. It was the perfect plate for the Aston Martin which was driven by Roger Moore's character – the English gent, Brett Sinclair." It has been on Billy's striking purple Rolls Royce Corniche convertible since the early 70's. Billy remembers the trouble he had persuading Rolls Royce to spray a car such an outlandish colour, "I told them if they wanted my business, then they would have to sell me a car the colour I wanted."
The Smarts' decided to turn to Registration Transfers for their expert help in selling BS 1 and FU 2. Marketing Manager, Len Stout said: "We are very pleased to work for the Smarts' as sole agents. As the UK's largest number plate dealer, and with the kind of marketing we do here at RegTransfers, we are confident that we can find buyers for both plates."
Fanatical About Number Plates 23 June 2001