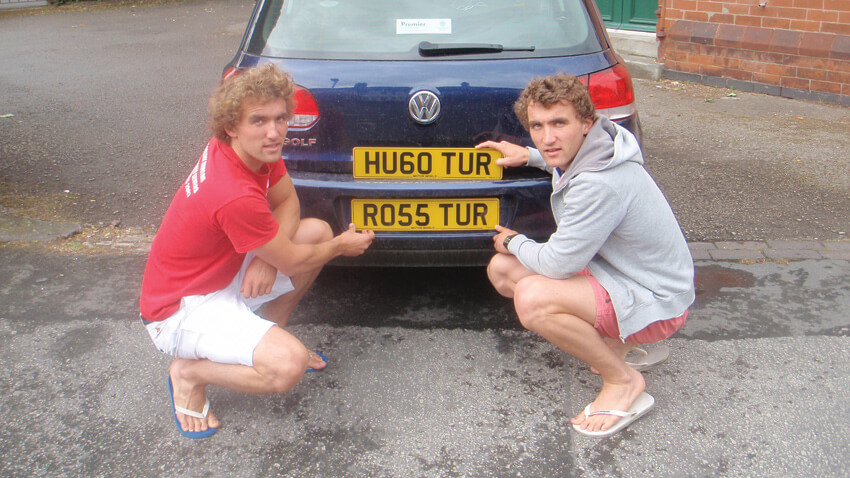 Double Trouble
About five years ago, Crispin Turner was looking for a personal number plate for himself. However, the registration that eventually caught his eye was one that Crispin thought would be perfect for his son, Ross.
"I thought that RO55 TUR would make a great 21st birthday present for Ross," says Crispin. "But I couldn't purchase a number plate for Ross without also getting one for his twin, Hugo."
Crispin went ahead and bought the number for Ross, hoping that he would be able to acquire a suitable equivalent for Hugo a little later. Fortunately, time was on Crispin's side. The idea had occurred to him well in advance of the event itself, and the twins' 21st birthday was still five years away.
By a happy coincidence, the passing of those five years meant that the "60" registrations had been released in time for the twins' birthday and Crispin was able to buy HU60 TUR, thus completing the pair of registration plates for his brothers. Ross and Hugo are both still at university and don't yet own cars, so Crispin has placed both numbers on retention certificates ready for transfer to vehicles when his brothers are ready.
"Before that happens though," says Crispin, "the twins have signed up to row the Atlantic in a custom built 29-foot carbon fibre boat together with university chums Adam Wolley and Greg Symondson. They aim to raise over £150,000 for Spinal Research, after Hugo broke his neck in a diving accident.
"This is an enormous task, but in doing so Hugo and Ross will secure two world records by becoming not only the youngest people to row the Atlantic, but also the first and only set of twins to have done so."
More information about the project can be found at www.theatlantic4.com where both individual and corporate sponsorship opportunities are available.