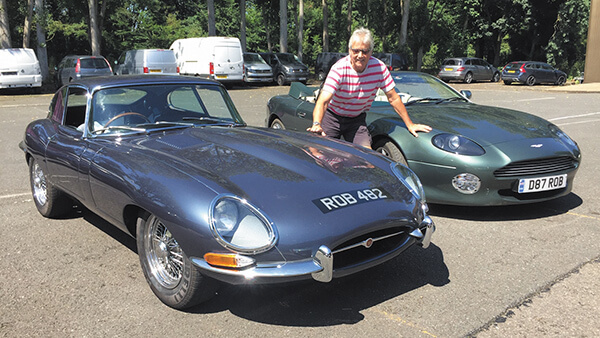 Concours d'Elegance
Rob Taylor bought ROB 482 in 1971 by purchasing the logbook bearing that number from a man in Wymondham. The substantial sum of £30 changed hands and then Rob had the number transferred to his Morris 1000 van, which was hand-painted in Dulux White.
"It was extremely reliable," Rob says, "so, in 1973, a close friend, also named Rob, and I drove it to France, then on to Norway and back with only minor hitches. Dr Rob Dean and I have remained good friends and we reminisce about the adventure every time we meet up."
Since then, ROB 482 has graced a wide assortment of cars including Mercedes, Porsche and Aston Martin. It currently resides upon a 1962 Series 1 E-Type Jaguar. The transformation of the E-Type from a complete, but hand-painted car to the Concours d'Elegance vehicle that was displayed at Goodwood last year took two years. The restoration was carried out by Northamptonshire Jaguar specialists The Splined Hub.
"If you want the best for your Jaguar," Rob declares, "I would advise you to contact this extremely professional team."
www.thesplinedhub.co.uk
A 'splined hub' is part of the engine transmission system which connects the driveshaft to the wheels.
'ROB' registrations were issued from 1955 by Birmingham County Borough Council.