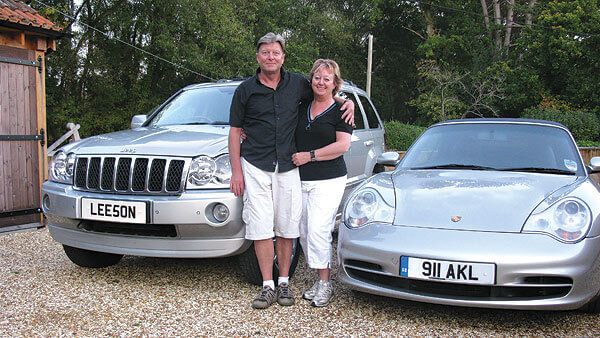 Customer Success: Tony and Andrea Leeson
Tony and Andrea Leeson have led varied professional lives. Tony worked in financial services for 30 years, while Andrea has worked in banking and also been a successful professional dancer and dance teacher.
Andrea took a break from her career to raise the couple's two daughters, Nicola and Heidi, following which she and Tony decided to move into a completely different area of business. James, who had been an executive director of J. Rothschild Assurance, left financial services, and together they pursued new careers in residential care for the elderly. They purchased their first care home in 1994.
"This was a perfect opportunity for Andrea to get into something that she had always wanted to do," says Tony. "She had a wonderful caring nature, and I had the financial background, which worked incredibly well together.
"We now have three care homes in the South of England, all of which have excellent reputations. All three are fully managed and staffed, so our role now is very much overseeing the business and visiting all homes on a weekly basis."
Tony's interest in private number plates is long established. In 1967, a former school friend of Tony's had a Lotus Elan bearing the number JF 100. At that time, Tony knew nothing about private registrations, and wasn't even aware that it was possible to choose or change the number on a car.
"Many years later, when I was director of Allied Dunbar, I was fortunate enough to have a Porsche 911 Targa as a company car. The plate I had on it was H1 TJL (Tony John Leeson). This company car did two things, firstly it renewed my interest in personal plates, and secondly Andrea absolutely loved driving the Porsche, so we vowed that at some time in the future we would stretch the budget and get her one."
In 1997, Tony was looking through the number plates for sale in a Sunday newspaper when he saw 911 AKL.
"It was perfect for Andrea Kay Leeson," he says. "But we didn't have a Porsche 911 at the time."
Tony knew that there was only one 911 AKL, so he didn't let the opportunity pass. He bought the number and kept it on a retention certificate until they could afford a second hand 911.
"About a year later we happened to find a 10 year old Porsche 911 cabriolet for sale at the main Porsche centre in Reading with just 2,600 miles on the clock. We negotiated a price, and I covertly arranged with the salesman to have Andrea's personal plate to be put on the car when she collected it. I will never forget the amazement on her face when she saw the car for the first time with her initials on it!"
Some three years later Tony and Andrea bought a house in France. Unfortunately an associated financial issue meant that they had to sell the Porsche.
"It only had 14,000 miles on the clock, so to help sell it quickly we left the plate on the car. This is something we regretted from the day we sold it," says Tony. "Not so much the loss of the car, but the loss of the number plate."
A few years later, Tony began to search the internet for new private plates for Andrea. He was specifically looking at numbers containing her intitials, AKL.
To his great surprise, Tony saw 911 AKL for sale on the Regtransfers.co.uk website. There were also four other AKL options.
"When I phoned, Regtransfers investigated all five options for me. The bad news was that four of them were no longer available, but 911 AKL was still for sale.
We negotiated and bought it again, and it really felt like the number had come home. It is now on Andrea's Porsche 911 cabriolet, and she thoroughly enjoys it."
In 1990, Tony enquired about LEE 50N, but he was told by DVLA that it had not been issued. Tony decided to wait in the hope that it would be released in one of the auctions. Sure enough, in 1998 LEE 50N was featured in a DVLA auction which both Tony and Andrea attended.
"The price went sky high," Tony told us.
"So I was unable to purchase it. I did wonder at the time whether Nick Leeson, who brought down Barings Bank, might have made a bid for it, but I never found out!
"A few years later I bought 3 AJL for my Jeep Cherokee, but I always hankered after the plate I failed to get at auction. Out of the blue, in June 2008, Regtransfers sent me a text on my mobile phone to inform me that LEE 50N was now on the market.
I purchased it without hesitation, and Regtransfers sold 3 AJL on my behalf.
"It is a long drawn out story, but we are both very happy that we now have our perfect private plates, thanks to Regtransfers!"