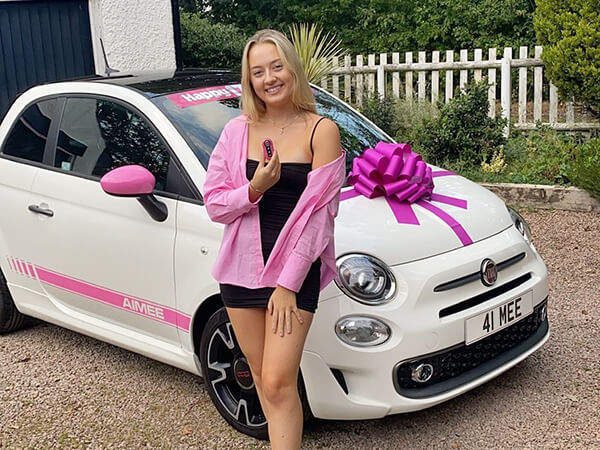 Nine year wait - Plate update!
In March 2014 we published issue 33 of The World of Personal Number Plates. Amongst the letters and photographs contributed to the issue by our readers and customers was the following message from a young correspondent: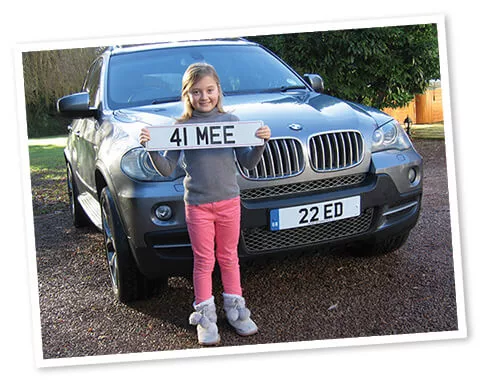 Here is a picture of me with my personal number plate, 41 MEE, which my daddy bought for me from Regtransfers, four years ago. I am now eight years old and I only have another nine years before I can enjoy it properly! Our family all display private plates on our cars including 22 ED, 23 ED and 1 BAV and I can't wait to join them. Thank you.

Aimée Baverstock, Droitwich, Worcestershire
We loved the story and Aimée's picture but, to be honest, we didn't really expect to hear from her again. Imagine our surprise and delight when we received an email from Aimée in November 2021 bringing us up to date with all her news.
For her 17th birthday, grown-up Aimée finally received a car upon which to display the excellent 41 MEE registration that her dad, Ed, had bought for her when she was little Aimée. Her Fiat 500 is trimmed with Aimée's favourite colour, pink. Her name is emblazoned on the side of the car in a snazzy go-faster stripe, the door mirrors are pink and even the number plate border around her registration number is pink. You can probably guess what colour ribbon it sported on the bonnet when she got it.
There is just one, last formality to be attended to before Aimée is unleashed on the road in all her pink glory.
"I have passed my theory test I am currently learning to drive in my car and having lessons with an instructor and my daddy," she says.
"I recently started a beauty course at college after passing all of my GCSEs and I also have two part-time jobs working in a restaurant and wedding venue. I enjoy fashion and beauty and want to make a career out of that."
Aimée is certainly keeping herself busy and her practical driving test is booked for May this year. We asked Aimée for an update on the family number plate situation, as they owned several when we were last in contact.
"At my high school prom in July 2021, I wore a big pink dress and my daddy drove me in his Ferrari F430 which has a great number plate, F430 FER.
"He changes his cars quite often and has different number plates which he puts on his cars and bikes. He purchased his first personal number plate, A7 BAV, in about 1990, when he was 19 years old, which he put on his Lancia. He followed this with M2 BAV and bought his first dateless plate, 1 BAV, in 1995. He has been collecting number plates ever since.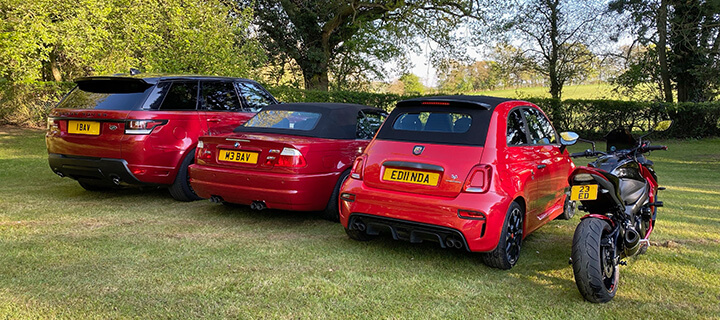 "My dad has 22 ED and 23 ED on his motorbikes and 1 BAV on his daily driver. He also has M3 BAV, which was on his BMW M3. My stepmum Linda has 'Ed Linda' (ED11 NDA) on her car, which is quite funny, and my stepbrothers and sister also all have number plates waiting for them when they pass their driving tests. Even my uncles, Richard and Nicholas, have R1 BAV and N1 BAV on their cars to go with our 1 BAV.
"We really enjoy the way that number plates can personalise a vehicle and are easily recognisable. My daddy tells me they are an appreciating asset… Not that I think we will ever decide to sell them!"
We're grateful to Aimée for the updates about her life and her family's love of personal registrations. We feel almost as if we had watched her grow up, so we hope Aimée will consider herself part of the Regtransfers family too.
You too can have a perfect name number plate. Pop over to our Buying a number plate page.
If you have similar number plates and if you are curious as to their value, use our free number plate valuation service and find out.