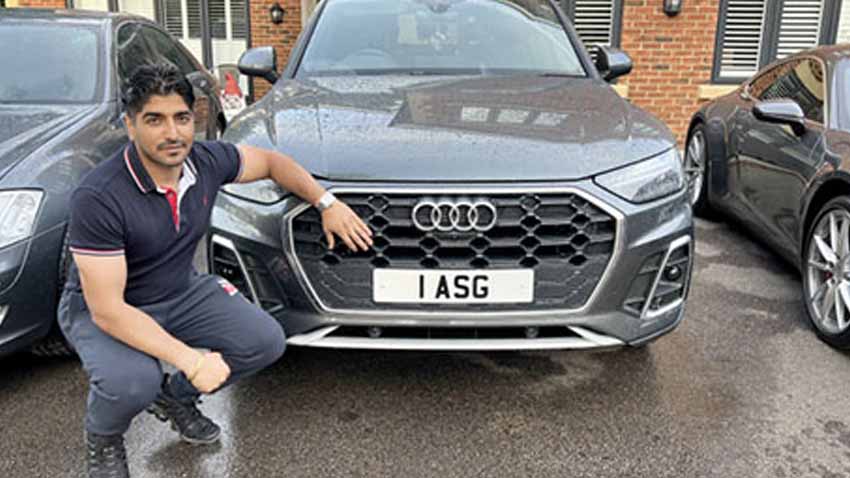 It's a family affair
The Sheregill family, from Gillingham in Kent, has accumulated an excellent and varied collection of personal registrations. Amardeep Sheregill, entrepreneur and managing director of Sheregill Real Estates, credits his father, Gurdeep, for initiating his love for cherished number plates.
"My father purchased 7 GSG (pictured with Armardeep's children, Mya and Nihaal), for Gurdeep Sheregill and we carried on from there, buying plates for our children and other family members," Amar says.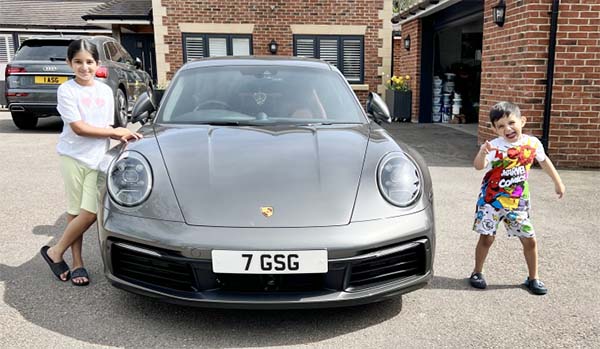 The Sheregills are a close family and the gifts and other number plate acquisitions soon became a sizable collection featuring some excellent registrations. Amardeep kindly listed just a few of the numbers enjoyed by his family and friends.
As we have seen, Amar's father started the ball rolling with 7 GSG. Other terrific plates containing the letters SG for the family name followed and Gurdeep bought 1 ASG for Amardeep. Amar's uncle Minder has both 1 MSG and 2 MSG while another uncle, Bhupinder Sahota, has BSS 1. Brother Tirth maintains the theme with 1 TSG and Amar's nephew, Narinder, has 1 NSG while another, Arjun, has ARJ 1N.
Amar owns a building company and two of his vans display numbers that were bought to represent his son, Nihaal. The vans bear 4 NSG and 5 NSG, while Nihaal also has his own NE11 AAL plate.
In addition, friends and family have a variety of other numbers. 6 DSA was bought for nephew Dylan Atkar and 2 GSO for family friend and renowned immigration solicitor Gurpal Oppal. Brother-in-law Jindy received the excellent J1 NDY.
Amar says "I am always on the look-out for plates for my nephews and nieces. I purchased KH15 HAN for my nephew, Kishan, and AM12 YTS for my niece, Amryt.
"You could say it's an addiction," he admits. "I own approximately 40 or 50 plates and I am always adding more." As if to underline the fact, Amar recently purchased DAL 131R (Dalbir) and CA22 ERA (Carrera), as well as JES 8Y for his friend Jessy. That first registration purchased by Amar's father was the foundation of a truly epic collection of fine plates and a close-knit community of happy owners. "Without family," says Amar, "none of the plates would mean anything."
---
The above article appeared in Issue 55 of The World of Personal Number Plates, our very own free magazine.
Looking for more interesting stories? Check out our other customer stories.