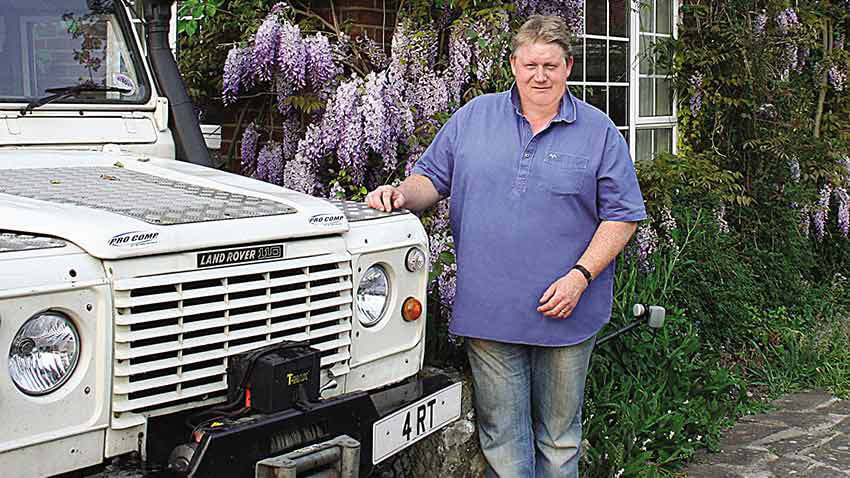 Andy Rhind-Tutt
Number plate collecting has become a bit of a family hobby for the Rhind-Tutts of Wiltshire and London. Property developer Andy Rhind-Tutt of Salisbury gave us a brief insight to this unusual name and the family's collection of cars and number plates.
When Andy's great-grandfather Tom Tutt, married Jane Rhind on 23 October 1866, in Paddington, Jane was determined to keep her name in memory of her late father Charles Rhind, who was once a messenger for King William IV and retired to become first postmaster of Paddington in 1837, before the Penny Black. It was after their marriage and following the births of their six children that the first generation of Rhind-Tutts was created. Since then, there have been 120 Rhind-Tutts over four generations, Julian Rhind-Tutt, of TV's Green Wing fame, being Andy's cousin.
Keeping the new family name and being in the limelight with it, started back before the turn of the last century when Andy's grandfather, Charles Rhind-Tutt, who was an entrepreneur and master builder in Paddington, had a car built for himself by a company in Marylebone, London called Hurst and Lloyd. The car which Charles helped design, took two years to build and was finished around 1898. Charles used to visit the factory every other Saturday to check on progress.
The car was such a novelty for the workers of Hurst and Lloyd, as the age of the motor car was yet to begin. It had a single cylinder engine and tiller steering, similar to that of a steam traction engine. When Charles finally collected it he smiled, as none of the workers would dare tempt to drive it, and ended up driving it out of the factory himself. This car was Charles's first and was used to travel from London to Salisbury and back each weekend, to his family's country cottage.
Andy recalls a story of Charles picking up a hitchhiker at Hartley Whitney and shortly after, being stopped by a walking policeman for having no lights showing at the rear. Charles's details were recorded in a notepad and he was told to expect a summons in due course. When Charles dropped off his passenger in London, he was thanked for the lift and told not to worry about the summons. Charles queried the comment, whereupon the passenger informed him that he was a professional pickpocket and passed the notepad over.
Charles is shown on the front cover of The Car motoring magazine dated 20 August 1902, driving the car through Hyde Park.
In 1904 Charles bought a De-Dion Bouton with the registration A 448. Charles was very proud of this and kept the car in the family until 1956, when Andy's grandmother sold it to a doctor from Nailsea for £30. The car has remained with its second owner ever since and Andy has the original cast aluminium number plate.
From the very earliest days, Andy's uncles carried on the tradition of their father. William David, bought the number plate DRT 2. He also bought a Bentley with the plate OKW 100, hoping to drive it on his 100th birthday, and Richard bought RRT 4. Both DRT 2 and RRT 4 were bought for £5!
Andy started his collection back in 1997, when he went to register a new car. To his delight, R7 UTT became available.
Later that year Andy bought RRT 7F for his wife Becky and, in 2004 Andy bought an Aston Martin and decided that a new plate was required. Being the 51st Rhind-Tutt, the plate 51 RT seemed the ideal companion. Andy bought the plate from Regtransfers and was so thrilled with it, he named one of his companies, SIRT Consultancy,
after it.
The latest addition to his collection was 4 RT, bought earlier this year and now taking pride of place on his old Landrover.
Andy says that he probably wont buy too many more plates as he's running out of space for the cars.