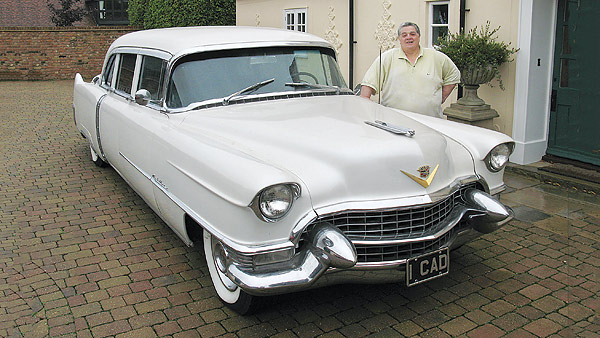 That's about the size of it
When Glenn McCleod bought his first personalised car registration it was for a very practical, if unusual reason. Glenn ran a limousine business, specialising in American Cadillac automobiles, and he soon found that the number plates on Cadillac limos were too small to accommodate the regulation characters that the law demands should appear on UK registrations.
"American number plates are 12" x 6", so I had motorcycle sized digits put on the plates so that I could utilise the existing mounting, simply because mounting them elsewhere and have an empty space looked a little odd. Unfortunately, there was a local beat policeman who was rather too officious and insisted that I have the plates altered.
"I studied the regulations and realised that, although there were specific size and spacing requirements, there was no requirement on the size of the plate itself, even though they were usually made in two different sizes, depending on whether oblong or square plates were needed."
Glenn worked out that the size of plate that would fit onto the number plate mounting of a Cadillac would take the legally required UK characters – so long as the registration contained five characters or fewer, and that one or more of those characters in a five-character registration was a figure 1.
His quest for an appropriate number led him to one of Regtransfers.co.uk press advertisements, where Glenn set about scouring the list for a registration which would meet his two requirements: it must fit into the limited space on the Cadillac plate, and it must be relevant to his car and business.
"Lo and behold, amongst all the numbers in your advert was 1 CAD. As it was unlikely that I would ever see a more relevant number, and as I had received a sudden and unexpected windfall, I decided to bite the bullet and buy it."
The personalised number plates bug had bitten, and Glenn eventually acquired two more private numbers,1112 D and 1480 D, which would also fit the American sized plates, but at that point enforcement of the issue that had prompted his search became less rigorous.
"The ruling was unofficially relaxed because of thousands of Japanese cars that had turned up with U.S. size number plate mountings."
Glenn sold the third number at considerable profit, but he decided to keep the other two, partly because of an unexpected side-effect: Because of the type of car and configuration of number plate, several traffic wardens assumed that the car was diplomatic, and so they didn't issue tickets! Sadly, this doesn't happen now because wardens are required to slap tickets on everything."
---
Who Buys Private Plates?
Unlike many businesses we always struggle to define a "typical" customer. The people who buy their number plates from us come from all walks of life. The prices they pay range from £50 to £400,000 or more. The registrations they choose may be names, initials, words or something else.
With such a broad spectrum of clients, we find that the only generalisation we can make is they they tend to be car enthusiasts. Whether they are young people buying numbers to personalise their first cars, businessmen seeking badges of success to to display on their Mercedes or celebrities seeking to maximise publicity, their cars seem to be of particular importance to all of them.
We find that fans of motor sports make up quite a large group amongst our customers. For example, rally driving enthusiasts and followers of Formula 1 motor racing do seem to love private registrations.
As they say, it takes all sorts, and we see most of them!
---
Further information: http://www.rally-school.com