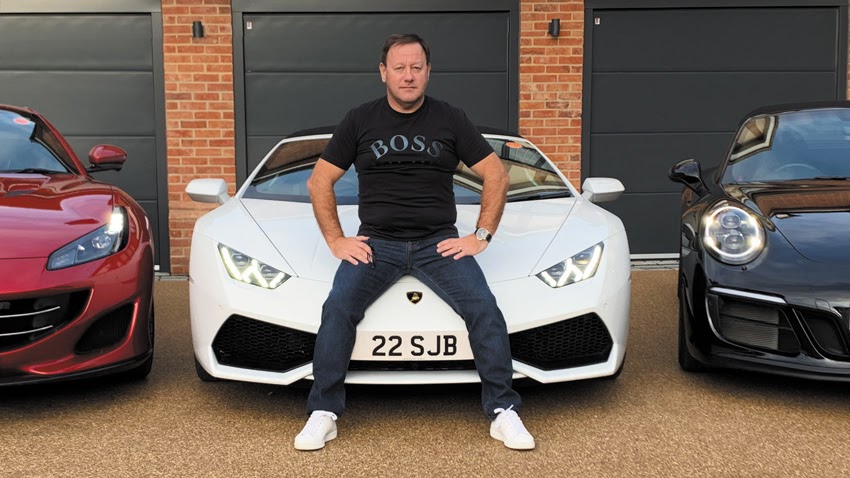 Steve Brewer - the exit
Number plates?" says Steve Brewer from Billericay in Essex. "I've just always liked them - and the lower the digit the better."
Born in 1964 in the East End of London close to Upton Park, Steve Brewer has been a West Ham United supporter since he was just seven years old. He left school at 16 with a couple of O-levels and started an apprenticeship as an electrician, quickly progressing through the ranks to supervisor and then project manager.
In 1989, he joined PIP Electrics and worked his way up again, but this time to become a director and co-owner of the business before it was sold to a trust in May 2017. Steve still works for the company but is, in his words, "working my way towards the exit."
Steve married Debbie in 1991 and the couple have two children. The whole family enjoy their personal initial number plates: Debbie has 64 DEB; their son, Harry Thomas Brewer, has E13 HTB and daughter Katie Hannah Brewer has E13 KHB.
"I have always liked the idea of a private number plate," says Steve, "and the kids have also caught the bug."
Steve, whose middle name is John, had looked at several interesting combinations that might represent his full initials, such as 5 JB, SJ 8 etc. but decided that none really worked.
It was in 2007, while waiting for a flight at Stansted airport, that Steve bought his fantastic 2 SJB plate. "Someone from Regtransfers called me just as I was going through security," he recalls, "and by the time I boarded, I had the registration on retention. The plate went on an Aston Martin that was delivered later that year." 22 SJB was purchased at the same time Steve got his Lamborghini, and the set was completed last year when, with the help of Regtransfers, he got 222 SJB at auction.
"I've always been a sports car fan," he tells us. "One day, I would like to get 1 SJB and a Ferrari Dino and put the two together."