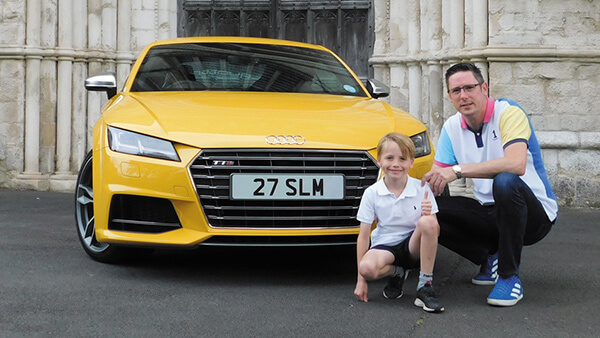 Customer Success - Stephen Maskill
Stephen Maskill from Malton in North Yorkshire says he is "happily divorced" and loves spending time with his two children Charlie and Emily. "We enjoy weekends away and generally getting up to all sorts of stuff their mum doesn't let them do!"
As a sales manager for a large international property development company, he splits his time between the company's offices in London, Manchester and Hong Kong.
"My passions are cars and watches," Stephen says, "and I am always swapping and changing both."
After almost 20 years of buying and selling number plates through Regtransfers, Stephen has finally acquired his perfect plate. "I've dabbled with numbers plates that worked at the time," he explains, "but, for one reason or another, they were never quite right and I always sold them."
One of Stephen's earliest number plates was SER 464. The letters represented his first name together with those of both his daughter, Emily and his ex-wife, Rachel, who's still a good pal. This was fine until young Charlie came along.
The initials theme no longer worked so Stephen bought 393 FEV, a reference to his schooldays nickname, 'Fev'. Following that, Stephen bought XXX 7S. The last two characters were the only ones of intentional significance, representing his house number and first initial. "The 'XXX' did, however, always raise a few questions as to the industry I worked in, so that also had to go!"
More registrations came and went, including S9 YOO and UGO 5M, until Stephen spotted 27 SLM in an upcoming auction. "I planned to attend and bid in person," he recalls, "but, due to work commitments in Hong Kong, I missed the auction and I missed the plate."
As his business trip had been successful, Stephen decided to spend some money on another watch to cheer himself up after missing out on the registration he had wanted. "Imagine my surprise when an email from Regtransfers landed in my inbox advertising 27 SLM for sale." It was now just a few days before Christmas so what else could Stephen possibly ask Santa for? "I quickly called Regtransfers and the plate was finally mine."
27 SLM combines Stephen's date of birth with the initials of his full name, Stephen Lee Maskill. Mindful of his previous purchases, Stephen insists that 27 SLM is now a keeper and will always be on his main car.
Using the birthdate and initials format, he intends to look out for 14 COM for his son, Charlie Oliver, and 5 EEM for his daughter, Emily Elizabeth. "Regtransfers are, and will always be, my go-to dealer," says Stephen. "The staff are friendly and knowledgeable and will always look to provide the best possible customer experience."