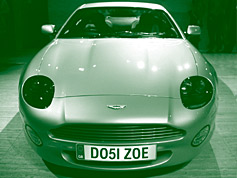 Devoted parents, Mr and Mrs Beresford from Cheshire told their daughter Zoë from a very young age that if she made sure that she never smoked cigarettes, they would buy her a brand new car when she reached 17 years old.
Zoë is now 17 and is looking forward to receiving her brand new VW Beetle on January 1st. To add the finishing touch, Mr. Beresford decided to buy Zoë a personalised number plate to go with it. He looked on the Regtransfers website, www.regtransfers.co.uk, where they have a special section called 'New Style Regs' and by using the drop down menu's, found a huge selection of new style number plates.
"She had a choice," Mr. Beresford explained, "between DO51 ZOE (Dozy Zoë); ME51 ZOE (Messy Zoë),PO51 ZOE (Posy Zoë) and LA51 ZOE (Lazy Zoë). She is a bit of a dozy Zoë, so it had to be that one! It wasn't easy to get a number plate with Zoë on before, but now with the new style number plates there are several to choose from. I just had to get her one before they all went! She is thrilled with the plate and can't wait to see it on her new car. It is well deserved."
Mr. Beresford said that although he hadn't bought the number plate as an investment, but he was hoping that it would hold its value.
Marketing Manager, Len Stout said, "The new style registration plates spell some excellent names, such as DE51 REE, RO51 MAY, NA51 EEM, JA51 PER andAU51 TEN. We have many 'SU51' plates for sale, which are proving to be very popular amongst the girl's names, for instance SU51 SSS, SU51 TTT and SU51 COX. People are choosing the combinations they want instead of being restricted by the first two letters they would be given in their part of the country. And they are shrewdly buying before the big number plate change on September 1st to avoid disappointment."
Fanatical About Number Plates 22 August 2001