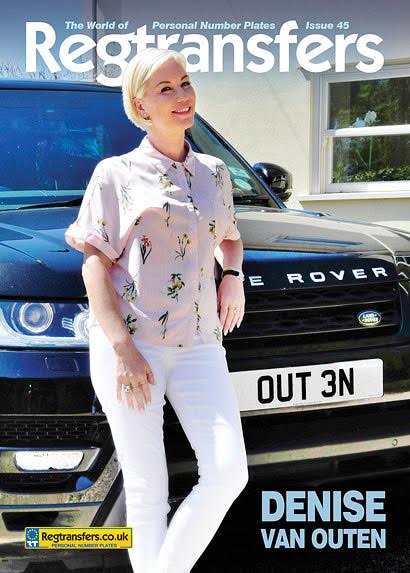 Issue 44
Gok Wan (82 GOK)
Luton Town Football Club
Pow! (1 POW)
Out of This World (YG 1)
Easy Load (TL 8)
A New Phase (1975 GM)
Portfolio (54 LO)
In the Picture (PH09 OTO)
Pantos, Punches and a Personal Plate (GF 1)
It Doesn't Get Any Better (RU55 ALB)
Paul Karslake, Artist (PK58 ART)
Keeping it in the Family (1956 VW)
Good Dog! (GO09 DOG)
One Happy Driver (GIB 516)
a note from the team . . .
Welcome to our first issue of 2018. We're thrilled to bring you an exclusive interview with the amazing Gok Wan. We can't remember last time our team was so excited about a celebrity feature. Gok is one of the most instantly recognisable faces on TV and we're delighted to reveal that he really is as bubbly and nice in real life as he seems on screen!
"Thick-rimmed glasses, shrieking laughs and getting naked in shop windows," is how he describes himself. He also clearly endorses personal number plates and is pictured inside with the excellent CL07 HES plate in a fantastic four-page interview where he reveals all (well, almost).
Elsewhere, there is a feature on our sponsorship of League Two highfliers, Luton Town FC and a whole range of features on interesting customers and contributors, all proud to talk about and show off their great plates. There's tons of news and information and, as usual, the extensive 37-page listings section showcases the UK's finest selection of quality registrations.
Don't miss our customer stories in this issue. Nothing shows how much people enjoy their personal number plates as their own stories in their own words. Our mission is to match each customer with their perfect cherished registration and we think we may have done just that for Guy Mortenson who tells us about his great 1975 GM. Why not check out the website and see if we can do the same for you?