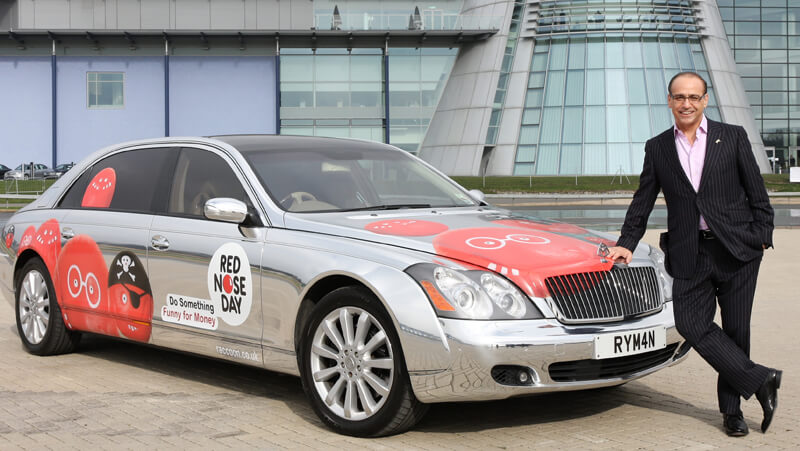 Straight-talking 'Dragon' Theo Paphitis went that extra mile to promote Red Nose Day on March 18 by turning his Maybach 62 into a Chromamobile to promote the charity.
Not only was the car wrapped in chrome, it was also adorned with red noses and a picture of an exclusive Ryman Red Nose Day pen. The stationery firm has sold over 220,000 pens to date for £1 each, the whole of which has gone to Comic Relief.
The Red Nose Day chromamobile was officially unveiled at Mercedes-Benz World in Surrey. The transformation has been sponsored and carried out in association with Maybach and the Kent based Raccoon Group. The memorable number plate, RYM 4N, remains.
Theo Paphitis said, "Red Nose Day is about fun and raising money for a fantastic cause and the car's new design is certainly drawing attention. In fact, it is so shiny it is creating a bit of a sensation. It is unusual for such an exclusive luxury car to be 'chromed' in this way. I have been stunned by the number of Tweets I've had from people already and I am glad to say that it is all for a very good cause.
"I hope that people can see the funny side of our fundraising, which is for serious reasons. I have visited Comic Relief funded projects in Ethiopia and seen street children benefit from Comic Relief cash. People shouldn't forget that a significant proportion of the charity's funds are spent on projects around the UK."
Ryman employees have a terrific record in fundraising for charity. Last year staff from the company's 237 stores and from its Crewe headquarters presented more than £225,000 to Sport Relief and in 2009 raised over £500,000 for Red Nose Day charities.
The production cost for the car's wrap has kindly been funded by Maybach and Raccoon.
Mercedes-Benz World is open to visitors from 10am 6pm, seven days a week and admission is free.