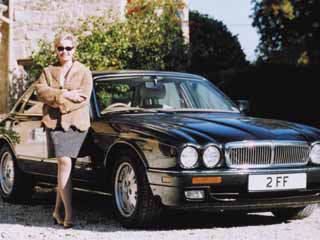 NS 26 isn't the only cherished registration Neil has acquired over the years.
"He's got a couple of double Ds which have got like four digits and then DD. He's got two of those. One is on one of the Volvos that he's driving today, I think, and we've got another one. oh, it's on the MGA. It's not a particularly special plate, just four digits and then DD, but they're two corresponding plates which is nice. He purchased those back in the 70s. I think he's one of those people who feels that a cherished number plate is better than having an ordinary one. For one thing, you can't tell what year that model of car is.
"When I married him in '94, I was driving an absolutely disgusting little car, and he said, 'You're going to have to have a Jaguar, you know'. I'm not particularly influenced by status symbols or flashy cars or anything like that, but for purely practical reasons he said, 'If we're going to be shipping children around the place I want you to have a sensible car'. I said: 'Can't it just be a Volvo?' [laughs] and he told me 'No, you have to have a Jaguar'. As it happens we've got two Volvos as well now, but he wanted me to have this Jag, and then I said, not to be outdone, that I'd like a really nice number plate, please! You know how in the Sunday Times and in your magazine and in lots of publications they have all the number plates, don't they, at the back? Well, we found FF 55, which I thought was quite nice simply because of the symmetry of the two digits and the two letters. So I rang up and made some enquiries about it and I think they wanted five and a half thousand pounds or something for it, and I procrastinated which is something I hardly ever do because in my business, in property, you simply can't afford to procrastinate – you have to make very quick decisions. Anyway, I left it for about a day and a half I suppose, and when I rang back the man said they had sold it. So I was a bit miffed, but then we kept looking and then Neil saw 2 FF, in one of the Sunday papers, I think.
"It was a very good price; but apparently, from what I'm told, if the digit comes before the letter it's cheaper than if the letter comes before the digit. It's interesting isn't it? So really it's quite a business for some people because I suppose they buy the plates and then sit on them. I imagine that if I kept mine, like anything, it would slowly increase in value."
The investment aspect hasn't escaped Fiona's sharp eye for a potential deal, and as the conversation turns to this aspect of personal plate ownership we give Fiona an estimate of the current value of her 2 FF registration. Happily, the news is good enough to give cause for fleeting incredulity.
"What? You're joking! Worth. [laughs]. Well that's interesting!
"Originally it went onto a red Jaguar XJ6 and then in February 2000 I bought this Jaguar – the green one, the Sovereign – and switched the plates over. For a while we had the three cars parked out front: my two Jags had 2 FF on them – on both of them [laughs]. Of course you couldn't put them on the road like that! Then we put Neil's car in the middle, and it was such a cute picture. We sold the red Jag with just an ordinary plate on it, and kept my plate and put it on my current car. In fact, in the next couple of weeks I'm just about to buy a Jaguar XK8 which is a smaller, rather more feminine version, and we're going to put the plate on that, which I think will look really nice."