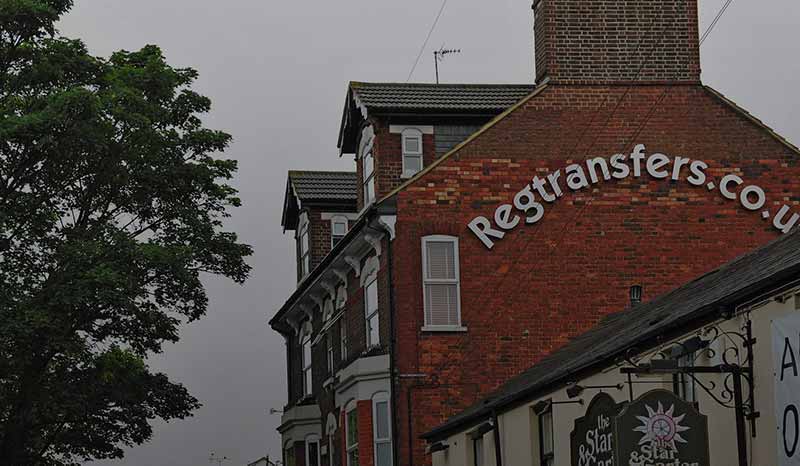 Company History
The following retrospective appeared in issue 29 of Regtransfers: The World of Personal Number Plates.
---
30 Years of Regtransfers: A Conversation with MD Tony Brown

In 1982 a Vauxhall Motors engineering apprentice named Tony Brown decided that employment prospects at the end of his apprenticeship were not looking too good, so he began to explore the possibility of starting a business of his own. The first few efforts proved less than successful, but Tony continued to look for inspiration - which he found among the pages of Exchange & Mart.
"I came across people advertising cherished number plates for sale. At the time I had no idea this could be a viable business, but the more I looked into it the more I became interested and fascinated by the whole subject.
The early days of the business were a strange mixture: very interesting, but also worrying, lonely and hard work. I had no idea what was involved in running a business and had no mentor or person I could really speak to about it."
The business grew slowly initially as Tony had very little money to spend on marketing.
"I had to resort to literally running around wealthy places like St John's Wood in London, placing cards on old vehicles such as Morris Minors asking whether the owners wanted to sell their number plates. Then I would place other cards on the higher-end cars like Rolls-Royces and Bentleys asking whether those owners wanted to buy a personal number. When I was finished I would drive back to my flat in Luton, hopefully to take phone calls generated by my day's legwork. As it turned out, this process was quite a good way of getting numbers to sell. On the other hand, I found that I needed to reach a bigger audience in order to find buyers, so I started to put small adverts in Exchange and Mart and the local press.
When I first started I was very inexperienced and naive. I never actually received payment for the first few numbers numbers I thought I had sold. The customers just never sent me the money. Looking back I realise that the documentation I sent them was very unprofessional and certainly not good enough to give people confidence to send me the necessary documents and a large amount of money. I soon learned that everything had to be done properly and professionally.
Another lesson I learned at that time was not to rush into things. When I thought I had sold those first few numbers I handed in my notice at Vauxhall. When the sales never completed, things were a little uncomfortable for a while.
I remember the very first number that I successfully sold and transferred - and got paid for! The registration included the numbers 356, and the customer bought it for an old Porsche 356 Speedster that he was restoring.
The first big number I sold was B 1. It was only after selling this number that I realised how prestigious some numbers could be, and the value that some people attached to their ultimate personal registration number. The sale of B 1 was achieved following a phone call from a gentleman who called from Saudi Arabia. The customer, whose name began with a 'B', had seen an advert that I had placed in the Sunday Times. He wanted to know if I could secure B 1 for him. To cut a long story short, the lady who owned the number at that time had inherited it from her father. She had moved to the Isle of Man for tax reasons and had decided that she would sell the number if she could get £30,000 for it. To put this into perspective, I had been earning approximately £5,000 a year when I left Vauxhall. £30,000 was a huge amount of money to me, and I really thought that no one in their right mind would buy a car registration at that price. I was wrong. Even with my profit margin added, Mr B was delighted. He bought the number immediately and I learned another valuable lesson.
In the 30 years since those small beginnings I have seen incredible changes. When I started out, computers were in their infancy and very expensive. It was about two years before the business could afford to buy a computer. The first one was a nice Apricot computer that cost £2500! Before that we relied on card index systems, which meant that people had to stay on the phone for a very long time while we went from file to file checking which numbers were available. Of course, this also meant holding the phone clamped against your neck between shoulder and ear, which wasn't very comfortable.
When the business started in 1982 there were very few number plates available on the market. That changed once the DVLA realised the potential and got involved in selling registrations in 1989. The two biggest game-changers over the years have been that involvement of the DVLA in selling number plates, and the invention of the internet. We embraced both of these changes and looked upon them as challenges that would help us grow, which I think they have.
Regtransfers has become the leader in the independent number plates market. We have also become a major source of information on the subject, publishing books and magazines and advising newspapers and television, radio and film companies. We have flourished by treating each new challenge as an opportunity and, most of all, by taking the best possible care of the customers upon whom we depend for our survival. This is how we will continue to expand, improve and lead."