Testimonials
Customer satisfaction is Regtransfers' top priority as is our first-class customer service.
---
Trustpilot rates us as 'Excellent', with Regtransfers 9,151 reviews. Regtransfers are rated 9151 4.9 out of 5
See our reviews
---
Sent by customers
Here are some of our customers' comments. If you'd like to contribute your own experience, send us a testimonial via our Feedback form.
---
Next time I'm in the market for a plate, I will definitely be contacting Regtransfers as everything was handled with ease and nothing was too much trouble.
I felt that the whole process was very quick and easy. The team were in contact with me continuously giving me updates on my purchase, which I loved.
Regtransfers are, and will always be, my 'go to' dealer. The staff are friendly and knowledgable and will always look to provide the best possible customer experience. Thanks again.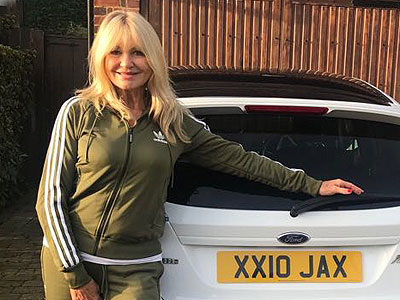 First ever personalised number plate. Jacqueline likes to be known as Jax. New car, new plate. A seamless transaction.
Great guys, perfect service, very helpful staff, especially Sue who handled the sale. Thank you.
First registration I have purchased. I highly recommend the full transfer service, the small extra fee is worth it. The staff are very helpful and contacted me as and when to notify me by phone and text every step of the transfer. Highly recommended and will use again in the future.
May I thank Josh for his persistence and for keeping me informed. The experience did not start well, but Josh worked hard and it proves in a sales role that friendly pleasant persistence does work. I am lucky enough to own five other cherished numbers, some I have owned for a very long time. I am looking forward to displaying the number I have just bought. Josh represents your company well.
I can't believe how good the handler of my surprise plates was. Picked, ordered and supplied in amazing time. To top it up I wanted them transferring Christmas eve ready for Christmas day. At 8.30 on Christmas Eve the lady called me telling me everything was in place for Christmas morning. Absolutely faultless. Thanks so much.
Painless, seamless journey from spotting number plate to buying and receiving my number. Totally hassle-free. Thanks to Sara and the team.
Just wanted to thank your sales advisor George Channon for a trouble-free transfer. Would definitely recommend your company.
A perfect transaction and a great website. No problems. Polite and friendly staff. Will recommend and use again. Thanks again.
Excitedly entered the world of plates. Zoe was absolutely to the point. I felt I was talking to someone I already knew. I would completely recommend you lot. Well done, everyone.
Bought a registration for my daughter's Christmas present with no past experience of the process. Regtransfers were brilliant in helping me with the whole process, both on the phone and online. Regtransfers are really professional and know their business inside out. I had full confidence in them throughout. Thanks.
Very good service from Giles great throughout the whole buying process and a kind follow up call; that goes a long way in business.
From selecting my new registration, to the plates going on the car took just over a week. Great service. Highly recommended.
Great service. I have purchased and sold plates through you many times and it has always it has been a great experience.
Great service from start to finish. They phoned me to reassure me that everything was fine and the transfer went through swimmingly. Once again, thank you.
Really professional and helpful on the phone.
My dealings with Regtransfers, and in particular your sales advisor Paige Chorlton, have been absolutely faultless. The whole programme was explained to me in detail so I knew everything what was happening on my plate purchase. The best bit was that all my wife had to do was inform her insurance. Would certainly recommend Regtranfers.
Very easy transaction. Great company. Would use again.
Praise for your sales advisor Declan. He needs a promotion! What a pleasant, professional guy.
Excellent fast efficient service as always. My third personal plate from you. Thanks
Lauren Chalk, your sales advisor, was brilliant from start to finish. I've bought and sold previously through Regtransfers. I couldn't fault the service and picked up the registration at a great price.
Excellent service from start to completion.
Good fast friendly service with no hidden costs.
Thank you for making my purchase online easy. I'm extremely happy with your service, communication and response time.
Excellent service. Once again I have bought two number plates and recommended a friend who also bought a plate off Regtransfers. Excellent service. Hassle-free.
Absolutely fantastic service from Anthony and you guys. Top-notch service and super fast.
Helpful friendly staff. I'm really pleased with my number plate. Thanks very much.
Great service. So simple, Thanks team. Love my plate.
From start to finish I was assisted by Lydia. I am very pleased with the result; she was a great help from start to finish. Thank you.
Just an absolutely brilliant service from start to finish and accomplished so quickly. Thanks, Regtransfers. You're ace!
Absolutely excellent service throughout. Very pleased and would recommend and also buy again in the future.
Thank you for your brilliant service. I will recommend your business to my friends.
Your sales advisor Adam sorted everything for us without a hassle. He was very friendly, professional and helpful. Answered all our concerns. Thank you.
Excellent customer service, Thanks.
Excellent, hassle-free service provided by friendly staff.
The service is 5-star. Within hours of you receiving my documents, the transfer was completed. Amazing. Thank you
Loved buying off these. It was a good price and a quick transfer. 100% would buy from them again.
Your sales advisor Julie Kearney Is an absolute pleasure to deal with and actually made the whole experience a treat. She knows how to talk to people and help them in every way possible. A credit to your company so thank you, will definitely be using Julie again soon.
Dealt with Derek and it was effortless throughout. Kept up to date all the way through, all I had to do was tell my insurance company and put the plates on my car. Perfect service.
Nothing but praise for your sales advisor Sara Tunstall, bless her.
Many thanks to your sales advisor Sara for all her great help making this registration number possible, which is now looking great on my car.
Great buying experience. I'm always looking to purchase plates to have on my car then sell at a later date. Your sales advisor Zoe was great in assisting me to secure my plate JLE19H and I'm very pleased.
Your sales advisor Zoe has been fantastic with dealing with my request. She managed to obtain my desired plate from auction whilst also keeping me up to date on everything. Can't thank her enough for making the process so smooth and hassle-free whilst being very friendly.
You sales advisor Trevor Kept me informed all the way. My third purchase so far.
What a super service from Regtransfers. First time buying a personal number plate. Ordering through the website was simple, email communications were clear and timely, the additional services were sensibly priced. You should be proud of yourselves. Thanks!
Fantastic service from Tom. So pleased with my new number plate.
Great service and quick finance decision. Thank you
Very pleased and impressed with Regtransfers' professionalism after indifferent service from others. Would definitely be my first choice in the future.
Very pleased with my transaction. A quick sale and fast payment too. Very professional company and would highly recommend. Thank you.
This is the second number plate I have purchased through Regtransfers, The first time was an easy experience. The second time was even better thanks to George for his consistent contact throughout the process. He was extremely professional and helpful. Thanks again.
Your sales advisor Gary was very helpful and informative and efficient.
Your sales advisor Darcy Fowler assisted me with the purchase of my plate. She was so helpful, friendly and very professional. It has been a pleasure doing business with you and I will definitely use you again and recommend your company to others in the future. Many thanks.
Just wanted to thank you for helping me with choosing a 70th birthday gift for my Mum. I found the perfect number plate and you made the process of buying it for someone else and keeping it a secret until the big day really easy! Mum absolutely loved it and she is now driving round with a big smile on her face. Thanks to Blake for making sure all the forms got done and for helping keep it a surprise!
From start to finish I was assisted by Lydia. I am very pleased with the result she was a great help. Thank you
Buying my number plate was made so easy and was extremely efficient. I cannot believe it could happen so quickly. The whole purchase went perfectly. Thank you very much.
From phoning to receiving my plates it was a very stressless transaction. The customer service staff where brilliant. 100% would recommend to family and friends. Thank you.
These people move fast. That was good service. I was expecting to wait a few weeks not a few days. Recommended.
Thank you so much, Kim [Sales Advisor] for helping us purchase 237 LEB for our granddaughter. We are very impressed by the way you guided us through the process.
Just a quick note to say a big thank you to [your sales advisor] Jack for helping me with the purchase of my number plate.
Cheers, guys, for the plate. Will recommend you to all my friends.
Regtransfers offer a great, fast service for a very reasonable price.
From start to finish, everything was dealt with efficiently. I would highly recommend.
Smooth transaction. Regtransfers took care of the transfer from start to finish and kept me informed of the status of the transfer. Highly recommended.
Your sales advisor Joe White was very helpful when undertaking the job of trying to get an unreleased number plate for me. He reassured me that he'd be able to get it for when I needed and was able to get it done much sooner. The whole process was very smooth and any queries I had he got back to me instantly. Excellent service all round.
Would just like to drop a line thanking your sales advisor Joe who helped me obtain my new plate He was very helpful and understanding always polite and guided me through the process of which I admit I didn't have a clue about keeping me informed all the way I will definitely be coming back to Regtransfers in the future to buy another plate.
This is the second set of plates I have bought from Regtransfers. I would never buy them from anybody else as the entire experience for both sets of plates was such a smooth and easy process from start to finish. I would like to thank Andrew Stirling, the sales assistant who handled the sale. He is a very pleasant, helpful and professional young man and kept me informed every step of the way. 5***** stars to you, Andrew. Highly recommended. Great service. Thank you for an excellent experience.
Very professional company. Would highly recommend.
This is my second time using Regtransfers. Excellent company to deal with.
I must say it was a very smooth transaction.
This was my third number plate purchase from Regtransfers and it has gone really well. Scott was keen to secure the plate for me and enlisted his manager's help in handling the negotiations. Thanks for all your help.
Thanks very much for such a quick, easy service. Many thanks to your employee Josh for making the sale and transfer so smooth and hassle-free
Great company to deal with. They keep you informed all through the process. Love my plates. Thank you.
Reg transfers provided me with a personalised number plate at a competitive price. They also managed everything from the documentation to number plates promptly and efficiently. I would highly recommend them. Look them up.
Your sales advisor, Brad, guided me all the way through the transaction, which was extremely helpful.
I'd just like to say a big thank you to Logan, What a credit to your company. A pleasure to deal with, Made everything so simple for me. Will highly recommend your company to anyone. Thanks, again. All the best.