Testimonials
Customer satisfaction is Regtransfers' top priority as is our first-class customer service.
---
Trustpilot rates us as 'Excellent', with Regtransfers 9,906 reviews. Regtransfers are rated 9906 4.9 out of 5
See our reviews
---
Sent by customers
Here are some of our customers' comments. If you'd like to contribute your own experience, send us a testimonial via our contact form.
---
The process was super easy and very professional.
Next time I'm in the market for a plate, I will definitely be contacting Regtransfers as everything was handled with ease and nothing was too much trouble.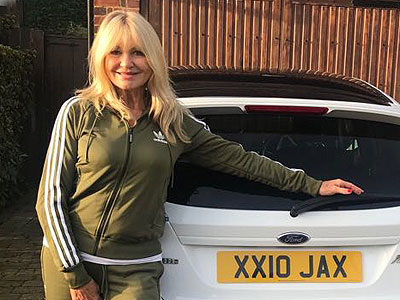 First ever personalised number plate. Jacqueline likes to be known as Jax. New car, new plate. A seamless transaction.
Great guys, perfect service, very helpful staff, especially Sue who handled the sale. Thank you.
First registration I have purchased. I highly recommend the full transfer service, the small extra fee is worth it. The staff are very helpful and contacted me as and when to notify me by phone and text every step of the transfer. Highly recommended and will use again in the future.
May I thank Josh for his persistence and for keeping me informed. The experience did not start well, but Josh worked hard and it proves in a sales role that friendly pleasant persistence does work. I am lucky enough to own five other cherished numbers, some I have owned for a very long time. I am looking forward to displaying the number I have just bought. Josh represents your company well.
I can't believe how good the handler of my surprise plates was. Picked, ordered and supplied in amazing time. To top it up I wanted them transferring Christmas eve ready for Christmas day. At 8.30 on Christmas Eve the lady called me telling me everything was in place for Christmas morning. Absolutely faultless. Thanks so much.
Painless, seamless journey from spotting number plate to buying and receiving my number. Totally hassle-free. Thanks to Sara and the team.
Just wanted to thank your sales advisor George Channon for a trouble-free transfer. Would definitely recommend your company.
A perfect transaction and a great website. No problems. Polite and friendly staff. Will recommend and use again. Thanks again.
Excitedly entered the world of plates. Zoe was absolutely to the point. I felt I was talking to someone I already knew. I would completely recommend you lot. Well done, everyone.
Bought a registration for my daughter's Christmas present with no past experience of the process. Regtransfers were brilliant in helping me with the whole process, both on the phone and online. Regtransfers are really professional and know their business inside out. I had full confidence in them throughout. Thanks.
Very good service from Giles great throughout the whole buying process and a kind follow up call; that goes a long way in business.
From selecting my new registration, to the plates going on the car took just over a week. Great service. Highly recommended.
Great service. I have purchased and sold plates through you many times and it has always it has been a great experience.
Great service from start to finish. They phoned me to reassure me that everything was fine and the transfer went through swimmingly. Once again, thank you.
Really professional and helpful on the phone.
My dealings with Regtransfers, and in particular your sales advisor Paige Chorlton, have been absolutely faultless. The whole programme was explained to me in detail so I knew everything what was happening on my plate purchase. The best bit was that all my wife had to do was inform her insurance. Would certainly recommend Regtranfers.
Very easy transaction. Great company. Would use again.
Praise for your sales advisor Declan. He needs a promotion! What a pleasant, professional guy.
Excellent fast efficient service as always. My third personal plate from you. Thanks
Thank you so much, Kim [Sales Advisor] for helping us purchase 237 LEB for our granddaughter. We are very impressed by the way you guided us through the process.
Just a quick note to say a big thank you to [your sales advisor] Jack for helping me with the purchase of my number plate.
Cheers, guys, for the plate. Will recommend you to all my friends.
Regtransfers offer a great, fast service for a very reasonable price.
From start to finish, everything was dealt with efficiently. I would highly recommend.
Smooth transaction. Regtransfers took care of the transfer from start to finish and kept me informed of the status of the transfer. Highly recommended.
Your sales advisor Joe White was very helpful when undertaking the job of trying to get an unreleased number plate for me. He reassured me that he'd be able to get it for when I needed and was able to get it done much sooner. The whole process was very smooth and any queries I had he got back to me instantly. Excellent service all round.
Would just like to drop a line thanking your sales advisor Joe who helped me obtain my new plate He was very helpful and understanding always polite and guided me through the process of which I admit I didn't have a clue about keeping me informed all the way I will definitely be coming back to Regtransfers in the future to buy another plate.
This is the second set of plates I have bought from Regtransfers. I would never buy them from anybody else as the entire experience for both sets of plates was such a smooth and easy process from start to finish. I would like to thank Andrew Stirling, the sales assistant who handled the sale. He is a very pleasant, helpful and professional young man and kept me informed every step of the way. 5***** stars to you, Andrew. Highly recommended. Great service. Thank you for an excellent experience.
Very professional company. Would highly recommend.
This is my second time using Regtransfers. Excellent company to deal with.
I must say it was a very smooth transaction.
This was my third number plate purchase from Regtransfers and it has gone really well. Scott was keen to secure the plate for me and enlisted his manager's help in handling the negotiations. Thanks for all your help.
Thanks very much for such a quick, easy service. Many thanks to your employee Josh for making the sale and transfer so smooth and hassle-free
Great company to deal with. They keep you informed all through the process. Love my plates. Thank you.
Reg transfers provided me with a personalised number plate at a competitive price. They also managed everything from the documentation to number plates promptly and efficiently. I would highly recommend them. Look them up.
Your sales advisor, Brad, guided me all the way through the transaction, which was extremely helpful.
I'd just like to say a big thank you to Logan, What a credit to your company. A pleasure to deal with, Made everything so simple for me. Will highly recommend your company to anyone. Thanks, again. All the best.
Fantastic service. I had the plates on the car before I knew it. Very fast turnaround.
Very good customer service in a trying time, and a brilliant company. It's the second time I've used Regtransfers and I would use them again.
Fantastic! Easy process when buying my new number plate. My emails of enquiries were answered within an hour. I received my plate within a week! Very quick transfer for a new logbook too!! Highly recommend purchasing a new reg plate from Regtransfers.
Brilliant service from start to finish. Used 17 years ago and nothing has changed. Thank you.
Your sales advisor, Mike, managed to make the deal happen and was excellent in all his effort and answers during the process.
A first-class service from start to finish, I couldn't have been happier. Everyone was an absolute pleasure to deal with, with a special mention to Sara.
I was very happy with the service very quick friendly service. Thanks.
Tom was very helpful to me when I wished to purchase a personalised number plate as part of a birthday gift for husband. I was looking for something but Tom came up with the nearest to my enquiry which was actually better, so I am more than pleased. Excellent service would definitely recommend your company.
First time buying a personalised number plate and had excellent service from Simon and others. Emails were answered and followed up quickly. It was a good experience, particularly taking into account the current problems.
Excellent service from start to completion. Daily updates received throughout. Definitely recommended.
Would recommend using Regransfers. Kim was very helpful throughout the process
I would like to say that the service was excellent. I had no idea how quick it would be
Would recommend using Regtransfers. Kim was very helpful throughout the process.
Your service was excellent. This is the second registration I have purchased and as before the process was handled in a professional and swift manner.
Thank you so much for the fantastic hassle-free service you provided to me.
Fantastic service from start to finish. I was kept very well updated on the process of my order. Paige was a fantastic help and is an asset to the company. I have already recommended this website to family and friends. Thank you.
Absolutely brilliant from start to finish. Such a great company.
Lewis has been fantastic from start to finish and I'm really happy with the service I have received.
I cannot recommend Regtransfers highly enough. I tried quite a few other companies before I found them and only wish I had known about them right at the start of selling my cherished plate. They handled everything really easily, advised me regarding progress and then sorted out all of the paperwork. Don't waste time with other companies. Five stars to my contact Shane who was really great and helped me through the process. Thanks to you and the team at Regtransfers!
Excellent service, always helpful. I have bought four number plates from you and never had an issue.
I have waited over 30 years to own a private registration number. It was not until recently that I could seriously look at purchasing one. It had to be one with my initials first followed by no more than three numbers. After some negotiation, I managed to secure my chosen plate at a good price. The whole experience has been very efficient and professionally handled by Giles.
I'd happily use Regtransfers again and would recommend them to anyone.
Just a quick memo to say thank you to all involved in making the purchase and transfer of the above plate to my wife's Range Rover for our first wedding anniversary. A very pleasant and easy process wouldn't hesitate to use your company again and recommend you to anyone looking to purchase a cherished registration. Many thanks.
It was an easy, no-hassle procedure and something I would certainly recommend.
Just wanted to say thanks for the great service when I purchased the above number, I am confident that mine will sell through yourselves if the same service level is applied. I really do think that you all did a great job.
Just like to say thank you for sorting my number plate out. Very quick and efficient.
Regtransfers offered a great, fast service for a very reasonable price.
Very happy with my new plate from you guys at Regtransfers, Excellent service received too. Definitely would look to buy from you guys again.
Just wanted to say a huge Thank You to your Team Member, Jasmine, for brilliant customer service, and making the whole process of obtaining a personalised reg for my son, from start to finish, she was amazing, had the patience of a Saint when talking to me, l would certainly like my thanks passed on to her, and l would recommend Reg Transfers if your Customer Service Advisers were all like Jasmine, thank you once again, Sue Gs
Very impressed with Regtransfers. Staff were very helpful, polite and professional.
Albert provided an excellent service.
To give feedback on why I bought this particular number plate. I've been looking for some time now for a plate that had a connection to myself personally. BR66 YYY because it was as close to my name as I could get with my birth year '66' in the details. I'm sure I'll be keeping it until the day I can't (or am not allowed to) drive anymore! Thank you so much for the fantastic hassle-free service you provided to me.
Our first private plate and we are delighted with it. Service from Ella was fantastic. We will be back for our second reg soon. Thank you.
Speedy service and great understanding.
Such seamless from start to finish. Super-easy process to purchase and have everything transferred over - right down to plates arriving through the door! Highly recommended.
Excellent and first-class service. Highly recommended.
Excellent, speedy service. I would strongly recommend.