Testimonials
Customer satisfaction is Regtransfers' top priority as is our first-class customer service.
Trustpilot rates us as 'Excellent', with Regtransfers 12,085 reviews. Regtransfers are rated 12085 4.9 out of 5
See our reviews
---
Sent by customers
Here are some of our customers' comments. If you'd like to contribute your own experience, send us a testimonial via our contact form.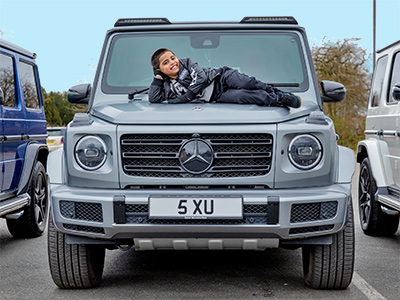 My experience with Regtransfers can be described as simply as quick, easy and hassle-free. The fact that I am repeating business and referring family and friends to you speaks volumes. (The photo shows Bali's son, Liyan, who is just four years old but runs a Facebook page, Instagram account and YouTube channel under the name Lambo Liyan where he reviews supercars in his own uniquely entertaining way.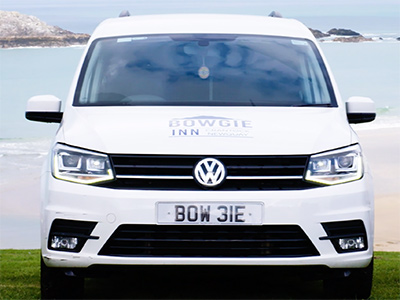 I knew having personal plates made real commercial sense. Our registrations [BOW 31E, BOW 61E and BOW 91E) really help us to stand out and be recognised. I couldn't be happier with the service we received from Regtransfers: helpful, friendly and super-efficient. We'd like to thank you for making this possible and for handling the process with expertise that made it 100% stress-free for us. Our new number plates really are the cherries on top of our exciting refurbishment cake, and we couldn't be happier with them.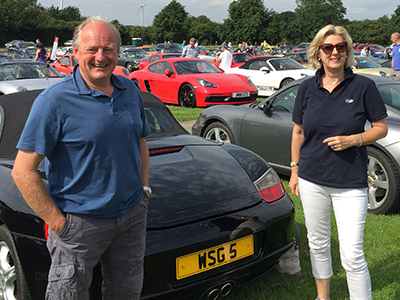 My experiences with Regtransfers have always been professional and easy. always happy to recommend you.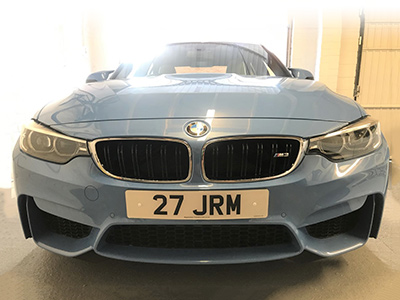 There was only one company to return to as a loyal customer," he says, "and I was delighted to obtain 27 JRM from Regtransfers. The transaction was rapid and we could not be more delighted to add that to our number plates. The customer experience was exceptional and I would like to congratulate the Regtransfers team for their valued assistance.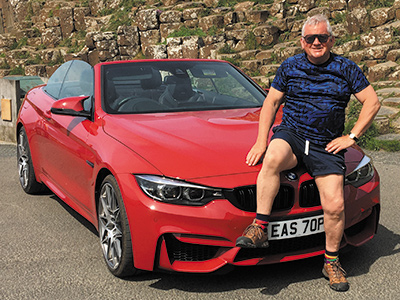 "This is my sixth and best number from Regtransfers," says Simon, from Ballyclare, County Antrim." I love the way that you selected the number plate that suits me and sent it to me on a promotional postcard. I thought it was fantastic."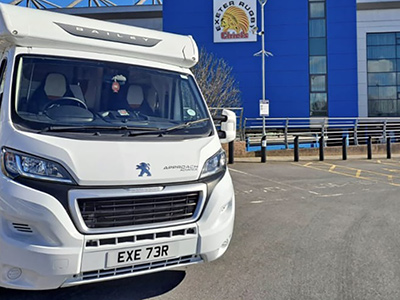 Regtransfers have provided a first-class service. I really couldn't fault it, which is rare, and that makes all the difference. I look forward to making my collection bigger and, hopefully, doing business with Regtransfers again.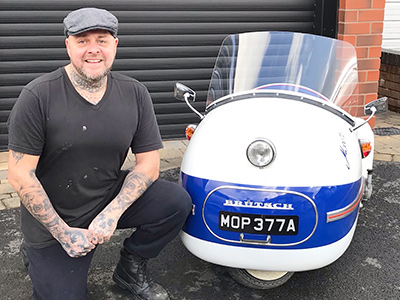 After boring your team member Kim with all the Mopetta microcar history, I decided to get the registration number. When I got the call saying the registration number was mine, I was absolutely chuffed to bits.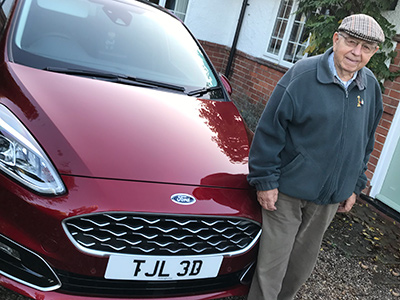 Sara was so helpful and guided me through the whole business of purchasing my personal registration which I proudly show on my new car. The TJL are my initials, 3 is the number of my home and D was my now dear late wife Dawn. Many thanks for Regtransfers without their expert assistance this would never have happened. Many many thanks to Sara. Signed. Terence James Landles.
Thank you so much George for selling my registration. Excellent smooth efficient service, keeping me informed and receiving prompt payment. Highly recommended.
Thanks, lads. So easy and hassle-free to buy from you. Made the wife's Christmas. Cheers.
I just wanted to say thank you for a great, good value service.
I would just like to thank you for the no problem service provided by yourselves on my purchase. Everything was done very quickly, the number plates arrived very promptly and look very nice. I have recommended you and your service to several of my friends with total confidence.
You're definitely highly recommended and I will bring all my future business to you. Happy New year! Many thanks.
Once again, great fast easy service with buying our second plate. Will recommend.
I would like to compliment both the Company and in particular Ben Monks for their patience and integrity in this matter. They could not have been more helpful and it is very much appreciated. My thanks and good wishes. Barry Lewis.
Just a quick memo to say thank you to all involved in making the purchase and transfer of the above plate to my wife's Range Rover for our first wedding anniversary. A very pleasant and easy process wouldn't hesitate to use your company again and recommend you to anyone looking to purchase a cherished registration. Many thanks.
Just wanted to say thanks for the great service when I purchased the above number, I am confident that mine will sell through yourselves if the same service level is applied. I really do think that you all did a great job.
Just like to say thank you for sorting my number plate out. Very quick and efficient.
Just wanted to say a huge Thank You to your team member, Jasmine, for brilliant customer service. She made the whole process of obtaining a personalised reg for my son, from start to finish. She was amazing, had the patience of a Saint when talking to me. I would certainly like my thanks passed on to her. I would recommend Regtransfers if your Customer Service Advisors were all like Jasmine, thank you once again, Sue Gs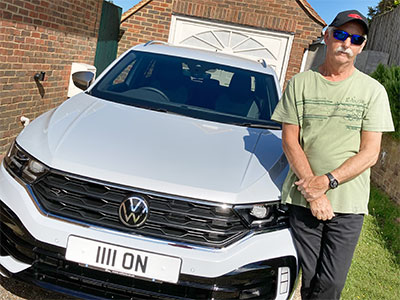 I would highly recommend Regtransfers, the staff were so friendly, efficient and helpful.
I had a brilliant experience with Regtransfers thanks to Mason, who was my key contact. He was so helpful from start to finish, made the process incredibly easy and got me the number plate I was after. Top customer service. Thank you,
Can I please ensure that Jasmine Rankin is recognised for her excellent customer service? After the initial purchase of my plates, there were a few hurdles to overcome, and with a bit of luck and Jasmine's tenacity, I'm finally the owner of my plates. Working in customer services myself, I am not easily impressed, but Jasmine's work ethic is an example that should be followed. Can I also highlight the excellent manner of the team around her
I wanted to thank you for the help from Rebecca on the telephone to the process from start to completion of selling my private registration.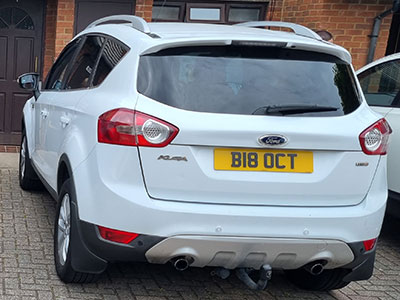 I've purchased two plates now and, both times, had great service. The staff are knowledgeable, polite and helpful. I would definitely use again and recommend to anyone.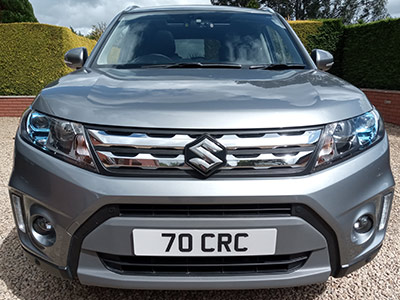 I would like to thank your company for a very easy process throughout when purchasing.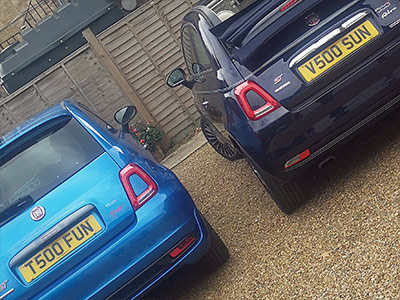 I was thrilled with your service and to find two such apt plates for my Fiats.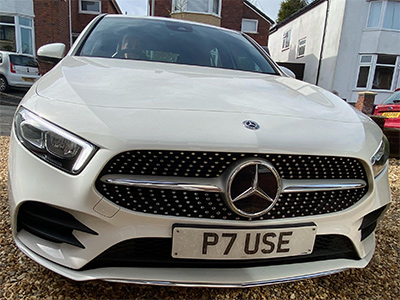 Just wanted to thank you so much for your help in getting my private plate back! As promised here is a photo of it on the car.
I'd just like to thank Max, he would always make sure that I was kept up to speed whilst going through with my number plate transfer. Very kind and useful.
I just wanted to say from start to finish you have all been so amazing. Everything was so easy and you were there every day I had a query. I cannot recommend you highly enough. Thank you for making everything so transparent and easy.