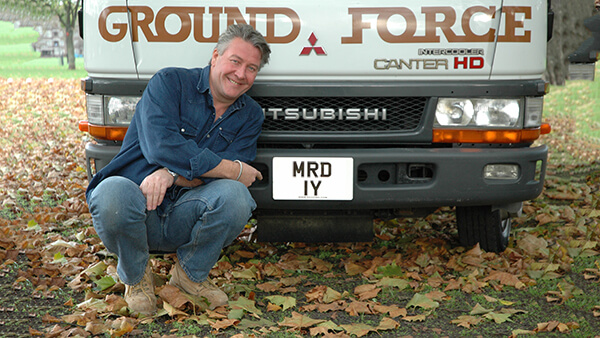 Tommy Walsh - Mr DIY
Tommy Walsh will need no introduction to anyone who has watched a home or garden make-over programme on television in recent years. He is particularly well known as part of the BBC's Ground Force team. Alan Titchmarsh, Charlie Dimmock and Tommy created the ultimate facelift show for gardens. A programme which took them to far parts of the globe, and into television history. It was a phenomenal success, and must take a good deal of the credit for a corresponding resurgence in the popularity of gardening in recent years.
His famous MRD 1Y ("MR DIY") on the Ground Force truck was an instantly recognisable trademark of the show.
"I've always been interested in number plates - especially the quirky ones," Tommy told us when we visited him for a chat.
"I really like that plate, but I wouldn't want people to think I was being stuck up and calling myself Mr DIY. It's all tongue in cheek. It is supposed to be seen and taken just in fun. That's all it is." Tommy's time with Ground Force began purely by chance. He had been doing some work for a television producer who asked his advice about some DIY and gardening pilot shows she was working on. He made such an impression that the producer invited him to screen test for a show. Tommy, however, was a little reluctant, and took some persuading to do the programme.
Tommy has used his fame to good effect and has lent his support to a number of good causes over the last few years. Through the government's 'Get On' campaign, he joined other celebrities in encouraging people with literacy and numeracy issues to seek help and advice. This was part of a wider incentive known as the 'Skills for Life' strategy.
More recently, Tommy teamed up with the Health and Safety Executive to launch the 'Height Aware' campaign. This addressed a much overlooked problem, and encouraged people not to underestimate the potential hazards of working even at modest heights - such as below head height on ladders. Amongst the issues it highlighted were the dangers of leaning from ladders to answer phones and to reach for objects. Surprisingly, several people every year die in accidents at work that involve falls from below head height.
The sharp-eyed amongst you may also have spotted some of Tommy's 'art' which he contributed to Epilepsy Action's 'National Doodle Day' in February this year. Da Vinci he is not, but his humorous sketches, nevertheless, made very welcome additions to the gallery.
Tommy is not just a television personality, he is a real-life, hard working, skilled builder and landscaper with many years experience. Since Ground Force reached the end of its allotted span, he has appeared in other shows, including Challenge Tommy Walsh series and Tommy Walsh Makes It Big. He has written a number of successful books on DIY. Additionally, Tommy's own production company has made The Ultimate Workshop, a series which has aired on UK television.
Despite his protests to the contrary, we cannot think of anyone more deserving of the title Mr DIY.
Rick Cadger
Photography: Stan Thompson