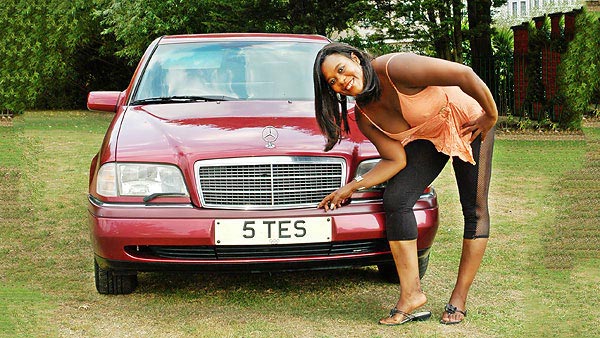 Tessa Sanderson
Considering that Tessa Sanderson won her Olympic gold medal for javelin back in 1984, the lady who appears in the North London pub where we have arranged to meet her looks remarkably young. We have done our research, and we clearly remember the date of birth given in the various biographical sources we have found. It is tempting to suspect them all of misprinting.
Tessa Sanderson is a bubbly, cheerful lady, constantly smiling and very willing to talk and answer our questions. Over drinks in the garden, we chat about the achievements that made her famous and her current projects.
The original reason for our interview was the fact that Tessa has owned a personal car registration for some time, and we had asked if we could take a couple of photos of her with her 5 TES plates. Although Tessa was very happy to oblige, we found ourselves more inclined to ask about her career than about her interest in number plates.
Despite that wandering of our attention, we did discover that Tessa was planning to sell her registration. In fact, any prospective buyers for this fine registration, with its celebrity association, should probably give Regtransfers.co.uk a call as soon as possible!
In her early years, Tessa showed considerable ability in multi-event competition, achieving a good deal of success in junior pentathlon events. However, her strength in one particular discipline quickly emerged and, in a long and distinguished career as a javelin thrower, Tessa won an impressive array of international medals.
As the first British black woman to win an Olympic gold medal, Tessa enjoyed huge popularity with the British public and became a role model for many young athletes. The sheer determination that enabled her to sustain her career successfully for so many years meant that she saw other competitors, such as Fatima Whitbread, come onto the scene, but she outlasted them. In fact, Tessa Sanderson competed in no less than six Olympic Games, and she represented Britain for an amazing 26 years. She retired from competition in 1997 and began to work more in media. Tessa presented the sports news on Sky Television for over two years.
She was appointed a Member of the Order of the British Empire (MBE) in the 1985 New Year's Honours, following her 1984 Olympic gold medal. Her rank was raised to Officer (OBE) in the 1998 New Year's Honours for her charity work, and to Commander (CBE) in the 2004 New Year's Honours for her services to Sport England.
Tessa's current pet project is Newham Sports Academy. The Academy was launched in October 2006 and aims to find and train new sporting talent ready for the 2012 Olympics in London. Tessa has worked with her team of experienced sports coaches, scouring the surrounding borough for promising young people. Those lucky enough to be selected to take part have benefited from top quality coaching, extensive support from mentors and sports psychologists and access to cutting edge sports science advice on diet, training and technique. Additionally, they receive grants to assist with travel and equipment costs.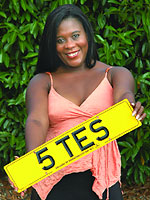 At the Academy's opening, several well-known current and past sporting heroes joined Tessa, including champion boxer Amir Khan, who readers will remember featured in our last issue!
Tessa's role in the Academy goes beyond recruiting young sports people. She is also heavily involved in the PR efforts that are necessary to support such a venture, and that involvement includes meeting and entertaining influential visitors, such as the Mayor of the South Korean Capital, Seoul.
Tessa Sanderson is a fortunate lady. She enjoyed a successful sporting career that blazed trails in many respects (she is still the only female British throwing athlete to win an Olympic gold medal); she was voted Sports Personality of the Year and Athlete of the Year (three times) by the Athletics Writers Association and she has been honoured by her country for her achievements in sport and the community. Some people might be content to kick back and coast, but Tessa is still actively contributing to sport, and furthering the careers of the new generation of British Olympic hopefuls. Surely that must give their chances a real boost.
Interview: Angela Banh
Story: Rick Cadger Photography: Stan Thompson