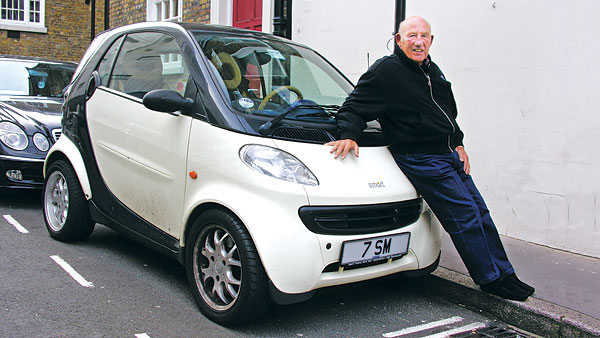 Stirling Moss
We are greeted at Sir Stirling Moss's house in the centre of London by Lady Susie, his wife of 27 years. She shows us through a narrow hallway into his compact office. On one side is a glass cabinet displaying models of toy racing cars.
On the other, above a doorway, hang two twisted steering wheels, trophies of his two major crashes: Spa 1960 and Goodwood 1962, reminders of battles almost lost, but also symbols of his endurance, his bravery and his luck, for Stirling is a lucky man; a survivor.
He finished building the house on a bomb site in 1962, which seems fitting for a man who was soon to be faced with rebuilding his life. "I've had three wives," he jokes, "so the house has changed a bit over the years."
He slips into his seat behind the long desk which is angled to enclose him, in much the same way I imagine as he took his seat in the eighty or so cars he drove during his career. Behind him, through a full length window is a garden, wedged into the tiniest of spaces; a mini paradise complete with trickling waterfall.
A modest man, Sir Stirling Craufurd Moss OBE, still finds it hard to believe that in his day, he was one of the most famous men in the country. 'Who do you think you are - Stirling Moss?' - was a popular catchphrase, often used by police when warning people who were driving too fast. Stirling himself was pulled over early one morning, whilst driving across London and passed a car on the wrong side. Although there wasn't much traffic about, a policeman appeared and was no doubt astonished to find Mr. Moss himself in the driving seat!
No ticket was issued, but further up the road, Stirling had a thing or two to say to the driver of the car he had overtaken. He gave the man a pound note and said to him "Take this, and for God's sake go and get a driving lesson, even if it's just one."
For most 77-year olds it's time to start slowing down. But as we discover, Stirling is not like most men. Forty five years after the crash at Goodwood which ended his career, he is still sprightly and very much in demand.
One of the original jet-setters, he still travels the world to motoring events, a deeply respected figurehead of motor racing. His diary on the Stirling Moss official website proves the point, listing his many engagements and commitments. The recognition of his monumental career and the British public's affection for him continues. In the last few months alone, he has been honoured with a life-size bronze statue at Mallory Park, been awarded an FIA (Federation Internationale De L'Automobile) Gold Medal and been chosen to receive an unprecedented second RAC Seagrave Trophy (he received the first in 1957). On top of that, he will be featured on a postage stamp in 2007, and in May 2007, he will feature as the narrator for a new children's cartoon: Roary the Racing Car.
Ironically, Stirling doesn't currently have a car of his own and it's not something that he's looking to acquire in the near future. "Owning a car isn't high on my agenda, especially living in the centre of London where a car can be a hindrance," he says. Lady Susie has a Smart car though, which seems a sensible and practical choice, whilst Stirling rides a scooter. "It means I can get around easily without having to worry too much about where to park." Given a choice of road car, he says he would choose an Aston Martin, a Mercedes 500SL or a Porsche.