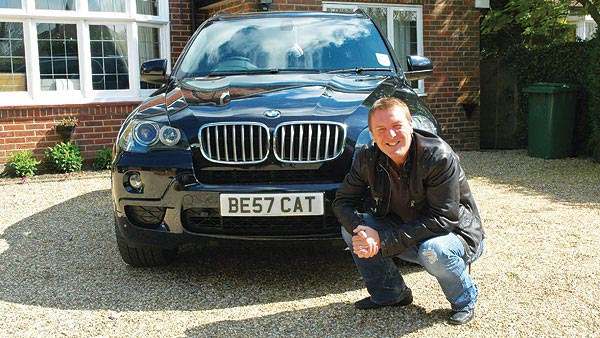 Phil Tufnell
Some people seem to dominate TV. You get a strong impression that they are following you, for whenever you switch on your set, or change channels, there they are. Obviously these people aren't really stalking you, but certain celebrities do seem to go through a kind of flavour-of-the-month transformation that renders them irresistible to programme-makers. For some the phenomenon is short-lived. For others, Sir Terry Wogan for example, the status becomes permanent. And then you get your slow-burners: your stealth celebrities.
These are the people who rise to a level of popularity and prominence, but rather than over-exposing and burning out, they play it cool and just keep popping up in different contexts for years and years, enjoying periodic boosts in profile but without wearing out their welcome. Phil Tufnell is one of those masters of 'popping up'.
The Regtransfers team met with Phil at his Surrey home when we delivered his new personal registration, BE57 CAT. Tufnell's first taste of fame was delivered by his cricketing career: a career that attracted a fair amount of controversy. Tufnell's talent as a spin bowler was undeniable. When he was on form he was great to watch, but there were times when the pressure seemed to throw him off his stridies.
He acquired a reputation for being inconsistent. The root of the problem seemed to be an incompatibility between Phil's sometimes irascible personality and the emotionally testing territory that comes with a slow delivery style. Frustration would occasionally manifest itself in the form of on-pitch loss of temper. As Richard Williams once commented in The Independent: "It is Phil Tufnell's cruel fate to bring a choleric temperament to a phlegmatic role".
Tufnell had his fiery side and could drive management bonkers, but he was a popular player who had plenty of friends in the dressing room and plenty of fans in the crowd. The controversy that seemed to follow him off the field made absorbing reading for the public, but Phil's nonconformity did not always endear him to cricket's authority figures. Tales of drink, rumours of drugs and reports of the occasional physical altercation were in a tradition already established by other stars of the game, but it was a tradition that drew criticism from many quarters.
Tufnell explained, "I never set out to be a professional cricketer. It was really just a bit of luck. I really enjoyed it. You got to play sport, you were out in the sunshine with all your mates. As I got a little bit older, I started thinking,Hold on a minute, I'm doing quite well here! I think it's quite a nice way of doing it. You get to play the game and enjoy it. Enjoying your success and your team's success and then things develop from there. And then someone gives you a call and says you might have a chance of playing for England.
"I was lucky. The other way, when people feel forever driven to do something, I think people can put too much pressure on themselves."
In 2003 Tufnell announced his retirement from professional cricket. That same year he appeared in the second series of ITV's reality show I'm a Celebrity... Get Me Out of Here! Once again, Phil's behaviour provoked a mixed reaction. While his mild but cheeky flirting with a married lady contestant raised eyebrows, he proved amazingly popular with the public and was voted the eventual winner of the series.
"My agent gave me a call and said we'd been approached to do the jungle. By that time, the England stuff had gone a little bit. I was getting slightly older and looking at a bit of a transitional period. I was still playing for Middlesex, and playing very well, but I thought to myself that I couldn't keep playing cricket all my life. I decided that we might as well have a little look at the jungle and see what happened. It was very similar to how I got into the cricket really: didn't give it much thought and just thought that it sounded like a good challenge. Although I was looking out for something else to do, I never had any thought of going in there to then try and start a career in telly, or anything like that."