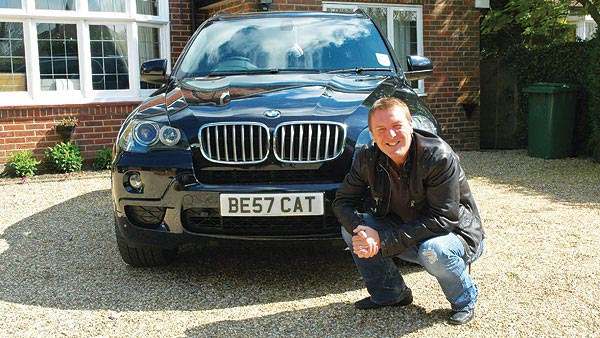 Phil Tufnell
Some people seem to dominate TV. You get a strong impression that they are following you, for whenever you switch on your set, or change channels, there they are. Obviously these people aren't really stalking you, but certain celebrities do seem to go through a kind of flavour-of-the-month transformation that renders them irresistible to programme-makers. For some the phenomenon is short-lived. For others, Sir Terry Wogan for example, the status becomes permanent. And then you get your slow-burners: your stealth celebrities.
These are the people who rise to a level of popularity and prominence, but rather than over-exposing and burning out, they play it cool and just keep popping up in different contexts for years and years, enjoying periodic boosts in profile but without wearing out their welcome. Phil Tufnell is one of those masters of 'popping up'.
The Regtransfers team met with Phil at his Surrey home when we delivered his new personal registration, BE57 CAT. Tufnell's first taste of fame was delivered by his cricketing career: a career that attracted a fair amount of controversy. Tufnell's talent as a spin bowler was undeniable. When he was on form he was great to watch, but there were times when the pressure seemed to throw him off his stridies.
He acquired a reputation for being inconsistent. The root of the problem seemed to be an incompatibility between Phil's sometimes irascible personality and the emotionally testing territory that comes with a slow delivery style. Frustration would occasionally manifest itself in the form of on-pitch loss of temper. As Richard Williams once commented in The Independent: "It is Phil Tufnell's cruel fate to bring a choleric temperament to a phlegmatic role".
Tufnell had his fiery side and could drive management bonkers, but he was a popular player who had plenty of friends in the dressing room and plenty of fans in the crowd. The controversy that seemed to follow him off the field made absorbing reading for the public, but Phil's nonconformity did not always endear him to cricket's authority figures. Tales of drink, rumours of drugs and reports of the occasional physical altercation were in a tradition already established by other stars of the game, but it was a tradition that drew criticism from many quarters.
Tufnell explained, "I never set out to be a professional cricketer. It was really just a bit of luck. I really enjoyed it. You got to play sport, you were out in the sunshine with all your mates. As I got a little bit older, I started thinking,Hold on a minute, I'm doing quite well here! I think it's quite a nice way of doing it. You get to play the game and enjoy it. Enjoying your success and your team's success and then things develop from there. And then someone gives you a call and says you might have a chance of playing for England.
"I was lucky. The other way, when people feel forever driven to do something, I think people can put too much pressure on themselves."
In 2003 Tufnell announced his retirement from professional cricket. That same year he appeared in the second series of ITV's reality show I'm a Celebrity... Get Me Out of Here! Once again, Phil's behaviour provoked a mixed reaction. While his mild but cheeky flirting with a married lady contestant raised eyebrows, he proved amazingly popular with the public and was voted the eventual winner of the series.
"My agent gave me a call and said we'd been approached to do the jungle. By that time, the England stuff had gone a little bit. I was getting slightly older and looking at a bit of a transitional period. I was still playing for Middlesex, and playing very well, but I thought to myself that I couldn't keep playing cricket all my life. I decided that we might as well have a little look at the jungle and see what happened. It was very similar to how I got into the cricket really: didn't give it much thought and just thought that it sounded like a good challenge. Although I was looking out for something else to do, I never had any thought of going in there to then try and start a career in telly, or anything like that."
But a career in telly happened nevertheless. That jungle-born momentum was maintained by Phil's three-series period as a team captain on the BBC's cult sport/comedy panel game They Think It's All Over and, from that point onward, he regularly turned up in assorted broadcast roles including sports commentary and the kind of light-hearted, mass appeal appearances for which he is probably best known: Sport Relief, All Star Mr & Mrs and currently as a team captain on A Question of Sport and as a regular reporter on The One Show. One notable highlight was his prematurely curtailed stint as a contestant on the Beeb's Strictly Come Dancing. After a creditable performance over several weeks, Phil was eventually voted off, but it was universally accepted that he had been put at a significant disadvantage by a nasty knee injury that he sustained during the course of the series. Judge Len Goodman spoke up at the time to say how sorry he was that Phil had not been able to stay in the show.
"It was tough and a bit scary," says Phil. "The dancing was a little out of my comfort zone, so to speak. So, anyway, I threw myself at that and then really enjoyed it.
I had a good time doing it, and I did quite well until I injured my knee. That was a shame, and kind of held me back. It was very scary the first couple of times, you know, going out there and dancing in front of everyone with tight trousers and a pink shirt on. That was a little bit nerve-wracking. But really it was great."
Phil is possibly best known as 'Tuffers' these days, but over the years he has worked his way through a selection of nicknames. At one point he was known as 'Two Sugars" because of his fondness for a nice cup of tea. His new personal registration reflects another of his famous aliases. "Well, it's The Cat of course. I've always been known as The Cat or Tuffers, but certainly, in the cricket world it was The Cat because I was always having a snooze."
We had wondered if the nickname might be a reference to cat-like agility on the field, but Phil soon lays that misconception to rest. "I think that might be a bit ironic - I wasn't particularly the best fielder! But no... Out all night, sleep all day, nine lives. I've got a little tattoo of a cat on my shoulder as well, and I've got two cats, as you've seen. I've got the big Persian and a little rescue one as well. We're quite a cat family. So when you mentioned it, I thought perfect! Absolutely perfect."
Phil's interest in number plates predates the acquisition of his Best Cat registration.
"Yes, I had one a long time ago with 'Tuf' on it. It was TUF something or other: I can't remember the actual numbers.
"I know a couple of people who have them, a couple of the cricket guys. Graham Gooch had one, I think, with BAT because he was a batsman; and a few of the guys have got plates reflecting the number of hundreds they've got, or the amount of wickets they took, or something else to do with the cricket and things they are involved in.
"But, yeah, I've always had a bit of an interest. You know, you're driving along and you see the old number plates on the cars, and you have a bit of a laugh sometimes. Muck about making them up in your head, down the pub, that sort of thing. Personal plates are a bit of fun aren't they?" We couldn't agree more.
Interview: Angela Banh
Story: Rick Cadger
Photography: Stan Thompson