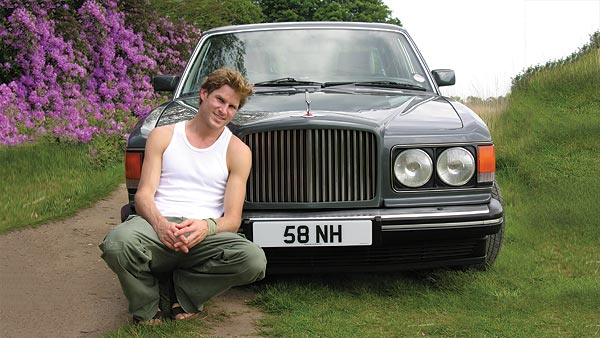 Noah Huntley
It's late May and the hottest day of the year so far. Regtransfers' reporting team couldn't have chosen a better time or location to catch up with former Holby City actor, Noah Huntley. We've arranged to meet him in picturesque Richmond Royal Park, close to his West London home.
Noah, probably best known for the role of aristocratic heart-surgeon, Will Curtis, in the long-running BBC television hospital soap-drama, has interrupted his busy schedule of filming, rehearsals and auditions to talk to us about his career and his new found interest in personal vehicle registrations.
Noah arrives in style in a Bentley turbo that turns heads as it glides effortlessly into the car park of Pembroke Lodge Restaurant - a magnificent Georgian mansion in the grounds of the park. Over a spot of lunch al fresco, at a table commanding breath-taking panoramic views across the Thames Valley to Windsor and Surrey, Noah tells us that he bought the Bentley (he was originally considering a Ford Fiesta!) when he first started filming Holby City.
Bentley
"Will Curtis was actually a lord in the series, so the experience of driving the Bentley backwards and forwards each day to Elstree Studios really helped me get into character - much to the amusement of some of the cast," Noah explains whimsically. And after getting the Bentley, Noah set about looking for a personal registration to give it some identity.
I got some really good help when I contacted Regtransfers," he tells us. "And after considering a number of suggestions from your helpful sales team, I finally settled for the registration B4 WCH to signify: Before Will Curtis, Holby".
While we're on the topic of personal registrations, and as Noah is no longer at Holby, we suggest that he might now wish to consider 58 NH as a replacement. This is one of our exclusive registrations and really does appeal to Noah as it's such a unique and personal number. Noah is the first to admit how stunning it looks on his Bentley. And, as our photographer points out: "It looks like the cherry on the icing!"
But Noah tells us that he is thinking of selling the Bentley now, as his residency at Holby came to a tragic conclusion in March, when his Will Curtis character suffered a painful death after being impaled on some scaffolding. This was Noah's second fatal departure from a soap opera, having first been killed-off some ten years earlier when, as Luke McAllister in Emmerdale, he died in a car crash while attempting to escape from the clutches of the dreaded Dingle family! And Noah is quick to point out that he came to an unfortunate demise in two of his recent film outings: Event Horizon and 28 Days Later. "What does this say about my choice of roles?" he contemplates wryly.
We pluck up the courage to ask Noah to explain the origins of his nickname, 'Nut'. He looks surprised and impressed with the depth of our research.
"I don't know if it's because of my personality or the rather unfortunate incident when I was six and got a hazelnut stuck up my nose!" he is happy to confide.
Noah's youthful looks make it hard to believe that he's been appearing regularly on our TV screens for over eighteen years now. He made his television debut in 1987 at the tender age of twelve as Inspector Mike Burden's son, John, in the first of the Ruth Rendell Inspector Wexford novels to be adapted for the small screen.
Noah went on to reprise the role in three further Wexford dramatisations, which starred George Baker as the gruff, West Country detective, Reg Wexford. And this was before joining the cast of the long-running farmyard soap Emmerdale for a two-year stint when he was just eighteen!
Noah reveals that he's the only member of his family to 'tread the boards' professionally; he was brought up in a large farmhouse in West Sussex which he shared with his seven siblings. Another surprising fact about Noah is that he's one of three sets of twins born to proud parents, Karen and Graham! Noah tells us that this achievement is a UK record for multiple births of twins.
Rhododendron
After lunch, Noah is particularly keen to show us the magnificent displays of rhododendra in this royal enclave. Ensconced in the leather-clad comfort and luxury of Noah's Bentley, our reporting team is conveyed in style (just for a change!) to what appears to be an enclosed garden in a tucked away corner of the vast parkland.
"Not many people seem to know about this," enthuses Noah as he leads us into this secluded area, where our senses are assailed by multi-shades of rhododendron blossom in spectacular abundance.
After taking a leisurely stroll round the well-manicured grounds and a stop off for a photo opportunity, we soak up the unexpected sunshine while Noah fills us in about his most recent acting assignment: he's just returned from New Zealand, having completed location shooting for the Disney multi-million-dollar film adaptation of The Lion, the Witch and the Wardrobe - the first big-screen instalment of C S Lewis's The Chronicles of Narnia - which is due to reach cinemas before Christmas. It was a physically demanding role for which Noah had to brush up his horse riding skills.
Bicycle
But Noah is swapping horse saddle for bicycle saddle for his next challenge: competing in the British Heart Foundation's annual London to Brighton Bike Ride. This is the BHF's major fundraising event of the year and the biggest bike ride in Europe, attracting applications from thousands of cyclists. Since it started in 1980, the event has raised more than £26 million for the charity, involving more than 550,000 riders. Noah tells us that he's been lent a specialist, lightweight bike for the occasion and has been getting some expert coaching.
We move on swiftly to another topic of conversation, when a member of our reporting team begins to impart his experience of extreme saddle discomfort during a similar charity bike ride!
Television soap-operas, blockbuster movies, theatre work and charity fund raising events: it's all in a day's work for this personable young man who was not yet into his teens when he landed his first television break. And with The Lion, the Witch and the Wardrobe destined to become the top box office movie attraction this Christmas, it's not difficult to predict that Noah Huntley is going to be a big household name before long.
Park
We thank Noah for giving up his time to talk to us and for sharing the delights of Richmond Royal Park. It is the largest open space in London, covering almost 2,500 acres, is home to a huge array of wildlife and where herds of fallow and red deer roam freely. The park has been designated as a Site of Special Scientific Interest and a National Nature Reserve. It is well worth a visit, as it offers a unique countryside experience so close to central London.
Rick Cadger & Angela Banh
Photographs: Stan Thompson Regtransfers © 2005