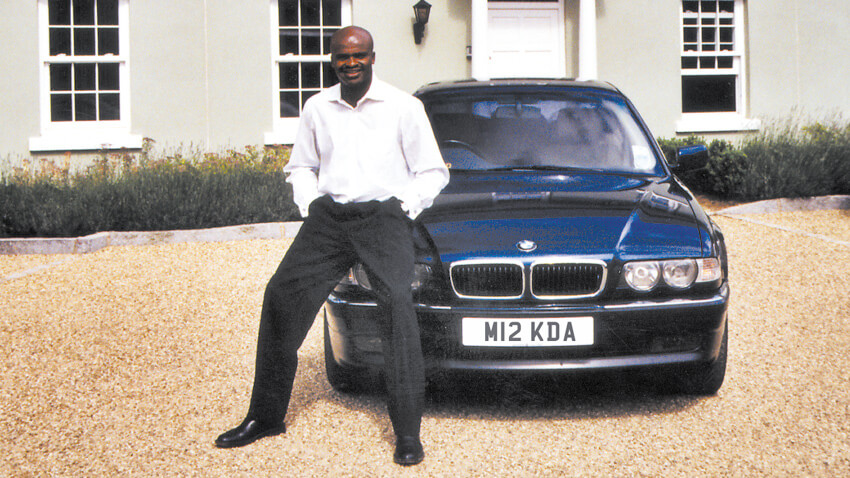 Kriss Akabusi
Kriss Akabusi MBE, is remembered for his outstanding performances for Great Britain in the world of athletics and the successful television career that followed, presenting The Big Breakfast and Record Breakers.
Today the gold medallist is a highly sought after motivational speaker. Working from his business, The Akabusi Company, in Ampthill, Bedfordshire, he has found his natural ability to be an inspiration to others, the source of this newfound success. Amongst the scores of companies that have called upon Kriss's expertise are: BT, Marks & Spencer, T-Mobile and Siemens.
One of the many methods Kriss uses to help people break through their limiting beliefs, such as fear of failure, may seem quite dramatic. "I make the person face their deathbed by asking them to imagine they have just 18 months to live, then ask, what is the one thing that they would need to do right now to achieve their personal goal. It shocks people into focusing on what steps they can take to make it happen. It awakens their courage to push aside all the day to day routines they get caught up in and use as an excuse that they 'don't have the time'.
"An alternative is to encourage the person to think creatively about what it is they really want - to really picture it - if money and time were no object. This can be an exciting and momentous moment for people who haven't allowed themselves to really imagine themselves living their dream. They start to believe that they genuinely have the ability to make it happen."
Kriss's own motivation and drive comes from his duty to his two children as well as his need to belong. "My sense of belonging is a like a tribal need that I've felt from a young age right though the years that I was in the army, up to today, when I thrive on being able to engage an audience when I speak. I have read many books by the great motivational speakers of the world, such as Anthony Robbins and Stephen R. Covey and together with my own strategies and experience, I can deliver a dynamic presentation tailored to the needs of the organisation I am working with."
Staunchly proud of his Nigerian background and particularly his roots with the Igbo tribe, Kriss decided to buy the personalised number plate K1 GBO, to celebrate this (the K stands for Kriss and the 1GBO for the Igbo tribe.) "I also have M12 KDA, ECC 724 and D12 MOT which represents 'Dr. Motivation' - it's a great fun plate! My interest in number plates goes back to 1980 when I came back to the UK from Germany. I started spotting them around and thought that ones like B1 TCH and LUV 1T are fantastic - so amusing and direct - the perfect way to personalise a car."
Yet Kriss' personal passion reveals a much more serious side to his character. Just 18 months ago he founded the charity REACH (Rural Enterprise and Community Health). The aim is to improve health care and health education in the Owerri district of Eastern Nigeria. CORD (Christian Outreach Relief and Development) has helped REACH identify the underlying problems causing poor heath in the region, such as dirty water and very low family income. These are the areas that REACH is concentrating on, aiming its focus on prevention rather than cure.
"I've always been able to see the brighter side of life and have kept that childhood belief that dreams can come true. I was born in this country, of Nigerian parents and when they went back home they left me here in a children's home, which turned out to be very lucky for me. Returning to Nigeria over the last few years to retrace my heritage, I have seen half brothers and sisters of fifteen years of age with the frame of a six-year old due to stunted growth. I look at all I have achieved in this country and the sense of safety and security that I feel and think 'Wow' - there by the grace of God go I. It is my dream to be a catalyst for change in the country of my origin and really make a difference to people's lives." For more information about REACH or Kriss' motivational speaking, visit www.akabusi.com
© Regtransfers - The World of Personal Number Plates Volume 2 Issue 1