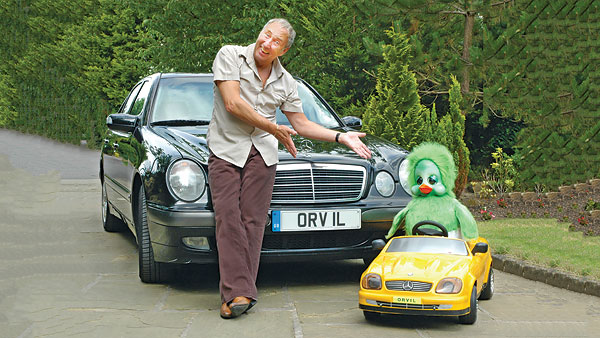 Keith Harris
Keith Harris is one of the best known faces in showbiz. Seeing him waiting for me at Poulton-Le-Fylde station is like being met by a dear friend. He drives Stan and me to his house in a shiny black Mercedes complete with the famous number plate ORV 1L. He lives on the outskirts of Blackpool with wife Sarah and their two young children, Kitty and Shenton. As we pull into the drive, I notice a stone plaque on the wall outside his front door. It is of the Janus masks – the smiling and frowning faces more commonly known as Comedy and Tragedy - the universal symbol for theatre and drama from ancient Greece . I wonder if they also represent happy and difficult times gone by.
Every performer has two faces: the private and the public, but there is no pretence or mask-wearing with Keith, he says it how it is, although during our conversation, he is ever the entertainer, momentarily slipping into various characters' voices with resulting hilarity.
Keith brings Orville out for the photo shoot - a lot larger than I recall from TV. Ugly duckling springs to mind, but the big sad eyes soon soften me. He has a little car of his own and of course his name on the plate.
It was fourteen years ago when Keith acquired the ORV 1L number. A friend told him it was coming up for auction in Harrogate . "It was fourth on the list," says Keith, "the one that sold before mine was CYR 1L which went for about £35,000. I thought, flipping heck, mine's going to cost a fortune. It started at £2,000 and nobody went for it, so it came down to £1,500 then down again to £1,000 so I put my little ticket up. Someone else put their ticket up and it went backwards and forwards until it got up to about £1,400 and the other fella said no, so I got it for that. I met him afterwards and he said he was only going to sell it to me anyway. It's got to be worth an awful lot more now. I would never sell it. The only other Orville I know is the singer Shaggy, who had the hit 'It wasn't me'.
"I wanted my own number plate from when I was a kid, not realising at the time you had to do all the paperwork. When 24 KH came up in the newspaper on a pre-war moped, I bought it for £75. I had it on my MGB GT when I was a young guy zooming around. Having a number plate is a showbiz thing, especially when you're trying to get recognised. One's I saw around that I liked were Jimmy Tarbuck's number COM 1C, and Danny Le Rue's RU 12[are you one too], plus of course FU 2 which was on X-rated model Fiona Richmond's car."
Since the late sixties, FU 2 has belonged to Hanna Smart, widow of Billy Smart Jr. Keith worked with their son Billy Jay in Smart's circus. "Billy Jay was my stooge; he was about four years old. My Mum probably has the show on video, she has about six hundred videos of everything I've done except the Minstrel shows. They didn't have videos then which is such a shame, but it's great to look back at all that stuff. "I did Billy Smart's Easter Circus and Christmas Circus every year for four years and the Minstrels before that. My first TV performance was when I was seventeen on a show called Let's Laugh which was the forerunner to The Comedians . At the same time I auditioned for Opportunity Knocks. Trouble was I appeared on it the same week as Let's Laugh and that came out first so Opportunity Knocks weren't very pleased that I'd already been on a TV show. I had Freddy the Frog then; he said he was going to be Prime Minister because he was always in deep water and he had a big mouth. We lost by 27 votes to a young boy trumpeter who many years later was playing in my band in the pit. I had my own TV show, Cuddles and Company (in the 1970's).
On that I had Dominic the Dog and Daphne who was a shark in a tank of water. My ideas came from animals, I was always looking for 'the one' that was going to take off. I never really wanted to be known as Keith Harris andOrville. I was Keith Harris 'the entertainer' and this was part of what I did. Ventriloquism never topped the bills anymore; there was always one on the bill, often to close the first half. I wanted to say look: I sing, I dance, I do impressions, I do everything and this is something else I do. The reason I picked ventriloquism was because working the theatre's as a kid, there were a few ventriloquists who were pretty old by then. I thought if I take it up as my main act, by the time they die I'll be able to step into their shoes.
"My Uncle and Aunt were both in showbiz. My Father could sing so when he came out of the army, they said there was a vacancy in the show. He went for the audition and got in. He met my Mum, a dancer and wardrobe mistress, on a show called No, No Nannette .
"As a boy I was always making puppet theatres; I loved everything to do with theatre. Unfortunately I had many years of bad schooling. I didn't have a teacher for two years, and the headmaster ended up in prison. I was in a class with all the rough and tough kids who were trouble-makers. There was me in my little Lord Fontleroy suit, and I was shoved in there because I couldn't read or write. I was dyslexic but it wasn't recognised as anything apart from 'being thick'. But my mind was always full of being on the stage. I would leave school and go straight to the theatre. At weekends I'd work the clubs with my Dad, earning a few quid, getting recognition.
I knew that's what I wanted to do. They couldn't get any teacher to handle this class, so of course, nobody came. It was only when some of my Mum's pupils from the dancing school she ran said they don't have teachers, they don't do anything that she went down there and made hell with them. The headmaster used to get me up to his office with a book and say, 'Read that' and when I couldn't he'd cane me. I was lucky to have the theatre as my focus. The kids at school didn't know what I did. I was quite a timid little boy, but on stage I was king, the main man. Even in my teenage years I was a quiet person but as soon as I got on there I was completely different because I could control that and I was good at my art which always surprised people. I suppose I was born into it. I joined my Dad's act when I was six. I used to sit on his knee – he was the ventriloquist and I was his dummy. That's where I learnt all my timing."
Those early years of training meant that by the time Keith first used his own dummy all the technical aspects of being a ventriloquist came instinctively. "Dad retired when I was eleven so I decided to continue as a solo act. By fourteen, I'd turned professional." It was only very recently that Keith discovered he had a great grand uncle called John Oliver Harris, born in 1884, who he has an uncanny resemblance to. Even more surprising is that John Harris was also a ventriloquist, and the dummy he used looked identical to Keith's first dummy, Charlie Chat.
"It was quite a shock seeing the photo of John. To think that ventriloquism is so deeply embedded in my family history and genes is incredible. It is not a talent thatanyone can learn. I could try and teach it to people, but there's a lot more to it than just speaking without moving your lips. You have to be two individual people and sometimes if I work with Cuddles for instance - I've been doing it for so long – sometimes he'll say something that I wasn't even thinking of saying and it is quite weird because your mind is working so fast – a bit of schizophrenia I suppose. One of the most important things about ventriloquism is the timing. You have to think what the dummy is going to say to set up the gag. The characters are so real to people that when I walk out there the last thing they say is what a clever ventriloquist.
"One of the oldest ventriloquists – Arthur Prince and Jim, topped the Palladium as one of the highest paid acts. He was known for doing a performance with a glass. He'd have a flunky with him and say: I will now drink a pint of beer and the flunky would come on stage with a tray, go up to the audience and someone would check it wasn't a trick glass and then he'd say: 'And now Jim will sing' , so Jim (his dummy) would drink the pint of beer and sing It's a long way to Tipperary but the flunky would have the tray in front of him and it would be himsinging. Then Arthur would say: 'I'll throw my voice to the back of the theatre – hello!' And the flunky would run right round the back and call 'hello' and Arthur would call again and you'd hear the other voice and everyone would think it was marvellous. So you see you can't throw your voice; it's all illusions. I used to do a great one with the telephone, I'd go into Woolworth's and use one of the kid's phones: I'd ask the shop assistant, 'Can I use your phone please?' [Keith makes the sound of a phone buzzing] 'Hello?' [Keith makes a squeaky voice that sounds like the person on the other end of the phone.] After I'd finished the conversation, I'd put the phone down and watch the assistant pick the receiver up to see who was there."
Ventriloquism comes from the Latin word ventriloquus meaning: speaking from the belly, but according to Keith, you don't speak from your stomach at all, "You speak from up here," he says, touching his neck, "if you get a sore throat you've had it. Thank god we've got microphones these days as well. Once in Ireland , I lost my voice completely and I didn't know until I actually picked Orville up. I was alright with the monkey but with Orville I use the back of my throat because it's a fairly high pitched voice. Cuddles was talking and I said, where's Orville? I brought him on and nothing was coming out at all. It was such a funny experience. I very quickly did a 'Sooty' where Orville was answering by whispering in my ear. Luckily the audience didn't twig. They were just so in awe of seeing him. The only difficult part was the singing! I went to see a specialist about my throat and he said if I tried to force it I'd ruin my voice so I had to cancel the whole week – lots of heartbroken children but there you are. They said can't you just bring him out, but it's not the same."