Jay Kay of Jamiroquai
Few musicians can boast a silhouette so distinctive that it can be used as a logo or a trademark. A good hat can make all the difference to an image and there is no greater master of the hat than Jay Kay, frontman of acid-jazz favourites Jamiroquai. Even Mountie-headed Pharrell Williams must settle for a distant second place where headgear dominance is concerned.
Despite the instantly recognisable horned outline of Jamiroquai's famous 'Buffalo Man' logo - reportedly based on a sketch singer Jay Kay did of himself - you'd be hard-pressed to find a photograph of Kay actually wearing such a contraption. All manner of elaborate titfers, yes: a Buffalo Man hat… not so much, if at all. Nevertheless, that silhouette has been the enduring image of both singer and band since it first appeared on the cover of the 1993 debut album Emergency on Planet Earth.
Relentlessly danceable tunes
From the 1990s onwards, Jamiroquai supplied us with a highly successful stream of relentlessly danceable tunes and some classic videos. Even now, the MTV Award-winning video for Jamiroquai's single 'Virtual Insanity' compares favourably with big-budget current offerings. The baffling movement of the floor, the props and Jay Kay himself in that video were achieved using real-world, mechanical effects that are, somehow, at least as satisfying as any present-day CGI mock-up could be.
We had the pleasure of visiting Jay Kay recently when we delivered the number plates for his new JAY 1K personal registration. As you probably know, especially if you've caught one of his several appearances on BBC's Top Gear, the man is as famous for his love of cars, especially supercars, as he is for his music. He is also a valued Regtransfers customer, having purchased many terrific registrations from us over the years, including JAM numbers as well as name- and car-related registrations. We were delighted to be able to hand over yet another set of fantastic personal plates.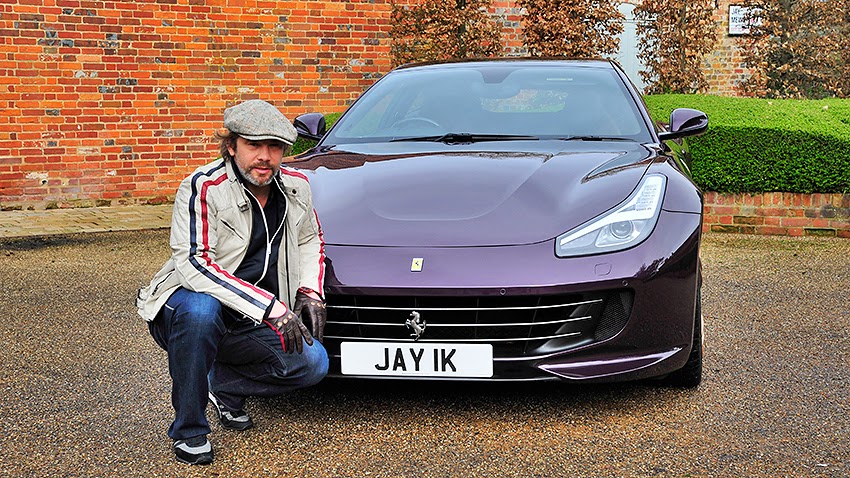 "Before I could walk, I was playing with cars"
Although he has enjoyed a wide range of models from different brands from BMW, Audi and Mercedes to Lamborghini, Porsche and, of course, Ferrari. One of his best-known acquisitions was a bright green Ferrari Laferrari that he owned from new but then put up for sale in 2019 with just 1900 miles on the clock! Having owned over 100 cars, when Jay Kay was asked in 2017 which was his favourite of them all, he picked his 1968, royal blue Porsche 911 S.
"Before I could walk, I was playing with cars. As a little boy, I spent a lot of time on the road travelling with my mum [jazz singer Karen Kay] to shows and, at that time in the early 70s, the range of cars that you could see and the differences in them were far easier to spot than today. These days they're a little bland in my opinion. I am from an era when they built some great cars that were emotionally more inspiring and individual than they are today."
Jay Kay isn't a fan of contemporary registration numbers as issued to cars by default and much prefers something more appropriate. "I find that today's [format of] number plates can look quite ugly on cars and it is always nice to have a number that relates to the model of the car. It just completes the picture."
That same aversion to dullness and homogeneity and preference for character and variety drives Jay Kay's preference for supercars. He is attracted to that which is more than ordinary.
The magic of a 1970s supercar
"1970s supercars were rare things and the people who bought them were invariably at the top of their game. They were far less accessible then they are now, in terms of both cost and performance and there is something magic in that."
Jay Kay's first car was a 1972 BMW 1602. Not only was it the car he learned to drive in but it was, reputedly, also the car in which he composed many of the tunes that would appear on Emergency on Planet Earth. It certainly sported styling that is pretty far removed from today's BMWs. Jay clearly had a significant emotional connection to the 1602 as he hung on to it and didn't sell it until earlier this year. We can't help wondering if he would have been equally inspired to compose in a 2020 production Beemer.
These days, Jay Kay has rather more comfortable songwriting facilities at his disposal but he still finds his focus wandering at times.
"I get a melody in my head and then build it up with chords and hope it develops into something good, but when I'm writing and recording I just want to be out on the stage doing it live. On the other hand, when I am in the middle of a tour, which can be very tiring, I just want to be back in the studio."
Touring has been an interrupted process for Jamiroquai over the last couple of years. Obviously, as with all touring music artists, the band's plans have been ravaged by the global Covid-19 pandemic. Performances in front of live audiences have been impossible and restrictions on personal contact between band members have made even rehearsal impractical.
"The future is definitely on hold"
"At the moment, with the lockdown, the future is definitely on hold until I can get back into the studio later in the year," Jay Kay says.
Even before the enforced break imposed by the virus, Jay Kay had endured a period of activity due to a back injury he sustained in 2017.
"I am not sure how it happened but it could have been jumping on the trampoline with my daughter. Now that I am 50, I realise that I shouldn't be doing that again in a hurry! It was heartbreaking to have to postpone the dates but people were great about it and came to the rescheduled shows."
When he eventually did get back onstage, Jay Kay found his movement somewhat limited by the injury, at least early on, but every cloud has a silver lining and the singer realised that dancing a little less energetically left him with more breath for singing, so his vocal performance actually benefited to some extent.
The influence of Jamiroquai has been cited by a range of artists. Pharrell Williams (in whom the influence appears to have been in headwear as well as music), Tyler the Creator and Calvin Harris have named the band. In turn, Jay Kay has acknowledged those who provided inspiration for him, including funk and jazz legends Sly Stone, Roy Ayers and Herbie Hancock, 'godfather of rap' Gil Scott-Heron and others. Although Jay Kay has denied that Stevie Wonder was a strong influence - despite a certain, coincidental, similarity in vocal quality - he readily admits Wonder's presence in the musical mix that formed the soundtrack to his early life.
Jazz in the house
"There was a lot of The Beatles, Stevie Wonder and Jazz in the house when I was young and my mum sang a lot of Jazz. To be honest there was a bit of everything going on, from Elton to Elgar."
With the period of inactivity following his injury and the performance hiatus due to the pandemic, Jay Kay must have found himself listening to a lot of music. What comprises his day-to-day playlist?
"Well, I've got a broad range including anything from rock to classical. My favourite stuff is jazz-funk but it can be anything: Latin, jazz, hip hop, disco, rock. To relax these days, however, I am very into my classical stuff."
The break from the day job has also given Jay Kay more time to be a family man. While accepting the Broadcast Music Inc President's Award in 2017, he finally ended speculation by confirming that he and his partner Maria had married. The couple have two daughters; the eldest is named Carla and the youngest is Tallulah. Jay Kay's song 'Carla' from Automaton was written about his eldest daughter and the lyrics, a promise of care and protection, hint at how profoundly the arrival of children has affected the way Jay Kay sees the world.
Interview: Angela Banh
Story: Rick Cadger
Photography: Stan Thompson, Amy England