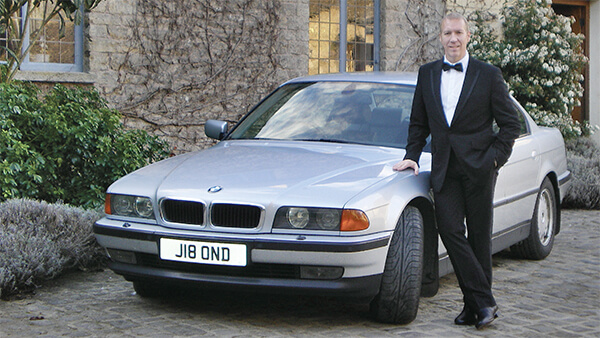 Award-winning star Jack Marsden
Award-winning television star Jack Marsden has much in common with fellow actor Daniel Craig. As well as being of similar age and build, both have strong James Bond connections. Craig, as everyone knows, is the actor currently filling 007's shoes, while Jack Marsden was one of the other names on the shortlist for the role.
Jack is familiar to TV viewers from his roles in ITV'sHeartbeat and the BAFTA winning BBC drama Cops. The Heartbeat appearance adds yet another ironic coincidence linking Jack with the current Bond actor.
"Daniel Craig said in an interview that he wanted to be in the programme because it is his mum's favourite show," Jack told Regtransfers. "I offered to do a job swap, with Daniel driving my white Zephyr patrol car if I can drive his Aston!"
Jack is a very serious Bond fan. Over the years he has invested a significant amount of money in acquiring the world's largest private James Bond film prop gun collection.
"I managed to collect my armoury of Bond film prop pistols by researching prop clearance companies and exclusive London auction houses. I got a lot from the Bapty auction at Christies in London in December 2006. Bapty were the film armourers for all the Bond films from Dr No to Die Another Day. I also got some from the Propstore, who are the number one prop company."
Jack's collection contains 10 main pistols used by Bond in various films and as a whole his arsenal has been valued at over £250,000. At first the sum seems staggering, but perhaps less so when one considers the historical significance to Bond movie enthusiasts of the Walther P5 used by Sean Connery in Never Say Never Again, the Walther PPK used by Timothy Dalton in The Living Daylights, the Walther P99 used by Pierce Brosnan in Tomorrow Never Dies, and the stunt Walther P99 pistol used by Daniel Craig in the remake ofCasino Royale.
"The props are displayed at my 'Being Bond' themed charity/corporate events and guests can donate to the charity and get a souvenir photo posing 'Being Bond' with one of the prop pistols." Jack said.
Marsden has supported a number of charities including The Red Cross, Francis House Children's Hospice, Bolton Hospice, the 5-Star Scanner appeal and The Baron's Trust.
Jack's thorough Bond theme concept naturally extends to his choice of car and number plate. "My number plate J18 OND was bought in 2006 when Casino Royale had just been released and it was put onto the same styled 7 Series BMW that Pierce Brosnan drove in The World is Not Enough. That one was Bond's most gadget packed car"
The car gets plenty of use in good causes. Jack has used it to transport sick children to events. It also add atmosphere to his 'Being Bond' experience.
In the last three years, Jack has raised approximately £250,000 for charity through the events he has organised and supported, and his car and plate are an important part of his fundraising equipment.
"The number plate is a must-have investment for me, as it would be for any other keen Bond fan or collector. It has certainly been a useful business tool for me, adding to my company profile and to my corporate events."
Jack Marsden's crime busting on-screen persona has, on occasion, overflowed into real life. In 2000 he went to the aid of a woman cyclist in Manchester when two men stole her bicycle. Martial arts expert Jack chased the men through the streets until he caught one and pinned him to the ground. His actions were recognised with a special Citation of Merit given to him by the Chief Constable.
Well, all we can say is, good work, 007.
The 'Being Bond' event can be contacted online at:
info@beingbond.co.uk or by telephone on: 07548 007 007