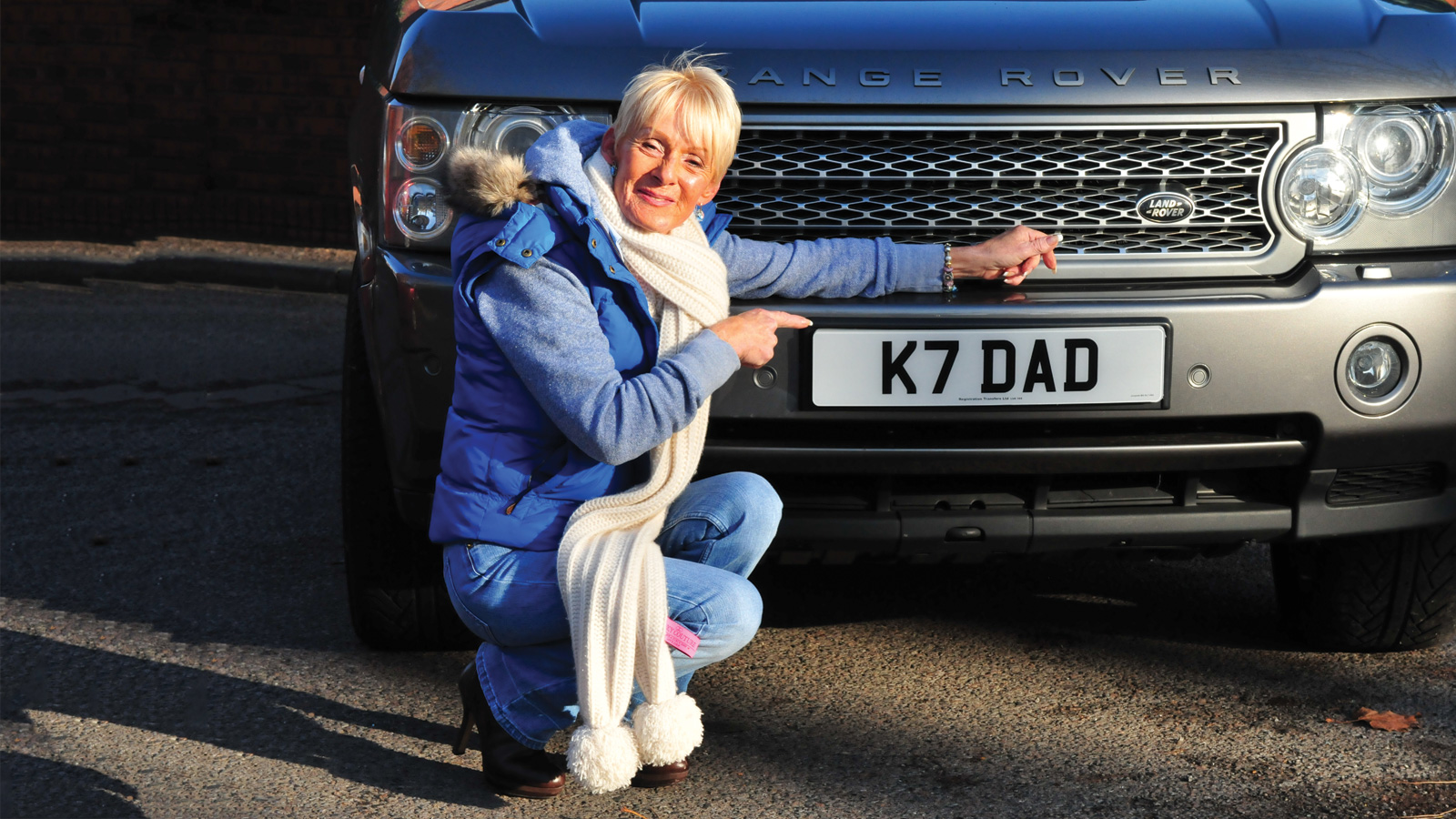 Gina Campbell QSO
In the 1960s, when your humble scribe was a child, the names Campbell and Bluebird were well known to all British schoolboys, and were associated with adventure and heroic endeavour in the archetypal Boys' Own tradition. I clearly recall that my collection of Brooke Bond 'History of the Motor Car' tea cards included one depicting Sir Malcolm Campbell's 1935 Blue Bird car. In fact, that is the only card from the series that I can specifically bring to mind after the intervening 40 or more years, which may provide some indication of the impact made on a young boy by the near-legendary Campbell family and their cars.
Sir Malcolm and, later, his son Donald Campbell CBE were both holders of world land and water speed records. Both men christened several of their vehicles Blue Bird (as named by Sir Malcolm Campbell) or Bluebird (preferred by Donald Campbell). With Donald Campbell's death in 1967, while piloting his Bluebird power boat at over 300 mph on Coniston Water, many people assumed that they had witnessed the end of the Campbells' record-breaking dynasty. The popular adage tells us that it is unwise to assume.
In October 1984 a new women's world water speed record of 122.8 mph was set at Holme Pierrepont in Nottingham. The record-breaking boat was named Bluebird II and its pilot was Gina Campbell, daughter of the late Donald Campbell. The very same day, in a bid to increase the new record, Gina was injured in an accident frighteningly similar to the tragic crash that claimed the life of her father.
Gina certainly lives up to the Campbell name. The streak of competitive determination that drove her father and grandfather is clearly genetic. Despite already holding the women's water speed record, Gina made another bid in 1990 when she smashed her own record by achieving a speed of 166 mph. The new record stood until 1993.
"When you come from such a lineage," says Gina, "with Sir Malcolm as grandfather and then Donald as father, their successes and achievements are just so instilled into you, so to speak. There were always trophies and certificates all around in recognition of all they had done. The main topic of conversation was always record-breaking, pushing the boundaries, the future development of the Bluebird boats or cars. I was left with just a small feeling of inadequacy… I had the need to prove that this DNA ran through me as well. I had to prove to myself that I could hold my head high and be taken seriously as a Campbell."
Gina's male progenitors would surely be the first to agree that she has certainly proved herself a worthy Campbell. They would surely also agree with the wisdom of retiring from record-breaking, despite its persistent lure, while one can still walk away.
"At this stage of my life I do not have the same drive and ambition as I had before to go and get more records. And, on a sobering note, I've seen too many friends and family members killed in the quest. But even then, that's not to say that I don't still dream about it!"
There are other projects commanding Gina's attention now that she no longer makes record attempts herself, but even these new endeavours reflect the Campbell family's history and overriding obsession with their sporting adventures.
"My current personal goal is to perpetuate my family heritage. I want to do the right thing regarding the full restoration of Bluebird K7."
K7 was the hydroplane power boat in which Donald Campbell had his fatal accident on Coniston Water. The crash was devastating and Bluebird K7 broke into pieces upon its high speed impact with the water. Although divers located some wreckage they were, at the time, unable to find the main hull of the boat, and Donald himself, due to extremely poor visibility caused by silt in the water. In fact, it was not until 2000 that the main part of the craft was located.
The decision to recover Bluebird K7 was made by Gina and other members of the Campbell Family Heritage Trust, and the operation to raise the wreck began in March 2001. In May of that year Donald was also finally found and brought ashore so he could be properly laid to rest by his family. The wreck recovery efforts, led by Bill Smith, were the first stage in what has become known as The Bluebird Project.
Gina was determined that Bluebird K7 should be restored to her pre-crash condition as a tribute both to her father and to British engineering. She did not wish to see the craft left in situ beneath the lake lest it become a target for scavengers; nor did she wish to see K7 displayed as a collection of macabre debris for the entertainment of those who are fascinated by accidents and the misfortune of others. Despite strong and vocal opposition from The Heritage Lottery Fund (who declined to fund the full restoration of K7) and other groups and individuals, Gina decided that the correct course was to rebuild her father's boat to working condition using as much as possible of its original fabric. She wanted to see Bluebird K7 run again.
"This project is a complete labour of love," Gina says. "And of sheer human drive. If anyone wishes to follow the project's progress I really do recommend that they should visit the www.bluebirdproject.com website."
We endorse Gina's recommendation. The Bluebird Project website is, in itself, an awe-inspiring achievement. The sheer volume of information about the project, the specific engineering tasks involved, and about the history of K7, is really quite astonishing.
When the restoration is complete, it is intended that Bluebird K7 will make a number of proving runs in 2012, possibly on Coniston Water (for which permission has already been given). After that, the historic craft will go on permanent display in the new Bluebird Wing of the nearby Ruskin Museum in Coniston.
So approaches the conclusion of a hugely important part of Gina's ongoing mission to preserve the heritage of her family and to honour the achievements and sacrifices made by her father and grandfather.
"I am humbled and so grateful that so many people from every walk of life, and from varying age groups, still appreciate that my forefathers left such a massive mark, and respect their endeavours. They certainly were very special men, and must never be forgotten."
"I have been given, through good fortune of birth, the opportunity to live out a dream. There are many people who would have given all they had to have what I've inherited from my family name. Do I think I've done my family proud? Probably not enough. This is part of my inherited legacy of record breaking: you always feel that you can do more. Forever forward and upward: forever faster."
Story: Rick Cadger
Interview: Angela Banh
Additional images reproduced by kind permission of Gina Campbell

K7 DAD
In addition to the inherited need for speed, Gina shares the established Campbell liking for personal number plates.
"My father had DC 7, his initials and the number 7 which was always important to him."
"When I saw the very similar 7 GC going for auction a few years ago, I set my heart on it and I was very proud when I did get it. I was sad to finally part with the number, but when I saw K7 DAD at Regtransfers, well, I thought that only I could possibly claim it! The relevance is obviously that Bluebird K7 was the full name of my father's boat. I will always treasure it."

"I think number plates are great fun, and in some cases very apt. They can tell you a lot about the owner."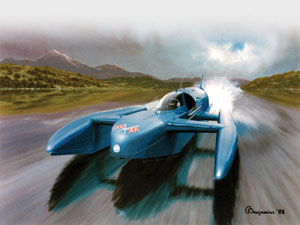 Full Power
This painting of K7, 'Full Power' by Dutch-born 'photo-realist' painter, Arthur Benjamins is available as a strictly limited signed and numbered print.
For more information and details of other works by the artist please visit: www.bluebirdpublications.com