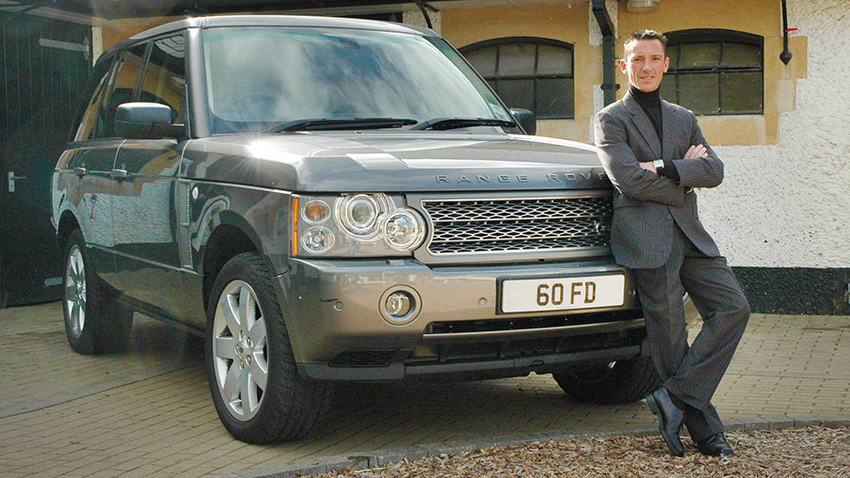 Frankie Dettori
We are very proud of the cover photograph for Issue 24 of our magazine, The World of Personal Number Plates. Our photographer, Stan Thompson, has done us proud with a truly exclusive shot of the great Frankie Dettori. It's not every day you get to see one of the country's greatest jockeys riding a zebra!
We met Frankie at his Newmarket home where we delivered the number plates for his new personal registration, 60 FD ('Go, Frankie Dettori!').
"I used to have 777 LEO," Frankie says. "My childhood dream was to have a Ferrari. I always said if I got to 30 and I had enough money I would get one. What eventually happened was that I was in a plane crash and I nearly died at 29. And this was when we'd just had a little boy. I thought 'what the heck!' and so straight after the hospital, when I was feeling well again, I went to the shop and I got myself a Ferrari. I thought I might as well get a number plate to go with it. Seven is my lucky number, and Leo is my son's name so I got 777 LEO."
Frankie's wife Catherine, also known as 'Cat', has her own personal registration numbers: Y666 CAT on her car, and last year she bought 6 CRD for her horsebox.
"Yes, Cat got that other one, and it slipped under the radar. I didn't know she bought that until I got home," says Frankie. "I said, well that's it, that's your birthday present gone! I think she likes number plates more than I do, to be honest with you, and I think she probably wanted the 60 FD more than I did, because my other one I put my son's name on it, I wasn't as bothered about mine.
"We've got a few [number plates] now, a bit of a collection. The next one I will have to get will be for my daughter, Mia. That's a perfect name for a number plate - M. I. A. It should be easy to find for Mia, when she is a bit older, but Ella, Tallulah and Rocco will be more complicated. Maybe have to get initials like Cat does."
Frankie still owns his 777 LEO registration, although the Ferrari for which he originally bought it is long gone.
"Since then I've owned three more Ferraris and a Bentley. My last Ferrari, one that I had last year, was the 430 Scuderia. All it's got inside is the seat, a steering wheel and a fire extinguisher."
"It was so fast that I actually decided it was too fast, so I sold it. I might get another, but with all the financial trouble in the world, well, I think it wouldn't look so great - the world struggling and me driving around in a Ferrari. When things are getting better in the world I might get another one."
For the purpose of the photo shoot, we put Frankie's new number on a Range Rover but in reality it is unlikely to be displayed on a luxury car for a while.
"In fact, for the moment 60 FD will be on a smaller run-around car that we use to go around the town - a Golf."
Frankie may be making concessions in light of the economic squeeze, but his current motoring modesty does not mean he is giving up on fast cars.
"No, this is just until I get my next supercar in maybe the next couple of years time!"
Frankie is one of the most popular jockeys in the UK, but his fame and appeal also extend internationally. As the son of a jockey, Frankie clearly has racing in his blood. Since his first win at age 15, he has ridden to victory in pretty much every famous race you could name. A champion apprentice he went on to become British flat racing Champion Jockey three times.
Other notable achievements include his riding of 100 winners in a single season in 1990. Frankie was the first teenager to manage that impressive feat since a young Lester Piggott.
For a coupe of years Frankie's profile was raised even further by his captaincy of one of the teams on BBC1's A Question of Sport. However, after 2004 he decided to leave the successful show and concentrate all his efforts on riding again.
In 2000 Frankie was awarded an honorary MBE, an honour awarded to non-British nationals. Although he has made his home here, Frankie's Italian roots are still strong, as becomes evident when the World Cup is mentioned, and we ask if he'll be supporting Italy.
"Yes! I am Italian! But I have been here 25 years, and England is my second team, without a doubt."
At the time of the interview, Frankie is dividing his attention between football on television and his copy of the Racing Post.
It is the day before Ascot, and Frankie is looking at tomorrow's races.
"[Ascot is like] our Olympics. I think this is my 23rd Ascot, actually. I missed two. One when I broke my arm, and one when I broke my leg in the plane crash. Sorry... I missed three. There was one when I was suspended because I bumped somebody and the guy fell off. They gave me a week's suspension. It was accidental but I still moved off my line and knocked the other one over. Thank God he didn't hurt himself, but I was responsible."
"Ascot goes on for five days. I don't stay because I stayed in the past, and when I stay I don't get any peace. You know, I go for breakfast and they look at me and see what I'm doing, I feel like I'm a goldfish."
"It's two hours there and two hours back, but at least I'm home. I can stay with my pyjamas on and see the kids."
On the Friday, Frankie will fly home because he has to race in Newmarket that evening. Bearing in mind the plane crash that he mentions so casually, it would be surprising if he didn't experience a little apprehensiveness at the prospect of taking to the air again - especially as the accident took place just before Ascot in June 2000. Frankie and fellow jockey Ray Cochrane were both injured, and the pilot died.