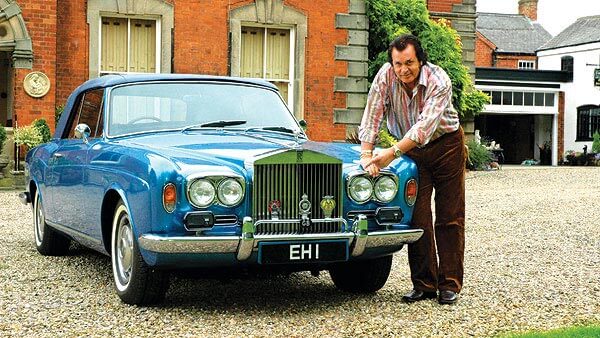 Engelbert Humperdinck
The Regtransfers' reporting team was privileged to catch up with pop legend, Engelbert Humperdinck at his Leicestershire home last summer.
The 'Humpster', as Engelbert Humperdinck is affectionately known, had just returned from a punishing schedule of benefit concerts in the Far East in aid of the Tsunami Appeal when our interview team arrived. He was busy preparing to jet off once again to the States for yet another season of sell-out performances, so it was a real honour for us to be afforded some of his precious time at home for this rare interview.
Our visit also coincided with the happy outcome of what had been a traumatic few days for Engelbert and his wife, Patricia, when they were finally reunited with their German Shepherd puppy, Charnie.
The family pet had escaped from the grounds of the mansion and Charnie's disappearance was the subject of nationwide press and TV coverage. Fortunately for the Humperdincks, media attention had helped to locate the hapless hound and the ecstatic couple were relieved that it hadn't been stolen or 'dognapped', as one of the tabloids had suggested!
Engelbert had celebrated his 69th birthday a few weeks before our visit and unbeknown to him, wife Patricia had asked a family friend to contact our sales team to help locate a personal registration for the Humpster's Jaguar. They were looking for a special joint birthday present and a
personal number plate
seemed an excellent idea.
As Engelbert has been the proud owner of registration EH 1 for some years now (displayed on his classic Rolls Royce Corniche), it seemed appropriate that he should also have a personal number on his other vehicle.
25 AGD
was the birthday present from his wife Patricia and friend David Spradbury. Patricia had tried, but couldn't think of what to buy the man who has everything, so it was David who came up with the idea of
Car registration plates
. Although Engelbert already had EH 1, they thought they would buy something to represent his real name, Arnold George Dorsey.
They decided to call Regtransfers and one of our helpful sales advisors found the number 25 AGD. At first, his wife, Patricia, was worried that the numbers added together made seven, which might be considered unlucky, but fortunately she decided to buy it. The plates were made up and wrapped, and left at the bottom of the pile of cards that were waiting for him on the morning of his birthday. When he first opened them he thought it was a joke. But this quickly changed to elation as the 25 represented his birthday - the 2nd of the 5th - which his wife and friend hadn't realised at the time.
In January this year, Engelbert took to the stage at De Montfort Hall to receive an honorary doctorate in music from the University of Leicester.
"I am extremely proud to have received this honour" he said. "It is the first honour I have received from my own city, or indeed my country, and to be honoured by the University of Leicester has given me a massive boost."
Engelbert was chosen as one of four nationally and internationally acclaimed people receiving awards at the ceremony because of the support he has given to the university over the years. University chiefs also chose Engelbert for the award because of his role in putting Leicestershire on the international map.
Engelbert is a proud patron of the County Air Ambulance service, which needs to raise £2.4 million a year to keep flying, so he decided to auction one of his a prized Harley-Davidson motorcycles to raise money for charity.
At the time of our visit, the bike had attracted 14 bids, the highest in excess of £5,000, on the auction site, eBay and there were still nine days left to run. Fundraisers hoped the sale would attract offers of up to £50,000 because of the glamour associated with the mega-star.
He has owned the Soft-tail Classic bike since 1992 and used it to ride up and down the Pacific Highway in California.
"I do not ride the bike as much as I used to and it is such a beautiful bike that it seems a waste for it to stand around not being used. So I decided to put it to good use. I want it to go to a good home and raise money for a worthy cause in the process," he said. The cash will go to The University Hospitals of Leicester, The University of Leicester Research Centre, County Air Ambulance and various other charities.
We would like to thank the Humpster for giving up his valuable time to talk to us and reminisce about his long and glittering career. Incidentally, Engelbert still performs an average of 140 shows a year and we wish him every success on his forthcoming concert tour in America. It goes to prove that his Last Waltz is still a long way off!
Reporting team: Angela Banh & John Doherty
Location photography: Stan Thompson
Additional Material: Len Stout & Barry Monks