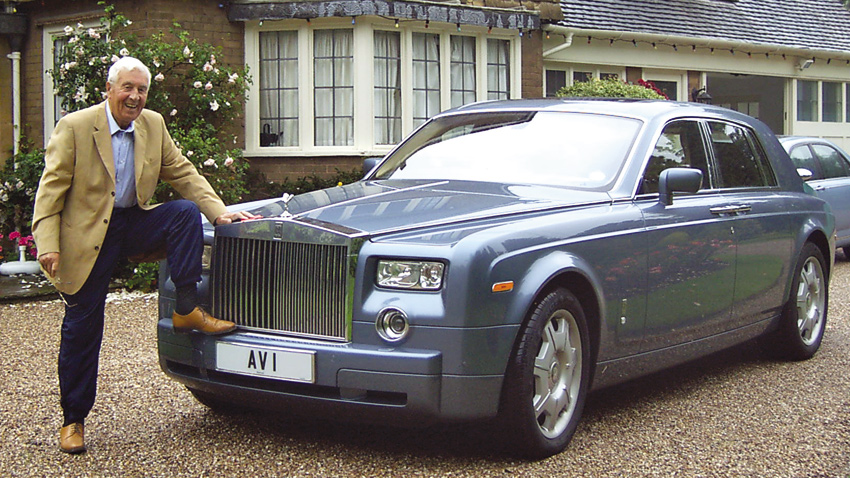 Doug Ellis
They say that whatever happens to you in the first years of your life leaves an indelible mark. For Doug Ellis OBE, the retired 83-year-old chairman of Aston Villa Football Club, this couldn't be more true. The impact of his father's death from pneumonia and pleurisy at the age of 27 was to shape the rest of Doug's life.
Born in the little village of Hooton, on the Wirral, Doug had a harsh start to life. His father's premature passing left his young mother with two small children, Doug, aged three and Doreen, eight weeks old. "Coming from a farming family, I delivered milk from the age of twelve before I went to school each day. I'd have forty-eight cans hanging on the front and back of my bike, then I'd have to rush to catch the 8.25am train to Chester to try and be in school by 9am. I earned six shillings for a seven-day week – five went to my mother so I'd have a shilling as my pocket money.
"After I left school, I took a job as a clerk at the local station, earning 12 shillings and 6 pence a week. When I became a relief clerk, I got 30 shillings. I also started doing business from home, breeding canaries and budgies and repairing the odd motorcycle. At seventeen I volunteered for The Fleet Air Arm of the Royal Navy and served for over four years. I was posted to Ceylon. During this time, I had a mild form of malaria. A nurse called Audrey cared for me and later became my first wife.
"I came out of hospital without a job, but a friend of mine, Lieutenant Canavelli, asked me if I knew anything about transport. I told him I'd been a railway clerk and that I could strip Austin cars down. He took me on, giving me the responsibility for starting our own transport section for a stores division of the Fleet Air Arm. I was in charge of transporting stores and distributing them across the island to the three Fleet Air Arm bases, as well as to ships in Trincomalee. Eventually I had around eighty staff including local Cingalese and Tamils."
When the Tsunami struck in 2005, it hit the former Ceylon, now Sri Lanka, very badly. Particularly affected was the region Ellis had been in. He held a function to raise money for the area and wrote to all his friends, business associates, private box holders and season ticket holders, telling them he wanted to raise £100,000 to buy food and medicine. Doug started the ball rolling by writing a cheque for £10,000. An extra £104,000 was donated on the night of the function alone. "The Aston Rotary Club went out there on my behalf. They found it wasn't food and medicine the people needed, but a livelihood, which in this particular region was fishing; all their boats had been wrecked. I bought forty-two boats and painted them all in Aston Villa colours, claret and blue, with the Aston Villa name on each, and the name of one of our current players. Every boat provided a living for nine families."
Ellis left Ceylon in 1946 and decided to try his hand at the travel business. He remembered hearing servicemen, many of whom were seeing the world for the first time, saying how much they would like to travel with their wives and families when the war was over. He took a job with Frames Tours in Preston, at the time, the second largest tourist agents in the country.
Timing is everything, they say, and Doug was in the right place at the right time. Not content with providing travel abroad, he also ran executive, champagne-style sporting excursions to various events, including football matches, boxing and speedway. Within a year or two he fell out with Frames over money. At £30 a week, Doug was earning a lot more than other Frames branch managers. The company tried to reduce his wages but Doug would not stand for it. In the end he left and set up Ellis Travel Agency for an outlay of £2,500.
"I'm the founder of the package-tour industry in the Provinces – I began tour operating in 1955 from Birmingham. I was also the first from Manchester, Glasgow, Belfast, Dublin and eventually Canada. I formed an alliance with three other travel agents and soon I was able to take people to Spain and Majorca."
Doug's business interests continued to grow and at one time he was chairman of nineteen companies. He has built a total of 600 houses in Birmingham, a block of flats and owns several shops. His 59 year-old son, Peter, from his first marriage manages his brewery, producing a million bottles a week. He has owned an electronics company, a building company, three butchers and even two farms! One of his most enduring passions is racehorses; he has bought many over the years, the most recent being 'Newby Abbey.' In 1976, Doug decided enough was enough and sold twelve companies in a short period of time.
Doug's love of football eventually led him to Aston Villa. He joined as Chairman in 1969 when the club was broke. "I loaned the club £100,000 to keep the bank manager off our backs. We couldn't buy players so we had to breed them." Doug set up one of the first football academies or school of excellence as it was called then. "It was set up for nine to sixteen year olds and cost us two million pounds a year. When Aston Villa won the European cup, seven of the lads in the squad came from my youth scheme. The moral of the story - breeding is better than buying. That's why the club had no debt when I sold it."
Doug has been criticised by some fans for being miserly, but he makes no apologies for having been a hands-on chairman with 'sensible, prudent housekeeping' as his primary concern. "It's hard to accept the criticism," he says, "at one time there were as many as nine threats on my life in one day. Every day I had a threatening call and one day a huge lorry came up the drive and knocked all the trellis down here." He leans out of his chair to point to the side of the house. "Six inch nails up the side of my Rolls. But I knew I was doing the right thing. Eventually it's proven to be so."
Doug is also sure that Martin O'Neill, the thirteenth and final manager he appointed before he sold the club, will prove to be the right one. With American billionaire Randolph (Randy) Lerner in charge as the new chairman, it is hard for Doug to stand by as an exciting new era unfolds. It was ill health that forced him to sell the club and retire in August 2006, after 38 years service, but it wasn't a decision he took lightly. He always wanted the best for Aston Villa, and turned down two other serious offers before accepting Randy's cash offer, which Doug believes will maintain the financial stability he has built at the club.
Now President Emeritus (Life President), the octogenarian's place in Aston Villa history is complete. "I'm still claret and blue through and through. I still miss being in charge at Villa Park but I have no regrets about who I sold to. I think Randy's a good man and we get on well. He has kept all his promises. I have my row of seats in the director's box, my own office and boardroom table to entertain and the same parking space. For away matches I'm often representing Randy who is away in the States. I'm helping him out, but I'm not interfering."
Doug acquired the number plate AV 1 about twenty years ago. "A woman contacted me," he says, "the widow of a farmer in Devon called Arthur Vincent. Before he died he said he wondered if the Aston Villa chairman would like it. I paid £18,000 for it but didn't put it on my car for about ten years. Around Birmingham, AV 1 is so well known, cars flash you – you can't take a girlfriend out," he jokes. "I was coming home from Villa Park once, I'd had a scotch and I saw the blue light of a police car behind me. They pulled me over and a policewoman got out, walked round to my side and I remember putting the window down only a little bit, I didn't want her to smell my breath. She said, 'I'm sorry to bother you Mr. Ellis, but my driver wants your autograph.' My wife Heidi has one too, HDE 1 on her CL500 Mercedes.
"My grandson Frank, will probably have AV 1 after me. He's 22 now. About a year ago a man approached me and asked, 'You wouldn't sell it for £100K would you?' I said no, I wouldn't sell it for anything. It's on my fifteenth Rolls - a Phantom. My first Rolls cost me £3,000 but this one was £270,000. I have to build a new garage to house it because the Phantom is six inches wider than a standard Rolls. These days I only take it out to go to Aston Villa."
Doug's wife Heidi says that now he's retired, people wait after matches to shake his hand and thank him for what he's done for Aston Villa. "It is appreciated," she says. "We wish them all the best, we all want Aston Villa to be top."
The real Herbert Douglas Ellis - chairman, multimillionaire, the man known as 'Deadly' - has one aim in life: to protect and nurture the ones he loves, whether that is his family, friends or Aston Villa Football Club.
---
Interview and photography: Ruby Speechley