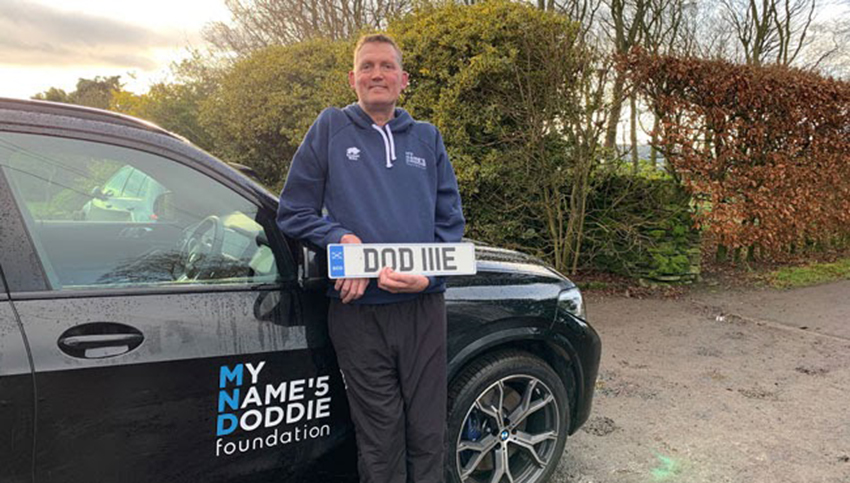 My Name'5 Doddie!
Standing nearly two metres tall, Scottish rugby legend Doddie Weir OBE is a big chap with a big voice. As Anna White of Scottish clothing specialists ScotlandShop, who produced much of Doddie's trademark tartan garb, wrote, "His voice is instantly recognisable as he climbs the stairs to the office". Well, if the voice isn't enough to identify Doddie at a distance, the aforementioned tartan leaves little room for doubt. If you should decide to google his name and then look at the images returned by the search… Well, just be prepared for a bit of sensory overload.
Surely, every single person who interviews Doddie must ask about that tartan. Predictably, we do too.
"I was asked to commentate on a rugby game in Aberdeen about 20 years ago," says Doddie, "so I thought I would get a pair of Aberdeen tartan trews for the event. That was about 20 years ago. And since then it has grown to include the full three-piece suit, shoes, underpants, buses and even tractors!"
The reference to tractors is a nod to Doddie's rural roots and the place the farming life has always held in his heart. As a farmer's son, the young Doddie initially seemed destined to follow in his father's footsteps. He earned his Higher National Diploma from the Scottish Agricultural College and worked on the family farm. He also worked as a beer salesman for Carlsberg Tetley. Doddie's rugby journey began at school leading to an amateur career with Stewart's Melville FP RFC and Melrose RFC. The transition to the professional game came in the mid-1990s when he moved to England and joined Newcastle Falcons.
As well as his club appearances, Doddie was capped more than 60 times as part of the Scottish national team between 1990 and 2000. He says that his favourite memory from his rugby career is winning his first cap for Scotland on 10 November 1990. He retired from playing in 2004 and has, to an extent, returned to his roots, as he now lives with his family on their farm in Scotland. But that change of pace certainly doesn't equate to a loss of interest in sport.
"I follow my kids playing, and watch rugby on the telly, especially games with Newcastle Falcons. I still support Melrose, Newcastle Falcons, and of course Scotland. I like to watch the Grand Prix, the World Rally, and the golf and I still enjoy a little flutter on the horses."

Spending most of his life doing farm work or playing competitive sports has left Doddie a strong believer in the benefits of an active lifestyle.
"I'm a little worried that the number of juniors and seniors coming into rugby is decreasing. More emphasis should be put on the benefits of sport and exercise, instead of playing computer games!"
Much has been made in the media about the evident correlation between strenuous sport and motor neurone disease (MND). This correlation seems particularly marked for sports that involve impacts to the head such as may be sustained during hard tackles and even when heading a soccer ball. Recently quoted figures estimate that the incidence of MND amongst top sports people may be eight times higher than for the rest of the population.
"There is a lot of talk about the issue of neurological conditions in sport," says Doddie, "and I do think more should be done to look into the effects. Thinking of rugby in particular, I think that more needs to be done to train players in how to tackle safely."
This newly prominent issue is why Doddie is becoming a familiar face on our TV screens. Even people who don't really follow sport now know the names of Doddie and his friends Rob Burrow and Stephen Darby. All three men achieved recognition during their sporting careers: Doddie and Rob for Rugby Union and Rugby League respectively and Stephen for football. More recently, however, they are becoming household names for a very different reason.
In June 2017, Doddie announced that he had received a diagnosis of MND; this was shortly before his 47th birthday. In September 2018, at the age of 29, Stephen revealed that he had also been diagnosed with MND. Rob's MND diagnosis was made public in December 2019; he was 37. Doddie, Rob and Stephen have, like Professor Stephen Hawking before them, become the de facto faces of MND awareness in the UK, largely thanks to appearances on TV shows such as BBC1's The One Show and their interviews with television journalist Sally Nugent on BBC Breakfast and with Lorraine Kelly on her eponymous show. But their recent notoriety has not been as victims of a disease: it has been as men making active contributions to the fight against that disease. Doddie decided to establish a charitable foundation to raise money for the cause and, in October 2017, the My Name'5 Doddie Foundation was registered as a Scottish charity.
Doddie is a resilient character and his positivity comes across strongly in his TV interviews. His condition has obviously had an impact. Lifestyle changes are unavoidable and even that famous voice shows signs of the struggle but Doddie still exudes an air of enthusiasm and vitality and the group interviews he has done with Rob Burrow and Stephen Darby have been as humorous as they have been profound. When Regtransfers supplied Doddie with private number plates to promote the My Name'5 Doddie Foundation, Doddie kindly sent us a video message with his booming good wishes for Christmas and the new year. However else he may be meeting the challenge of MND, it certainly isn't quietly.
"I am doing well considering the issue I have," he says, "but every day is a fight against MND. The unpredictability of the situation means that day to day life is lived as it comes, or "Definitely freestyle," as Doddie puts it. But he believes that there is no one-size-fits-all approach and each person living with the disease finds their own path.
"I think that everyone has their own fight with this illness, so I believe it's up to the individual as to how they want to face the disease. I've always been involved in team sport and working as part of a team, so it's natural to me to want to work with others. For me, the bigger the team - the stronger we can fight MND."
That team is the My Name'5 Doddie Foundation. "The Foundation was set up by a group of my friends initially, to find a cure for MND, not realising how big it would become. We set it up so that we could control the direction of our investment in research. We work very closely with other charities especially MND Scotland and the MND Association. We have spent nearly £7million to find a cure and provide practical help to people with MND.
"An effective treatment could be just round the corner. The first-ever major drug trials in the UK are taking place now. There are two main trials underway just now: one is called TRICALS, the other is MND-SMART. So, at last there is light at the end of the tunnel."
As well as the practical activity in pursuit of effective treatment, Doddie feels that there has been a welcome growth in public awareness of the condition. "I think that awareness of MND is much greater now than it was 10 years ago and people are generally more aware of the effects MND has on the patient and their family."
The news about the current UK drug trials, the raised profile of MND in the public mind, the publicity surrounding the challenges faced by Doddie, Rob and Stephen and the team efforts of the My Name'5 Doddie Foundation all seem to bode well for the possibility of real progress. Obviously, keeping a spotlight on the issue takes a lot of work and Doddie takes every opportunity to promote the cause.
One of the tools he uses to great effect is that ever-present tartan. The new variant, Doddie's own trademark version, was created with the help of ScotlandShop.com, whose founder we quoted in opening this article. The pattern brings together the colours of the teams that Doddie loves: Melrose, Newcastle Falcons and Scotland. Eye-catching somehow doesn't seem like a sufficiently potent adjective…
Doddie's new DOD 111E number plates are also intended as an addition to the promotional branding that adorns Doddie's leased BMW. The vehicle, provided by Thrifty Car Rental, bears the name of the foundation on its sides.

"I have another personal plate, GWE 1R," says Doddie. "My 'Sunday' name, as Doddie is short for George. My brothers Thomas and Christopher have similar plates. It's a bit of a family tradition as my old boy got one for his 50th birthday. And my sister doesn't like to be left out so she has a couple of nice plates too.
"I enjoy the fun in finding the plate that most closely matches your name. Having the name on the front of your car is unique. Some people, like my good lady, prefer to remain anonymous!"
We wish Kathy the best of luck with that anonymity thing. Private plates or not, it can't be easy to remain incognito in the company of a stentorian, tartan giant.
- Rick Cadger