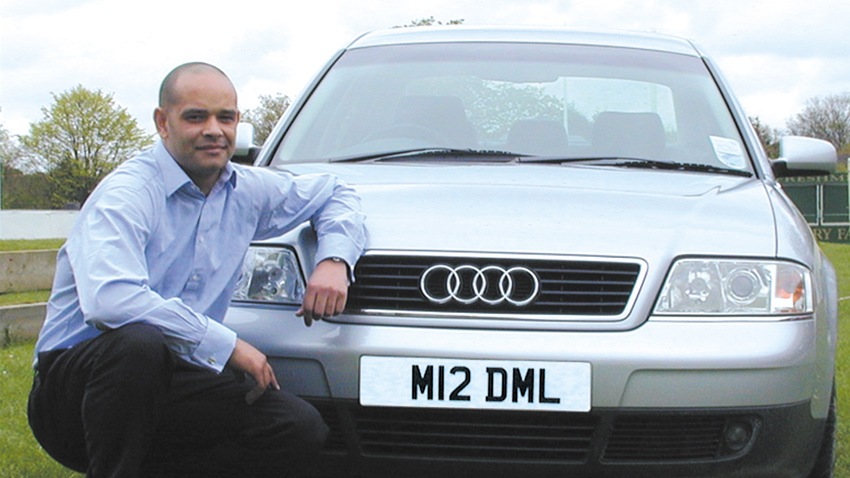 Dean Headley
Recently retired, Kent and England fast bowler Dean Headley is already making a comeback - in a new business venture. After being forced to bow out of cricket on medical grounds just a few weeks ago, Dean has already set up his own Design and Print Company, called 'IDP'. Dean brings the new business under the umbrella of his existing company 'DML' (Deano Management Ltd), which is now a representative of IDP (also of Walker Logistics).
Based at private premises in Canterbury, Dean's role as Director of DML is to promote the newly formed IDP and generate business.
With this task in mind, he decided to search for a personalised number plate on the Registration Transfers website,
www.regtransfers.co.uk
Although always interested in having a personalised number plate, Dean says it "goes against his personality" to have a mark spelling his name. He wanted something much more subtle; a plate to advertise his parent company so that only people close to him or people who know of DML would recognise it.
Dean was particularly taken with the 'M12' (Mr) numbers and was delighted when he found M12 DML (Mr DML). He said,
"I think Mr DML is a good plate to have. I am very pleased with it. It will help me to get the company name known".
The Marketing Manager at Registration Transfers, Len Stout, commented:
"The 'MR' number plates are very popular with customers who are looking for something a bit different, in particular, Managing Directors' who are keen to personalise their vehicles. They tend to add either the company's initials or their own initials after 'MR'."
Dean has also bought G8 DML (GB DML) to complement his mister plate. Staff at Registration Transfers in Dunstable were keen to find him the perfect match. Dean said it was "fantastic" when informed that a 'Great Britain' number was found with 'DML'. But will he make it a hat trick, they wonder!
Fanatical About Number Plates 1 June 2001