David Haye
To anyone whose knowledge of David 'The Hayemaker' Haye has been limited to publicity photos and press reports of pre-fight rhetoric, a meeting with the former cruiserweight, now heavyweight, boxer might be a daunting prospect. Haye makes his living by doing his level best to batter people to the floor. At the time of our meeting he had won 25 of his 26 professional bouts. He is a big chap and he looks fierce.
There is always a bit of envy in the Regtransfers editorial office when our interviewer and photographer go out to meet a celebrity. When the time came for the team to deliver David Haye's new personalised number plates and to interview him we had to find a way to decide fairly who should go. So, those who drew short straws set out for London while the rest of us phoned in sick, cowered under desks or locked ourselves in bathrooms until they were well on their way and the danger was past.
As it turns out, David Haye is something of a revelation. He is no mumbling, punch-drunk, Rockyesque stereotype, nor is he simply the arrogant hulk we have often seen trading insults with his opponents before stepping into the ring to mete out unthinkable punishment. Haye is actually a cheerful, cooperative and articulate man. Not a sheep in wolf's clothing exactly, but certainly not a thug either. He may have harsh words for some of his adversaries, but he has won many supporters by displaying a more personable side in the broadcast media. Tyson, Mayweather and other high-profile names in the world of boxing have been taken to task over homophobic outbursts. Haye, on the other hand, appears on television happily trading friendly quips and jokes with Graham Norton, Stephen Fry and Alan Carr. His tacit dismissal of the archaic prejudice displayed by some of his peers has won him friends and supporters, going some way to balancing the negative reactions to some of his pre-fight outbursts.
Haye has said that he loves what he calls 'the hype factor', despite the fact that other fighters, promoters and commentators have criticised his intemperate words. Some of the things he said in the run-ups to his bouts against the Russian heavyweight Nikolai Valuev and Haye's Ukranian nemesis Wladimir Klitschko caused particular offence in some quarters. Closer to home, a more important voice sometimes urges restraint. Even as he fires off the insults, it sometimes occurs to David that his mother, Jane, will disapprove of his behaviour. Luckily, she always forgives his transgressions. Jane's opinion is very important to David. He is on record as saying that the reason he doesn't have any tattoos is that his mother forbade it when he was a youngster. Note to the many youngsters to whom Haye is a hero: even when you're heavyweight champion of the world, you listen to your mum.
David Haye is a London lad. He was raised in Bermondsey, in a close family. He has an older sister, Louise, and a younger brother, James. There is something of a fighting arts tradition in the Haye family: his father, Deron, is an accomplished martial artist, and as a child David used to watch his dad train.
As well as inspiring David's early efforts in his physical activities, Deron was also instrumental in the development of David's interest in nice cars. Deron used to buy, restore and sell vehicles, so from an early age David was very aware of cars. Since he has had cars of his own, he has also been a fan of personal registrations.
"I've always had cool number plates. I think it's a good way to differentiate your car from someone else's. I've had some silly ones - swear words and things, always quite funny; but I normally just buy my name or a family member's name. I got my sister a car last week and [the plate has] her initial and surname so she was really happy with that."
What does David think of his new registration?
"I like it! DD Haye [DD11 AYE]... Yeah, definitely, it's perfect. David Deron Haye, so DD's my initials. I've been trying to find if there's one for 'The Hayemaker'. I've looked for one, but I can't find it. It doesn't seem like there's one around."
'Hayemaker' might be a bit of a challenge. We can't think of a combination that would represent that very well, but we do show David another pugilist plate, BOX 33R.
"Ah, 'boxer', yeah. Amir Khan's got one similar to that. He's got 'boxing' [BOX 111G]. I think he's got it on his Range Rover. So, yeah, that's a very cool one, 'boxer'."
What would be David's perfect plate? He considers the question for some moments then smiles. "DD Haye. That's my name to a tee." Then an afterthought strikes him. "Or 'Doctor Haye', because I'm actually a doctor. Yes, 'Doctor Haye', that might be the way forward, so keep an eye out for it!"
David received an honorary Doctor of Science degree from the Anglia Ruskin University in October 2010. The honour was conveyed in recognition of David's success in his field, and for his support for the university's postgraduate medical institute. After receiving his honorary degree, David said on his website:
"I never followed the same route those students took and, instead of hitting the books, I was more interested in hitting sparring partners on the chin. I decided from an early age that I wanted to become heavyweight champion of the world and dedicated my entire life to achieving that goal.
"As a result, I decided to put less emphasis on education and all my attention on boxing, which happened to be a massive risk at the time. Had I not fulfilled my goals in boxing, I would have been in big trouble. That's why I respect anybody that has the dedication to persevere with something, whether it be a sport or a subject at school." Wise words that will hopefully be heeded by his young fans.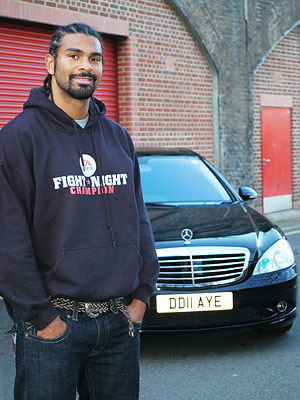 Haye began boxing at the age of 10, and he has said that even then he planned to retire before the sport did him lasting harm. With that in mind he has declared his intention to retire at the age of 31 in October 2011.
David's career has been strongly influenced by his trainer, Adam Booth. The two met in 1996 when David was just 15 years old. Haye's performance sparring against a professional boxer impressed Booth very much. Booth himself had been a successful amateur boxer but his professional chances were wrecked by a leg injury sustained playing football. Haye has often emphasised how much he values Booth as someone whom he can trust in a boxing world where trustworthiness is a rare quality. He has also described Adam Booth as being "like a brother". In such a punishing and demanding profession, such a strong bond between trainer and fighter is vital.
In the immediate aftermath of David Haye's defeat against Wladimir Klitschko it is unclear whether he will stick to his plan to retire later this year. Whatever Haye decides, he has quite a career to look back on. An early foray into the word of fashion saw the young David Haye modeling clothes for Versace and Abercrombie & Fitch.
Although Haye enjoyed the experience, he quickly decided to concentrate solely on boxing. As a fighter, Haye's record is very respectable. He was an amateur world heavyweight champion. When he turned professional in 2002 he fought at cruiserweight. A couple of years later, in his 10th pro bout, Haye stopped former IBF champion 'King' Arthur Williams in the third round. A glitch in his next fight saw Haye knocked out by ex-WBO champion Carl Thompson in a battle for the IBO Cruiserweight Championship; the only defeat in his professional career until the Klitschko fight.
David later took full responsibility for his loss against Thompson. In a 2009 Sunday Times interview he said:
"I was cutting more and more corners but still getting results and I looked at Carl Thompson and thought, 'He's old. I'm younger. I'm fresher. I'm much more athletic. I can take this guy out'. I had a game plan to break him down slowly because he's a tough customer but I got out there and heard the roar of the crowd and thought, 'I'll knock him out quick'. It was the wrong mindset and I paid the price. I ran out of steam completely, punched myself out in four rounds."
The lessons learned served David well and he went on win all of his subsequent bouts until the meeting with Wladimir Klitschko in Hamburg on 2 July 2011. Following the Klitschko fight, the media made much of Haye's revelation, made immediately after the bout, that he had fought with a broken little toe. The excuse was widely ridiculed, and former heavyweight champion Frank Bruno expressed the opinion that the Hayemaker should never have got into the ring with such an injury.
"If he had a broken toe I would advise him to pull out," said Bruno. "[...] If you've got a broken toe your balance and everything goes[...]. If he fought with a broken toe he must be a very brave man." Haye had been faced with a difficult decision though. In 2009 he had been forced to pull out of an earlier date against Klitschko due to a back injury. To postpone the reckoning yet again would invite claims that he was afraid of Wladimir, and would also leave little time for the fight to be rescheduled before his intended retirement date.
The injury may have impeded Haye, but he still acknowledged Wladimir Klitschko's superior performance. The day after the fight, Haye tweeted: "Wladimir was the better man last night. He did exactly what he needed to win decision. He's a great fighter, and a hard man to beat. Respect."
It would be nice to see Haye come back to win the undisputed, unified heavyweight title before he hangs up his gloves. We don't doubt that he has the heart, skill and speed to do it. On the other hand, who could blame him if he chose to follow his original plan and retire from a dangerous profession with a healthy mind, body and bank balance. Whatever the future holds for David Haye, we wish him well.
Interview and photographs: Angela Banh
Story: Rick Cadger
---
More great celebrity boxer interviews from Regtransfers
Amir Khan
Conor Benn